Apparently a lunar eclipse happened earlier this morning (I was asleep – you don't keep yr dwindling goth points by waking up at dawn), which seems like a fitting omen for another mosey on over to The Unquiet Grave, the ID:UD column which lets me put on a professorial pince-nez and recount the histories of 90s goth rock bands. This time, I'd like to direct yr attention to the dusky and forlorn sounds of Fresno's The Shroud.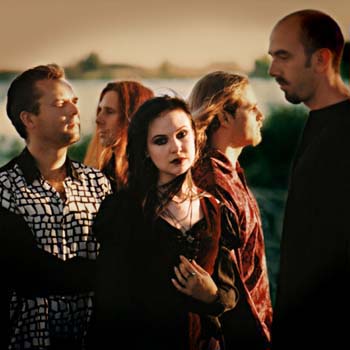 Slowly metamorphosing out of an initial, goofier deathrock incarnation as The Shroudettes and undergoing oodles of lineup changes, the band emerged with their new name and a semi-stable roster (centered around the core duo of guitarist Rodney Walker and singer Lydia Fortner) at a Halloween gig in 1991. They made their debut with a seven-track self-released cassette, Drowning Dreams, the next year. It's a pastiche of styles, flitting between dour Faith gloom, the odd Sisters motif, and a couple of hints of the more dreamy territory which would become their bread and butter (including the excellent "Ophelia. It's not a bad listen, but not a great one either, and Fortner in particular doesn't sound comfortable with all of the material, especially the more gory and evil-minded stuff leftover from the Shroudettes era.
Despite weathering woes with a friend's startup label, The Shroud's first full-length release, 1996's Long Ago And Far Away, is an assured and directed release which has all of the focus that Drowning Dreams lacks. The dreamy, languid sound for which The Shroud would earn nods amongst the goth cognoscenti has been alighted upon, with Fortner's vocals waving back n' forth just above a soft bed of bass. Ethereal but rich tunes like "She…" and "Caged Bird" are classics, "Falling Dream" has a smooth dream-pop delivery, and even when they break out for a more rocking number like "Sulfur Salt and Mercury", The Shroud are fully on point here.
1998 found the band settled into the five piece lineup which would remain for the rest of their run (including Eric Dansby, formerly drumming with Supreme Love Gods – who knew?) and releasing A Dark Moon Night. The guitars have been lent a bit of extra weight, adding an almost shoegaze feel to the dream-pop sound. That said, the swirly goth greatness is still intact, Fortner's vocals are strengthened, and the keyboards take on a wider range of sounds. While it's not initially apparent, the odd bit of folk and country flavour finds its way into the mix, as on "And Then", giving The Shroud a facet which sets them apart from their peers. The four punch combo of "Where The Wind Goes", "Madeline", "And Then", and "Day And Night" cover a big range of territory and make a strong case for A Dark Moon Night being the band's best.
The addition of a handful of tasteful trip-hop beats are what distinguishes 2001's In The Garden from the band's previous work, though these never feel tacked-on or distracting. Similarities with like-minded contemporaries such as Collide and Sky Cries Mary can be heard in the record's lush, electronic-tinged atmospheres, but the band hasn't strayed too far from its classic sound. Pleasantly, it's a back-loaded album, with deep cuts "Let Go" and "Spiral Black" flexing muscle while some more experimental pieces, like impressionist idyll "Valeriana" and its tidal piano and vocals, pushing the envelope in interesting directions.
While never releasing a record for Cleopatra, instead opting to self-release their latter three records, plenty of The Shroud's tunes were licensed for Cleo comps, including half a dozen or so covers: "Red Over White", "Severina", "Alice", and "The Passion Of Lovers" amongst others, but it's their version of The Cure's "Sinking" which really works for me. It's an absolutely perfect choice for The Shroud, with the original's instrumentation and mood already closely matching their own, and they knock it out of the park with just enough of their own flair and a great vocal turn from Fortner.
Where are they now? Well, there's been the odd Fresno show about once every year, and Fortner's still involved in the local goth scene and DJs there. Keyboardist Hendrik Gröger has been releasing ambient/trance material as Lux Tweaker, as well as playing alongside Walker and guitarist Iyan Reed in groove-goth outfit Alexandria Burning, whose LP The Fear Gospels I should really check out. An official site and FB are being maintained. Happily, all four of The Shroud's releases are available on iTunes (and three on emusic), and their three full LPs can still be found on CD at Projekt.