Hey friends! Winter is traditionally a pretty dry period for releases, which means that January and February are usually our "catch up" months where we try and get to all the genre records we missed out on from the previous year. There's actually a fair bit on our plate already, and damn if it doesn't feel a bit like 2015 is bucking the trends when it comes to album releases. As always we'll be doing our best to check out any and all musics pertinent to ID:UD, but you know you can feel free to drop us a line if you know of anything good or interesting we should be listening to. As a two person operation we only got four ears total with which to listen, and we appreciate it when folks lends us theirs with a nice recommendation in the comments or via e-mail. Speaking of new music, we coincidentally happen to have some embedded below for your listening pleasure. Enjoy!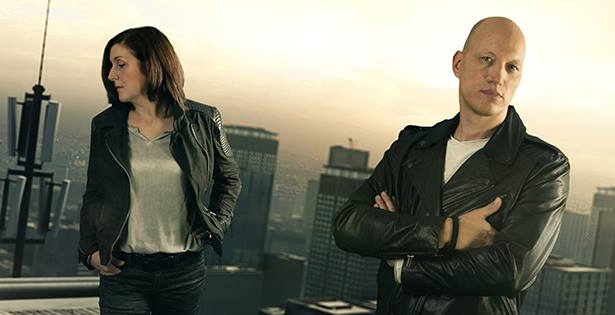 X Marks the Pedwalk, "Amplified Dichotomy"
"Mature" is a dirty word in music criticism, usually used to mean "old and boring". In spite of that, there's kinda no better way to describe Sevren Ni-Arb's output since he dusted off seminal 90s EBM project X Marks a few years back: the material from his 2012 album The Sun, The Cold And My Underwater Fear genuinely felt like a continuation of his old style in a modern milieu. While there was a few solid bangers on that record, we also enjoyed the more pensive and melodic tracks, lining us up nicely for new single "Amplified Dichotomy" which is very much on a tense modern electronic tip. Good stuff from the evolutionary chain of one Our Thing's bigger Silver Age acts.

Severe Illusion, "Prying Eyes"
Uncle Claus Larsen is pretty up front about what's going on in his personal life via the Leæther Strip FB page and the like, and so the recent news about Claus' husband (and live LS keyboard wrangler) Kurt's medical problems didn't go unnoticed by the broader industrial community. Dozens of artists opted to pitch in and lend a helping hand by contributing cover tracks for a tribute comp, and given how long and prominent Leæther Strip's legacy runs, there's certainly no shortage of material. Those leering mad bastards in Severe Illusion taking on some "Underneath The Laughter" steez is a pretty perfect match.

Psychic Rites, "Elohim"
New stuff from Portland's oddball darkwavers Psychic Rites. Their new EP Singularity features four originals and a host of remixes from the likes of Force Publique, BLVCK CEILING and Twilight Coil amongst others. Something off-putting (in the best way) about these yelped and processed vocals and the juxtaposition of nice clean synth programming with distant reverb guitar. We check in on these guys every once in a while, and might have to start checking in more frequently if this is the direction they're going with their stuff.

Gnome & Spybey, "Communiqué #3"
It's been just under two months since the last Gnome & Spybey LP was released, and yet there's already another full release of material, started just after Reflective and inspired by "courageous, positive, and assertive actions that overwhelm the inertia of cynics, fantasists and the hedonists". Well, there you have it. Our quick skim of Communist Companions suggests that it's skewing to the pure drone and ambient side of these dudes' work.

Black Sheep Screaming, "3Volver"
Serbian electro-industrial act Black Sheep Screaming embrace a kind of unpredictability you rarely find in industrial these days, never sticking to one sound or template for very long. This track from their forthcoming sixth album Sunshine actually finds them ramping down their controlled chaos with a lovely melodic passage, made even more cathartic by the clang and bang of the song's opening. An act who deserve the comparisons to Puppy's difficult middle-period records: have a listen if you doubt it.

Alphaxone, "Distances"
Stumbling across Iranian dark ambient project Alphaxone was a pleasant (if hushed) surprise last year, and we're looking forward to hearing what Mehdi Saleh has on offer on the forthcoming Altered Distances LP. You can get a pretty decent feel for the project from this advance track: it avails itself of both the spaced-out and earthy sounds the genre often turns to, and trades in moods which are more somber than full-on dread-soaked.