Morning, gang. The schedule around thee olde ID:UD HQ will be a little spotty for the next month or so, as Bruce is off on a trek through the British Isles (sadly, no, he won't be making it to Infest). He'll be checking in with the odd review and other piece, but for the most part it'll be Alex holding down the fort. Things might be a bit more infrequent, but there might be some happy accidents along the way, like some special podcast guest hosts (or just Bruce Skyping in at 3am Glasgow time). This thing of ours doesn't slow down for anyone's vacation, though, so let's keep the good ship ID:UD sailing with this week's Tracks.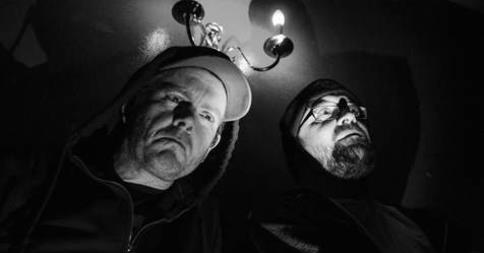 Cocksure, "Sillikon Suckaz"
You might have heard a lil' something about Cocksure, what with their debut 12″ single coming courtesy of the reanimated Wax Trax records last fall. The project styles itself as a bridge between the classic Chicago industrial sound and Chi-City's future, with each aesthetic personified by a member; the former by man-who-needs-no-introduction-because-he-was-in-Revco-and-Ministry Chris Connelly and the latter by Jason Novak of Acumen and Acucrack fame. Industrial rock with a nice coating of digital sleaze is something we could always use some more of, thankfully a full record from the duo is dropping on August 12th via Metropolis. Up the cocks!

FoetusDreams, "Cavern"
New(ish) Dutch dark ambient artist FoetusDreams brings minimal but well executed tracks on his debut full-length, Brouillard. A co-sign from Frederic Arbour of Cyclic Law (who's taking on mastering duties) doesn't hurt in getting one's foot in the door, but this moody stuff can stand on its own just fine.

Dead When I Found Her, "You Know What You Are"
If you're familiar with Portland's DWIFH's modus operandi, than you'll know that Michael Holloway has a habit of teasing fans with interesting cover selections between LPs. While we're still waiting on the announcement of a follow-up to the excellent Rag Doll Blues, we'll settle for this bangin' cover of Ministry's "You Know What You Are", the evergreen club selection's all-murdering bassline and The Good, The Bad, & The Ugly samples rendered in loving detail by one of Our Thing's most interesting (and underrated) producers. Look into the eyes, see the light.

Fifth Of July, "In Your Blood"
Bombadier producer Jason Snell has another iron in the fire with Fifth of July, a new side-project. The pitch here seems to be a heavier focus on pads and atmospherics than pure aggression, plus vocals from collaborator Jessie Schoen woven into the mix, sometimes indistinguishable from the programming. It's a decidedly chiller sound than we're accustomed to from Bombadier, but Snell's solid percussive instincts are definitely still in play.

Diesel Dudes, "Wrestling Team"
Finally, not exactly a new release but one we just had to feature here (hat tip to John G). It turns out EkoBrottsMyndigheten aren't the only old-school EBM band who've been fixating on bodybuilding and other matters mesomorphic. Out of Oakland (yes, they're not European) come Diesel Dudes, sporting a bevy of quick and anhalt-esque tunes about sweat, bodies, and dead lifts.