Hey friends! Did y'all check out that Einstürzende Neubauten review we posted up as a feature last week? We hope so, we were pretty pleased with it. If not, why not go check it out now? Conveniently, that lil' number happened to be the 800th post overall on ID:UD, a pretty remarkable number if we do say so ourselves. Not sure that we ever expected this endeavour to go as long as it has, or to be as successful, so we should probably issue some thanks to everyone for continuing to read and share what we do here, you guys are great and we totally appreciate your support. That said, this train ain't stopping any time soon, so lets kick off post 801 with a buncha new hotness. It's Tracks y'all!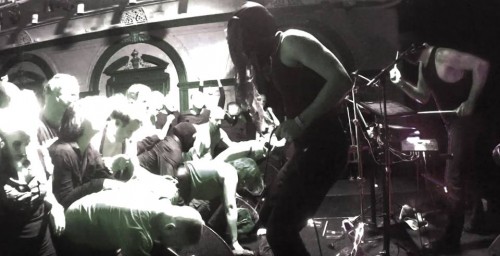 Wulfband, "3, 2, 1, Nein"
Far less retro-EBM than we were expecting from the previous tracks we'd heard, this lil' number from Stockholm's Wulfband is a nice slice of thickly body music with just the right amount of that Swedish quirk we like so well. We've been dragging our heels on reviewing their self-titled debut record (out now on Progress Productions), but after hearing this we'll likely be making it a priority. Anyone who speaks either Swedish or German wanna have a crack at explaining the lyrics to this one? We're curious as to exactly what they're getting at.

Leaether Strip, "Decay"
It looks as though Uncle Claus' recent spate of covers is drawing to a close with the impending release of the "Appreciation" comp, which'll collect Strip-ped versions of Bronski Beat, Fad Gadget, Judas Priest, and plenty others. The last installment, a tune by Twice A Man, is a completely new one to us, but more than any others it seems to segue perfectly with both the classic dark electro sound Claus trailblazed, as well as the moody soundscapes of the excellent Serenade For The Dead II.

//zoo, "Blood And Cedar"
We've noticed a fecund kinship between our fair city and Berlin over the past couple of years, with plenty of folks moving back and forth, and new dark Vancouver bands (Koban, Animal Bodies) finding warm receptions in Europe's new bohemian center. Vancouver's //zoo have been ready for prime time for a while now, as this spot on a fantastic new Aufnahme & Wiedergabe tape handily demonstrates.

Becoming the Devourer, "SixtyThreePointThree"
Some unexpected flavour from friend of the site Eric Sochocki's Becoming The Devourer project. At 11 minutes, this technoid/bass styled track transitions through more than a few moods and ideas, never rushing the changes and just letting them roll out organically. Really lovely stuff from an artist who is constantly growing his palette of sounds and figuring out how to make new and thoughtful music from them.

Tineidae, "Antidote"
Deep and spacey technoid from the forthcoming sophomore Tineidae release on Tympanik. This tune has a significantly heavier and more bass-influenced vibe than just about anything on Pavlo Storonsky's first LP, Light. Stay tuned to find out if Shadows follows through on that change-up.

Blank, "Dreamscape (Acretongue remix)"
Oh man, we kinda forgot about South Africa's Acretongue. We were pretty pleased with the project's 2011 LP Strange Cargo, but since then there's been relative silence punctuated with the very occasional remix appearance. Thanks are due to the dudes in Blank, who deliver a reminder via new pay-what-you-want EP Die Eigenlicht Remixes featuring this slice of moody electro-industrial that highlights both acts penchant for intricate programming. Good show, now how about a new original LP, Nico?