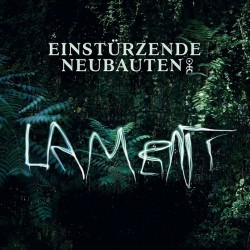 Einstürzende Neubauten
Lament
BMG
The marking of a hundred years since the outbreak of World War I has prompted no small amount of reflection and analysis from across the globe. We imagine it's in that spirit that those eminent Teutonic midwives of industrial culture, Einstürzende Neubauten, have positioned Lament not as "an official new Einstürzende Neubauten LP proper," but as a document of a performance piece requiring "its physical embodiment, performed on or by founding member Andrew Unruh's gigantic instruments and noise generating devices that visually evoke the horrors the work describes or embeds in the sounds they conjure from the filth and terror of the industrialised 20th century world at war with itself." That said, EN have always prioritized live performance: the cover art for Perpetuum Mobile is simply a pile of trash on a turntable until it is seen in operation. So, this isn't exactly new territory for these boys, and truth be told, neither are artistic renderings of the Great War as a catastrophic maelstrom into which the world sailed with a sense of fatalistic inevitability, with its trauma forming the twentieth century proper as we understand the era today. While we might be talking about yet another missive from the band who positioned themselves as witnesses to the collapse of modernity in their very name about that most modernist of topics, their method of integrating music and themes of wartime(s) amongst more recognizably industrial passages distinguishes Lament from previous Neubauten works.
Lament's blend of the familiar and the newly unearthed doesn't just operate along a simple industrial/cover axis (though nearly all of its tracks contain some combination of both). While a sardonic revisiting of "God Save The King" feels like well-worn territory for acts like Neubauten, or especially Laibach (industrial's unique capacity to satirize jingoism is a topic we've been discussing for several years), the early jazz of soldier and bandleader James Europe's "On Patrol In No Man's Land" will likely be a fresh discovery for the majority of Lament's listeners. Similarly, Pete Seeger's "Where Have All The Flowers Gone?" was a staple in our homes as the children of left-leaning boomers, but we weren't aware of Marlene Dietrich's German translation. There's something appropriate about that most famous of anti-Nazi Berliners being revisited by a German band heavily invested in excavating their country's guilt and history.
"The Willy – Nicky Telegrams" have a far less musical origin, but the end result is no less Neubauten. Telegrams passed between the Kaiser and Tsar on the literal eve of war using disarmingly familiar terms of address are recited overtop terse bleeps and bass strums. The addition of Auto-Tune to Hacke and Bargeld's voices, which already have a robotic tick-tock quality, seems to symbolize both the imperfect nature of hastily tapped-out messages (no doubt punctuated with the heavily-laden word "stop") in the mutually agreed upon but foreign language of English, as well as the inescapable march of a wind-up aristocracy to the precipice of global war.
That this is simultaneously exactly the sort of thing one might anticipate from the German collective, while also acting as something of a meta-commentary on themselves shouldn't be overlooked. We expect Einstürzende Neubauten to act as elder statesmen for a certain stripe of art music, a role they fulfill by being charming and digestible and even somewhat lighthearted through the proceedings. But that perception of the band becomes yet another tool in their arsenal: kindly Uncle Blixa camping it up on "On Patrol In No Man's Land" acts as the perfect counterpoint to Herr Bargeld's stonefaced recital of Kurt Tucholsky's "Die Rote Melodie", recast in English as "How Did I Die?" The contrast and tension between cheer and despair as expressed through the lives and deaths of soldiers is palpable, and as intractable as the mix of strings, effects processing, and metallic percussion that make up these songs.
For all the myriad modes and ideas swirling through Lament's dusty trenches and ghostly battlefields, it's when the record disconnects entirely from narrative history on the stunning three part title track that the biggest impact is made. The first part "Lament 1. Lament" is nothing but voices achingly arranged into an ever growing chorus, with "Macht Krieg" or "Make War" as its only discernible words. That the second, brutal segment "Lament 2. Abwärstsspirale"'s pounding cannonfire drums are so briefly heard is appropriate, followed as it is by "Lament 3. Pater Peccavi", wherein the voices of POW's recorded to wax cylinder recite the Parable of the Prodigal Son over a heartbreaking arrangement of a Renaissance motet. A fairly literal reading would have it be about how a comparatively brief four year conflict echoes through the history that followed, but more broadly it serves as a kind of thesis statement: that World War I's impact is still felt because it never really ended, and we're still struggling with it's cost a century years later.
Fascinatingly, Lament arrives at a time in Neubauten's career when their origins as deconstructionists and avant gardists seems most distant. Many modern histories of EN treat their most experimental outings as relics of their past, mistaking the mellowing of their overall sound (a process that has lasted for some two thirds of their career – since 1993's Tabula Rasa at the very least) for a softening of their most abstract leanings. While a concept LP about the post-history of the Great War isn't necessarily a return to the beautiful annihilation of music and performance they've been celebrated for, there's no doubt that Blixa and company fully understand the parallel between their subject matter and their own legacy. The perverseness of these noted deconstructionists turning in a historical transcript is as Neubauten a thing as we can imagine; the replacement of the monolithic ideas that shape our lives with glorious sound.