Special treat this week, compadres: hot on the heels of our In Conversation piece about their debut LP, we've got V▲LH▲LL stepping in to do our weekly Tracks posting. Yes, the hella (or would that be Hela?) mysterious duo pick out some of their recent favourites for you, dear reader. If you dig their picks you should make sure to peep their album when it drops tomorrow!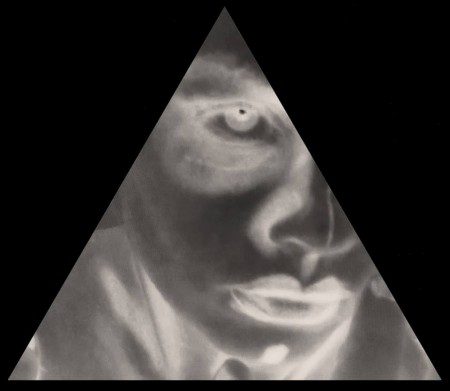 V▲LH▲LL from Sweden here! The good folks of I Die: You Die gave us an opportunity to force feed you some new music that we've enjoyed over the last week or so. We've had a busy week with our debut album Leaning on Shadows coming out November 4th on Artoffact Records. There has been a nice flow of album streams, teaser videos, reviews and email correspondence going on. In the midst of all that, we've kept our eyes on music blogs and on our Soundcloud and Facebook feed as great new music keep us on our toes. Hopefully we'll share something you have missed, or give you a list you would have chosen yourself…perhaps we'll even convert some non-believers.
UNCRSD x M‡яc▲ll▲, "Vasteel2"
UNCRSD teamed up with our good friends M‡яc▲ll▲ for this collaboration track and we were not surprised to hear in it those sweet analogue basslines that M‡яc▲ll▲ is a master of. This is a way more clean and light track than we are used to hearing from either of them. UNCRSD does some fine dark electronic on his own and is definitely worth checking out. The chords and melodies of this song build it slowly into this great retro movie/videogame soundtrack with just enough witchy noises to keep our ears pleased.

D/SIR, "Not What They Seem"
Diane! This is V▲LH▲LL speaking. Dale dropped his tape recorder in the woods and we found it. There's a hell of a lot of owls here and we've got an ominous feeling D/SIR is to blame! 
This track is their contribution to the new Phantasma Disques compilation An Imaginary Soundtrack To The World In 25 Years – Tribute To Twin Peaks Vol.4 released on Halloween, and they nailed it. We love D/SIR and we love Twin Peaks and so this track is right up our alley.

AZAR SWAN, "Hush"
Do you like your autumn beautifully dark and weird? Good. So do we. That is why we were really happy to see the new AZAR SWAN album drop last week. Their last album was some excellent goth pop and the new one is…well, you'd better listen to it. This particular track has got melodic plucks, nasty bass, strong vocals, great production and they deliver it all so well.

Paula Temple, "Deathvox"
If you asked us this week what our favorite techno-with-a-noise-tribal-ethno-twist track was, this would be it. This tune is stuff for serious spiritual mind journeys. Put your headphones on, crank up the volume and dive deep into this. Or even better – find a friend with a giant TV or home cinema if you don't happen to own one yourself, kill the electric lights, sit down on the floor, light some candles and watch this video. It's truly amazing.

Black Drift, "Lure"
Ok, here's a mysterious one. We really can't say much on the origin of this track. What we know is this – the label Pale Noir is releasing the free ChiaroscuroM compilation sometime this winter. It will be focused on cold dark ambient and winter mood occvlt music. This is the first teaser track from it and pretty much checks all the boxes. We asked Pale Noir about the band but they didn't know anything either. Apparently they got the song sent anonymously with a promise there will be band pages coming soon. It's really good so we will definitely keep a lookout for that!

V▲LH▲LL, "Towers Fall"
Finally we want to share one of the tracks from our album "Leaning on Shadows" with you. It was actually not easy to choose. We are very pleased with the entire album but we decided to pick "Towers Fall". This is one of the more up-tempo songs on our album with a strong refrain and it's one we really like ourselves. It will give you quite a good sense of what our project is about. It is our take on the new dark electronic music. Dig into it and then go read the I Die: You Die album review!