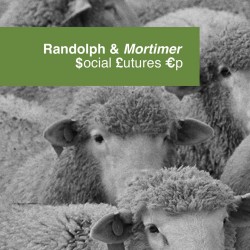 Randolph & Mortimer
$ocial £utures €P
Young Cubs
The debut release from the UK's Randolph & Mortimer certainly feels rooted in industrial, but is refreshingly freeform in its interpretation of what that means. That reverbed kick-snare that kicks off "Existing, Not Living" brings Skinny Puppy to mind, but it's not long before the band is belting out machine-punk anthemics on "Sistema Danâdo (The System Doesn't Work)" and pitting some ultra-distorted guitar chug against a detuned synth lead at the climax of "Ballad of the Iron Lady". By the time the electric bass driven "True Order" fades out a little bit of R&M's strategy feels revealed; somehow they've layered rock into industrial without really conforming to any popular template for industrial rock. Difficult to classify within the boundaries of genre is a good look in 2014, and Randolph & Mortimer sound absolutely confident in that milieu.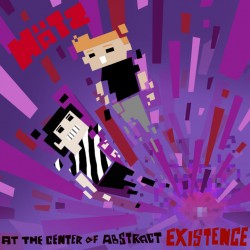 Hätz
At The Center Of Abstract Existence
Self-Released
8 bit aesthetics have become pretty common as source material and inspiration for electronic music of all stripes. Ottawa's Hätz are amongst the acts bringing them into an industrial context, and although their debut album At The Center Of Abstract Existence plays those elements up in their album art and the Super Mario referencing opener "Kremlin Koopa", it's far from being the only weapon in their arsenal. You're just as likely to find them engaging in sound collage on the lo-fi "Notes" or grinding out a mutated synth ballad on "Shoeicide" as you are to hear them going a fairly straightforward dance route as on the Gothsicles-esque "Fucking Bass". You could accuse the duo of working the video game thing as a gimmick, but they're applied the sounds in such oddball ways that it's hard to buy that they're taking the easy route with anything. Even when Hätz are relying on familiar sounds, they manage to keep it pleasingly weird.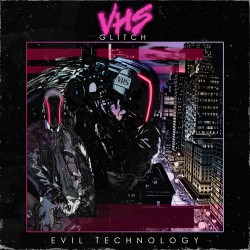 VHS Glitch
Evil Technology
Self-Released
The neon-streets-at-night wing of 80s-inspired synthwave ("Outrun" as some would have it) certainly seems to be having a banner year in 2014, with artists like Perturbator and MegaDrive setting the pace in the contest to see who can be more rain-soaked and streetlight lit. VHS Glitch's debut album Evil Technology certainly has the look and feel down pat, making up for what it lacks in individuality with pretty effective use of the burgeoning genre's tropes. The doo-doo-doo tom fills and patches of wailing six string on "Blood In Blood Out" are spot-on, as are the moody arps on and digital choir stabs on "Return". Commendably the album spends a great deal of time outside the straightforward "driving music" motif, often breaking from propulsive 4/4 drums to build up and breakdown tension, as on "Can't Catch Me", where a lengthy break in the middle of the track builds up to a hot blast of guitar licks on the outro. There's potential for VHS Glitch beyond being just another style throwback; with his sound locked down he has plenty of room to start exploring what he can do beyond it.