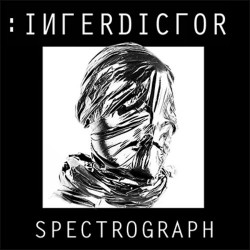 Interdictor
Spectrograph
Self-Released
The standing touchstone for Swedish electro-industrial project Interdictor has always been Interlace, one of the great unsung projects of the early aughts. The latest EP by the trio is still obviously indebted to the latter group, although its three proper songs demonstrate a great deal of breadth and a grasp of the conceptual power that made their primary influence so distinctive. Sharp edged guitar accents an organ laden chorus on "White Noise", the intricately programmed bass of the verse flexing menacingly and suggesting some rawer EBM sounds. The slowed "Pitch Black" is permitted a lengthy intro before a rising and falling arrangement emerges, the washes of sound never conforming to a standard structure and leading perfectly into the operatically vocals of closing synth ballad "Umbras Cinereo". The strength of the EP lies in how the songs are sequenced to compliment its concept; the idea that each of these songs relies on a similar palette but via careful structuring and creative programming can be entirely different from one another. It's smart stuff, and certainly positions Interdictor as artists in their own right, beyond easy comparisons they're creating material with no small amount of depth and sagacity.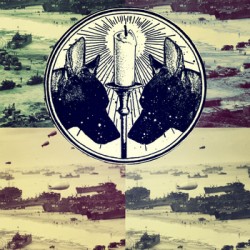 The Will To Power
Down
Dub Ditch Picnic
Good Lord, Winnipeg, what are they putting in your water? For a town that seems almost proud of its barren isolation, yr musical exports are certainly doing a good job of selling your charms to the rest of the country, and synth-heavy newcomers The Will To Power are no exception. Live they come across like a looser incarnation of the late great Beautiful Skin with a hefty dollop of Cold Cave, but on this new four-track EP there's a much more hesitant and fragile quality to some of their tunes, especially the vocals. There are plenty of the markers of the new coldwave advocated by the likes of AVANT! and other labels, especially around the post-punky edges of "Cold Hands", but the focus remains on gauzy synth washes and rudimentary drum machines which generally keep things wistfully melancholic rather than fully doom-laden.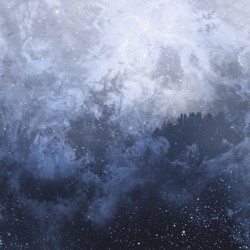 Wolves In The Throne Room
Celestite
Artemisis
In keeping with our mandate for Observer columns of reporting on the liminal states which border upon Our Thing, we though we'd point people to the newest release by now well-established Cascadian black metal act Wolves In The Throne Room. WITTR are likely a familiar name to many readers, but Celestite as a release feels uniquely relevant to our work here, drawing as heavily as it does on the traditions of dark ambient and kosmische. Dark ambient elements have always been a part of black metal's subgenres (namely depressive black metal), but rather than presenting an impenetrable wall of fuzz, or simply augmenting black metal chord progressions with some sustained keyboards, Celestite is almost wholly made up of long, spacey builds, tense arpeggios, and crystaline programming which hold far more in common with Tangerine Dream or Vangelis than Darkthrone or Watain. Celestite's already been thoroughly poo-pooed by metal fans and publications, but if you have an ear for Cold Meat Industry or Cyclic Law releases you could do much worse than this. Nathan and Aaron Weaver certainly aren't masters of this sort of material, with a somewhat erratic pacing of the emergence and disappearance of elements marking Celestite, but the odd integration of submerged guitar, and even horn sections, does bring something new to a spacey template many will be familiar with.