Things are returning somewhat to normal here at the HQ after the madness that was Aftermath. Our regular routines of DJing, being perpetually behind on new comics and science fiction novels, watching wrestling (apparently the boys over at Talking To Ghosts have beef with our rasslin' talk which we gotta square away but in the meantime check out the podcasting work they're doing, for real), and getting probably far too excited about the amazing run the Blue Jays have been on (holy shit, Edwin freakin' Encarnacion). That said, this is but a brief calm before another storm, as we have the three-day beast that is Terminus just over the Rockies and just at the end of the month to look forward to. We'll be doing a podcast shortly full of Aftermath decompression and Terminus hype, but until then we strongly suggest checking the murderer's row that is the line-up and looking into Calgary flights and accommodations. 'Til we see you in Calgary, here's half a dozen tracks to tide you over, true believers.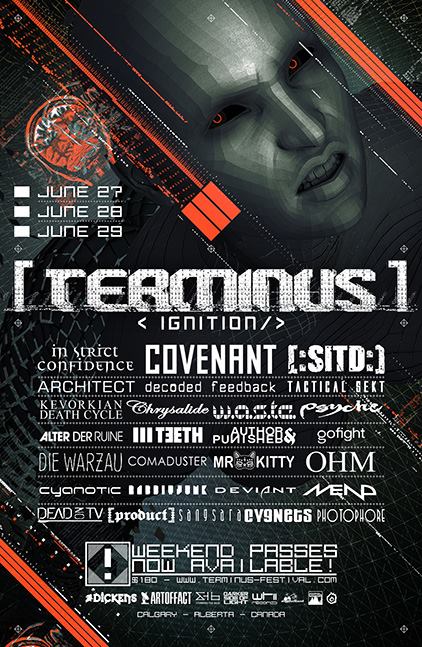 Borghesia, "We Don't Believe You"
We suppose it's no surprise now that Metropolis has put out albums by Pankow and Vomito Negro, but did you ever expect to see the venerable US label put out a record by Slovenian art-weirdos Borghesia? While their material was often as politically charged as their countrymen Laibach, the group (now primarily made up of Dario Seraval and Aldo Ivančič) never quite achieved the same level of recognition for their work, despite widespread exposure via their Wax Trax released albums in the 80s. This new cut seems to point to a Snog-esque folktronic sound, maybe not so far off from the populist political vibe that a bunch of comparable acts from the era seem to be gravitating towards in their older age.

Animal Bodies, "Deep Sleep"
Vancouver's austere darkwave act Animal Bodies have been hinting at some body music leanings during recent shows, and the first new song we've heard from them in a while certainly reflects that. "Deep Sleep" is a dead ringer for a vintage EBM track of the PIAS variety, all pulsing bass and vocals that sound like they've been recorded in a culvert. Most certainly one of our hometown's most slept-on dark music acts, we've long been of the opinion that these cats are only a few steps shy of widespread recognition. Now if only they'd release their awesome cover of Ministry's "Same Old Madness"….

Alter Der Ruine, "Will Wear Tear You Apart (Alter der Ruine Goth Summer Remix)"
Speaking of Terminus hype, you're not gonna believe what ADR have in store on forthcoming LP I Will Remember It All Differently, which they should be showcasing later this month in Calgary. It's an abrupt change in direction, and terming this snippet a "goth summer jam" is pretty bang-on. We love goth summer jams, whether they're tunes like this or (as happened to Bruce yesterday) getting odd looks from dudes after you compliment their Das Ich shirts while wearing extremely bright baseball-themed clothing. In any event, the Mikes have yr soundtrack to 10pm sunsets with claret and cloves.

Kangarot, "Brain.ravs"
Dedicated readers will remember us championing Kangarot for the project's interesting blend of grimy dark electro and kosmische. On this outtake some punchy 8-bit stabs are added to the mix, adding a strict sense of programming to the grind which reminds us of Zex Model. In any event, this is apparently a pointer in the direction that Josh Reed will be taking the project for his forthcoming full-length on Juggernaut. Stay (de)tuned…

Interdictor, "Endosymbiont"
The Digital Recovery comps have been swift, tactical responses to particular crises or needs: bands from across the world and of all stripes donating tracks for sale to fund a variety of charities and recovery efforts. Digital Recovery 10.1 is a bit of a different beast, with the bands in question coming together to help out Digital Recovery main-main Chris Shortt out when he was suddenly side-lined with a slew of medical bills. The full comp of this noble endeavor is released on Friday, but it can be pre-ordered now: check this tasty bit of unreleased menace from recalcitrant electro-indutrial Swedes Interdictor.

The Causticles, "Raise Your God"
Okay, so with Caustic and The Gothsicles on the same bill at AFTERMATH it probably wasn't a crazy surprise that Matt Fanale and Brian Graupner donned their white tanktops to bust out a few numbers from their side-project The Causticles. What was a surprise was the little tribute to Suicide Commando (who sadly had to cancel their performance due to injury) in the form of a cover of SC's classic "Raise Your God". It was one of those nice "only at a 'fest" moments that made the weekend special. Word is this'll also be released as a free download at some point, we'll be sure to pass it on when it does. Special thanks to Shifty Dave for capturing the moment on video!