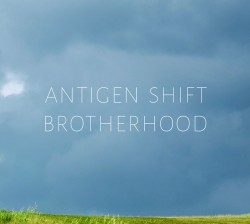 It's been a long hiatus for Antigen Shift. Between 2006's The Way Of The North and the forthcoming Brotherhood, Nick Thériault's had some spells in the military, has begun officially collaborating with Jairus Khan of Ad·ver·sary, and most importantly has offered up a whole new cast to his longstanding rhythmic industrial project. In anticipation of Brotherhood, we touched base with Nick and Jairus to find out what had changed for each of them in the interim, and to walk us through the sounds of the record on the eve of their performance at AFTERMATH. Check out the exclusive advance album stream below!
ID:UD: Before even listening to the record, there's some fairly apparent changes in Antigen Shift since The Way of the North came out in 2006, not the least of which has been the addition of Jairus to the line-up. Can you give us an idea of what circumstances have been shaping this project over the last 8 years?
Nick: Wow, 8 years. I think its safe to say that for anyone 8 years will bring a ton of changes. For myself, joining the military and becoming a father have been huge changes which have most definitely influenced my creative output. But even smaller things, like changing tastes in music, exposure to different creative outputs, sharing stages with new people… all of that works to change your expression. I have known Jairus for as long as I've been into industrial music, and after he assisted me live in some of the best shows we've ever played, adding him as a full member seemed like the next natural step. I highly respect him as a producer, and his sense of production and keen ears really have taken Antigen Shift to the next level.
Jairus: That shared history is a big influence on both of us. We both came out of the same scene, and we both have a lot of the same sensibilities when it comes to what we want to see and want to hear. Antigen Shift has always been one of my favourite projects to come out of the Canadian industrial scene, and working with Nick on this record is exciting and humbling.
ID:UD: A jump from a solo project to a duo is huge, creating new dynamics but also complicating the creative process. Nick, how has it been turning over some of the creative reins to someone else? Jairus, how did you approach adding something to Antigen Shift?
Jairus: Well, I start by trying not to fuck Nick's shit up. He's got a killer talent for melodies, and for balancing sounds that shouldn't work together but come out sounding beautiful, and I don't want to upset that balance. The contributions on this record I'm most proud of are in the arrangement and production. Taking sounds that Nick is working with and building them together in new ways, or bringing out new elements of the sound. Taking something soft and turning it into a banger, or stripping down a thick track so you get a chance to hear everything that's going on.
Nick: It was scary for me before we actually started. Antigen Shift has been my baby since 2001. On the flipside, I've been in bands since I was 14 years old, and the notion of "composing" with someone else is also a very exciting and natural thing for me. I think it's going really well.
ID:UD: The sound of Brotherhood is very different from what Antigen Shift has done in the past while still referencing a lot of the rhythmic elements and atmospheres that were present in the previous albums. Was it hard to reconcile the old sound of Antigen Shift with the new sound of Antigen Shift?
Nick: It wasn't a conscious decision, the songs wrote themselves that way. I listen to a ton of metal and electronic music of all genres, so those sounds seeped in naturally. Jairus has worked with so many different bands, and those sounds of course influenced ours through osmosis.
Jairus: It's funny, because the tracks that ended up on the album are, for the most part, the tracks that sound the most like the other Antigen Shift records. There's about an hour of material we didn't use, eveything from chiptune complextro tracks to straight-up Napalm Death grindcore. But even for the outlier tracks on the record like Godkrusher, there's a mix of influences that help elevate the track to something special.
ID:UD: We're hearing a lot of '90s industrial and even electronica influence on a lot of these songs. Is that deliberate? Were you looking to revive and integrate those sounds, or is it something that's always been a part of Antigen Shift and has just come more to the surface during the making of the record.
Nick: The 90's sound is an interesting point, and makes sense since both Jairus and I came of age in the 90's industrial scene.
Jairus: When I listen to the record now, I hear a 90s big beat influence for sure. I re-listened to The Crystal Method's 'Vegas' recently for the first time in years, and I was surprised by how much noise and dissonance is on that record. We weren't trying to channel a specific sound, but we're both products of our environments.
Nick: I think no matter what we produce, it's always going to have that staple Antigen Shift sound. It's inevitable. But we weren't being deliberate in anything but trying to write good songs.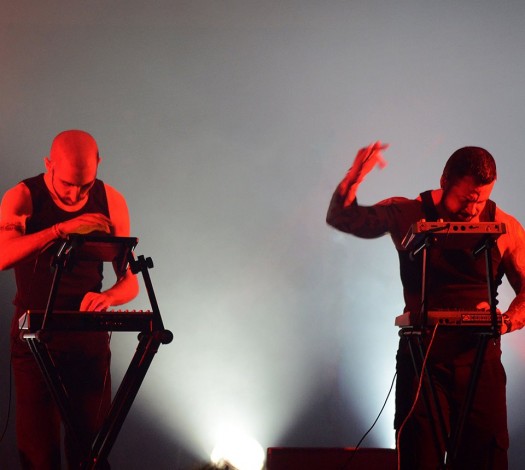 ID:UD: So, as far as process is concerned, were core structures or melodies drafted by Nick then passed on to Jairus? Was there a natural consensus about the direction tracks should be taken in, or were there some interesting surprises or differences of opinion along the way?
Nick: We had no set protocol, but usually I'd draft something up and then Jairus and I would exchange it until we felt it hit what we were looking to achieve, sound-wise. Sometimes it only took one back and forth, sometimes more.
Jairus: I don't think there was ever a point where we wanted a track to go in different directions.
Nick: There weren't any differences of opinion that I can recall, but I was pleasantly surprised at the direction Jairus would take the songs in, once he had them. "Console Nation" is a prime example. The berlin-esque techno feel was all his, and worked so well with the track that I can't imagine it without it. Same thing with the breakdowns in "Godkrusher".
ID:UD: Any chance there'll be a digital release of outtakes or something similar? There seems to be a much stronger melodic component to Brotherhood and it'd be interesting to see the far extremes of that genre experimentation.
Nick: It's a possibility. Both Jairus and I are big believers in getting as much music to the audience as possible, but we have no firm plans as of yet. There definitely are some tracks that didn't make it that I'd love to see released.

ID:UD: It sounds like the creative partnership you have developed is pretty natural, as suggested by the title of the album. Is that a theme of sorts for the record? Brotherhood and collaboration?
Nick: Very much so. The concept of brotherhood is hugely important for me, as something which has followed me through different phases of my life, be it through the industrial music scene, the military, or being a biker. Jairus and I have always, as individuals, been very willing to get involved with others in a collaborative and creative way, and together we work that into much of what we do.
Jairus: We started this record under a different name, but after working together on it we both felt that Brotherhood better represented both the music itself and our collaboration. We both came out of a community where music brought people together, and I think we're both trying to capture a bit of that feeling in the music.
ID:UD: You're playing live at AFTERMATH in a week or so. Do you have any feelings about bringing this new incarnation of Antigen Shift to the stage? Having also worked together live as Ad·ver·sary, is there anything you're doing to differentiate this live set from previous things you guys have done together?
Nick: This doesn't feel like a new incarnation to me, as we've shared the stage so many times. I think the music itself will be what differentiates this from anything we've done before. Its a killer setlist that really displays how far the project has come.
Brotherhood will be released on Signifier May 20th. Hard copies will be available at AFTERMATH Festival, where Antigen Shift will be playing on Friday, May 23rd, tickets available now.