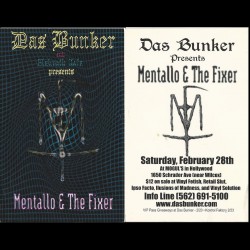 Mentallo & The Fixer
Live At Das Bunker
Das Bunker
The path of Mentallo & The Fixer has been a long and weathered one, with the Dassing brothers' pioneering aggressive dark electro gradually growing more claustrophobic, especially when the band slimmed just to Gary Dassing. But what's on the docket here is Mentallo harshness of a different stripe: a warts and all line tape of the duo's 1998 set at Das Bunker. While the programming comes across with impressive clarity, the percussion and Gary's vocals are redlined to speaker frapping levels…which isn't perhaps so different from the source material at hand, and certainly only adds to the fun. A swath of classic tunes from duo's first four LPs – plus a bonus Mainesthai track – showcase the material which would go on to cement the band's legacy. In spite of the rawness of the tape itself, this recording has value to even casual fans just on the basis of the strength of the material, and it's a treat to hear that material in the context of its own time and in a performance the band themselves seem pleased with ("It's so nice to see a happy crowd out: we sucked last night!" Gary remarks before going on a tear about JR Ewing). What's more, as a historical document it underscores the influence of Mentallo on modern acts like Statiqbloom and By Any Means Necessary. As if that wasn't enough, in a display of dark electro solidarity all proceeds from the recording are going towards Leaether Strip's medical bills.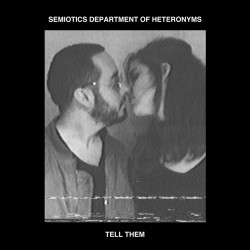 SDH
Tell Them
Avant! Records
Despite being a recently christened project, Semiotics Department of Heteronyms (mercifully abbreviated to SDH) certainly aren't newcomers to dark synth world. The Barcelona-based duo comprised of Andrea P. Latorre and Sergi Algiz are founders of the Cønjuntø Vacíø label and have done time in post-punk act Wind Atlas, whose use of electronics informs SDH. Opting for bright, clear production and vocally driven melodies, the three songs on Tell Them are infused with a soulfulness that plays well against the programmed beats and electronics. The two songs that bookend the release are the title track and "Blind Guide", each showcasing a different tempo or mood: the former is a brief and tightly wound dancefloor cut with a sinister vibe, while the former is a somber ballad, showcasing Latorre's rich and expressive voice. Between them is "Abandon", a cut that acts as a bridge between each mode, its sprightly rhythm programming and mournful vocal calling classic era darkwave to mind. It's an effective taster for SDH's forthcoming LP, suggesting themes and ideas it might include without completely showing their hand, keeping their mystique as a new project intact.