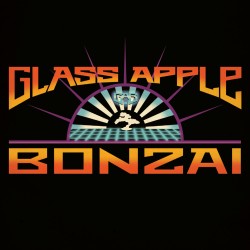 Glass Apple Bonzai
self-titled
self-released
The danger of delving into the world of throwback synthpop is in focusing on the wrong things. The novelty of replicating the now well worn synth and drum sounds and specific methods of production (not to mention the all-important fashion and hair) of the early '80s frequently leads to artists overlooking the real strength of those synthetic pop pioneers: it's in the songs, dummy. Defense Mechanism's Daniel Belasco isn't above a little retro fun on the debut of his new project Glass Apple Bonzai, but for every ounce of effort poured into programming those synths and drum machines just so, an equal amount has been spent crafting memorable melodies and lyrical hooks.
Situated somewhere in a spectrum that includes OMD's Architecture & Morality and The Human League's Dare, the high gloss sound of Glass Apple Bonzai is surprisingly transparent in the context of the album. The snappy lo-fi snares and 'verbed out analogue lead of opener "A Million Foolish Hands" mimic the feel of those influences, but it's the smooth rise from verse to chorus and whipsmart arrangement that leaves the best impression. Belasco's bag of vintage production tricks is deep (witness the doubled up vocal delay on bouncy "Satellite of Fallen Grace" or the way a synth patch does double duty to tie together the chorus and solo on "Too Late to Let Go") but applied tastefully throughout, the slowburn of single "The Freeze" easily maps onto any number of other pop modes, and the funky bassline and the squelchy stabs of "Right Some Day" play against the melancholia that bubbles underneath the song's surface.
At least as important as the twinkly sequences and drum machine claps that wend their way through each of the self-titled album's nine tracks, Belasco's vocals are key to summoning the feel of new romanticism. His healthy baritone sticks firmly in a range a bit lower than you might expect, but rather than weighing the sprightly pseudo-Outrun of "The Fist" they serve to lend gravitas. On "Fade to Sorrow" he invests himself fully, turning lyrics that could have been accused of campy dramatics into a solemn examination of the personal. Belasco is never winking at the listener or suggesting he's anything less than serious in what he's doing here: the record can be sprightly and melancholic by turns but is never insubstantial.
Glass Apple Bonzai tread a fine line confidently on its debut, and deserves some attention for it. When so many acts that evoke the classic synthpop era are hyperfocused on tongue in cheek visual or surface level markers, Belasco is straight up just writing and performing some good songs in the style. It's a pleasant listening experience that invokes without imitating, built solidly from the foundation on up.