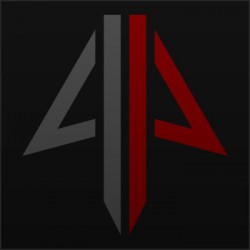 Apriorism
Blood & Smoke
self-released
Simultaneously dropping two separate EPs as your first official releases is admittedly an odd move for an industrial project to make. But Nick Doyle uses the division of Apriorism's first solo releases into the Blood and Smoke EPs as an opportunity to highlight strengths and mask weaknesses. Offering one spate of aggressive tunes which hearken back to mid 90s dancefloors and another of more moody tunes, Apriorism introduces itself with concise statements while still showing its range.
The core idea behind Blood and Smoke's division is that the former's a set of bangers while the latter has the slow jams. That's a severe generalization, but the first impressions the EPs make, especially Blood, hold it up for the most part. "The New Dark Ages" has the sort of vintage endzeit electro feel we recently saw Distorted Memory returning to, while "Claw My Way Out" connotes early Pedwalk to my ears, maybe with some Aghast View tossed in. Over on Smoke, the chiller numbers showcase female vocals and different synth leads and voices slowly shifting in and out of focus.
Doyle's still relatively new to the game as a producer, and there are certainly some growing pains on display here. The final mix on a few numbers is a bit muffled, and some of the more guttural vocals feel awkwardly stacked on top rather than being integrated into the productions. In spite of that, the quick movement from sound to sound happening both within and across tracks, not to mention the fun, somewhat retro feel in those songs' cores minimizes those drawbacks. I really like the dungeon crawl of "Forget The Now", which throws some super gothy synthesized guitar leads against 90s house piano, and closer "Ambivalence" holds its own in comparison to the symphonic dark electro template pioneered by Claus Larsen.
Apriorism is still very much a project in flux, spinning out in several directions, some of which Doyle takes to more aptly than others. Given that, I think splitting this batch of material into thematically organized EPs rather than a single LP is a smart move, helping to compartmentalize and direct the listener's ear. The fact that a CD release will contain both Blood and Smoke yet is still presented as two EPs laid back-to-back says something, both about the digital release perhaps now superseding the physical as the "official version" and Doyle's ability to arrange materials at hand into a cohesive aesthetic flow (a skill he no doubt honed in his time DJing for Death Disco in Ottawa). There's huge potential in Apriorism's future, but the initial work is more than worthy of attention right now.