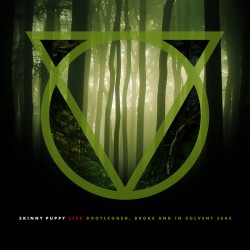 Skinny Puppy
Bootlegged, Broke And In Solvent Seas
Dependent/Metropolis
A brief personal prologue: seeing Skinny Puppy perform for the first time in my life in 2004 was nothing short of transcendent. It's one thing to have watched Ain't It Dead Yet? dozens of times and read countless historical plaudits of Ogre's incomparable skills as a front-man, how everyone with an iota of theatricality in the industrial spectrum owes him a tremendous debt, and so on. It's quite another to see his hypnotic rhythmic tics and spasms in front of your very eyes, to be unable to distinguish between where his body ended and where his incredible costumes and prosthetics began under the gore-slick, even from ten feet away. My point is that the impact of the visual and theatrical elements of a Skinny Puppy show simply cannot be understated. Ever since seeing that show, listening to the CD version of Ain't It Dead or Doomsday (with which I was obsessed upon its release simply because it was proof positive of what had seemed impossible just a year previous: that there was a chance I'd someday see Skinny Puppy) hasn't held the same attraction for me it once did. I'd rather listen to the original albums, and, when the stars aligned, have my mind blown by one of my most beloved bands in person.
It's with that background that Bootlegged, Broke And In Solvent Seas arrived on my plate. At the very least I thought that I'd have a nicely mixed souvenir of the In Solvent See tour – their much-anticipated return to Vancouver having been somewhat marred by gear and mixing/acoustics problems – but without any representation of the visual side of that tour, not much more than that. So, what's on the docket? Tracks from four European shows, recorded and mixed from the console and stage mics by stalwart engineer Ken Marshall. Aided by drummer Justin Bennett, by this point seasoned by sorties for the previous two tours, The Kevins set sail through a selection of entirely pre-reunion material, covering both the hits for those catching them for the first time, as well as some choice deep cuts (only one track overlaps with Doomsday and the Greater Wrong DVD, the inevitable "Worlock"), a luxury that could be taken as the silver lining of having an album forestalled and tied up in label limbo (though we were delighted with the end result of said strife). Although lacking by its very nature the full experience of a Puppy show, In Solvent Seas offers some good reads on classic brappage.
Things fumble a bit out of the gate with "Rodent". The dry guitar samples sound thin in this presentation, while the programmed drums fight with Bennett's live ones for the listener's ear. Later, the taped vocoded backing vocals on "Worlock" create a similar problem, threatening to mask Ogre's live leads. I'm wondering if there's something about Al Jourgensen's hand in the creation of the comparatively rigid and metallic Rabies tracks which prevents them from working well for Puppy live; Ministry were noted for Al's insistence on machine-like adherence to the script in live shows, whereas Puppy have always been a more sprawling, loose beast.
Thankfully, those are the sole missteps, as the more bass and groove oriented tracks fare better. "Addiction" appears in a far more ornamented form than either the sparse album version or its classic 12″ rendition, with smoothly weaving pads taking precedence over the familiar stabbing leads. The rubbery bounce of "Dead Lines" and "Addiction" are buoyed by the mix, and the (mostly) unreleased "Hatekill" makes what I believe is its first official unremixed appearance (feel free to correct and upbraid in the comments, good people of Litany). Additionally, as a die-hard Too Dark Park fan, I was happy to hear solid versions of "Morpheus Laughing" and "Shore Lined Poison", the latter of which is a great showcase for Bennett's drums kicking off the scraping leads and samples before melting down into show-ending chaos. It's also worth noting that while his costumes and movement can't be caught on album, Ogre's vocals come across great on In Solvent Seas: they're uniformly strong and laden with all the sturm und drang we've come to demand from his fractured narratives of personal and political strife and catharsis.
Though by no means an essential purchase for casual fans (though truth be told I'm not sure S'Puppy actually have any), Bootlegged, Broke And In Solvent Seas has enough punch to satisfy the hard-core. But, like I said at the outset, once you've actually seen Puppy live items like this will always be incomplete documents. Contrary to what another noted live industrial release might claim, there's no substitute for what you're missing in case you don't feel like showing up.