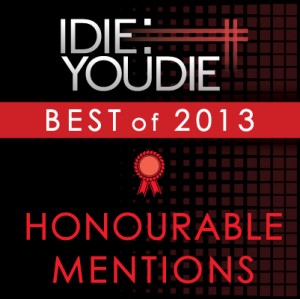 Phase two of our year end coverage is here! As with previous years, 2013 brought far too many records which we wanted to show some love to as we get ready to turn the page, so we're happy to offer up a list of twenty honourable mentions in no particular order. Don't let that HM tag fool you, these are all great albums that we feel deserve your attention (and a few of your hard earned sheckles). Play some catch-up with releases which passed you by the first time around, and be sure to check in tomorrow when we start off our official Top 25 list!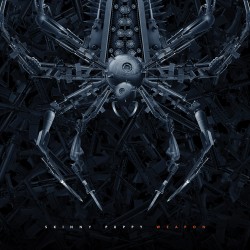 Skinny Puppy, Weapon [Metropolis]
We may not have been as fussy about the latest Puppy record as many of our peers, but that doesn't mean we didn't like it. Truth be told, the album has settled into a pleasant groove for us: as part of the latter era of a band we love unequivocally, it delivers some of the weirdness and range of both Cevin and Ogre's solo material while speaking to how these two men work together in 2013. Skinny Puppy is still Skinny Puppy, and we're happy to have new material from them.
-Read our conversation about Weapon. Check out: "paraGun", "solvent"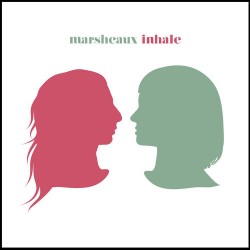 Marsheaux, Inhale [Undo Records]
While perhaps not the dark stunner that was its predecessor, 2009's Lumineux Noir, Inhale still had plenty under the hood. Rather than reprising the icy sheen of Lumineux, Greece's Marianthi Melitsi and Sophie Sarigiannidou go for straight-up summer synth jams right out of the gate. From the tight but heavenly sequencing of opener "Self Control" to the stunning "End Is A New Start" (one of the senior staff's favourite tracks of the year, full-stop), it was great to have Inhale at hand for summer road trips and beach parties in 2013.
-Read our review of Inhale. Check out: "End Is A New Start".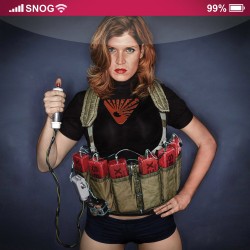 Snog, Babes in Consumerland [Metropolis]
Dee Thrussel is certainly one of Our Thing's most unique talents, both consistent and mercurial in equal measures. The latest Snog album shows signs of the folktronics of the last few records, crossbred to striking effect with the bizarre strain of cynical electropop that has always bubbled under the surface of Thrussel's work. Snog is always the same, always different, and somehow that's never contrary.
-Read our review of Babes in Consumerland. Check out: "The Plug-In Drug", "Everything is Under Control"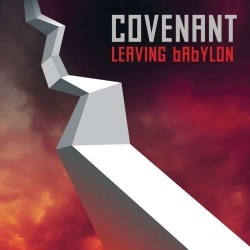 Covenant, Leaving Babylon [Dependent/Metropolis]
Another year, another immaculately sculpted and programmed entry in Covenant's catalog like a time-line chiseled in marble. While not straying dramatically from the path of their preceding three records (there needs to be a handy term for the latter-era Covenant releases: Renaissance? Deco?), Leaving Babylon brought some memorable tunes and allowed the softer side of Joaquim's compositions to come to the fore.
-Read our conversation about Leaving Babylon. Check out: "Thy Kingdom Come", "For Our Time"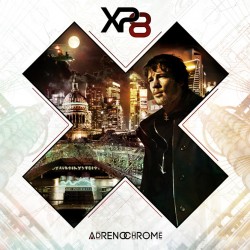 XP8, Adrenochrome [2393 Records]
XP8 do what they do very well, and while a concept record based around an accompanying science fiction novel might not be what we expected from their new record, it proved to be a pretty good fit for them. The high-speed EBM and techno-tropes that Marco and Marko are working with are strangely suited to storytelling: beats, basses and leads expand and contract to suit the narrative, providing momentum and weight for one of the group's strongest efforts.
-Read our review of Adrenachrome. Check out: "Night Run", "Information"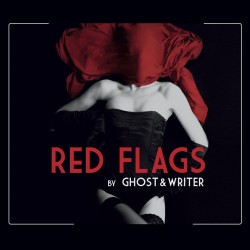 Ghost & Writer, Red Flags [ Dependent/Metropolis]
The first collaborative release between Jean-Marc Lederman and Frank Spinath, the quirky and fantastic Shipwrecks, felt like a one-off happening, so when word emerged shortly after Red Flags' release that it would be the project's last, we were bummed, but also thankful that we'd been able to enjoy another release of bubbling and thoughtful synth compositions.
-Read our review of Red Flags. Check out: "Hurricane"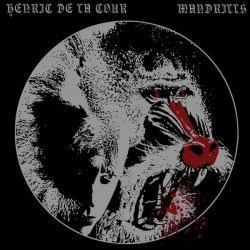 Henric De La Cour, Mandrills [Progress Productions]
Oh Henric De La Cour, we're suckers for you. Which is not to say that you pull the wool over our eyes, but that the thing you do, that grown-goth, half-new wave, half-rock thing is right up our alley. Maybe it's the pancake make-up and the devillock, maybe it's the way your music sounds like the soundtrack to teenage years we wished we'd had. Maybe we're hungry for high drama and low spirits. Whatever the answer is, you've established your presence to an audience beyond your native Sweden in two short albums, and we're happy you made the effort. Hey, we've dreamt we were sharks too.
-Read our review of Mandrills. Check out: "Chasing Dark", "Shark"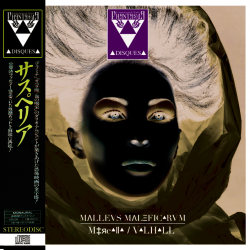 M‡яc▲ll▲ + V▲LH▲LL, Malleus Maleficarum [Phantasma Disques]
The first split release by these two acts (now long-term faves here at the HQ) felt like a classic black metal split in that it showed two acts with a shared lineage representing their individual takes on that style while nodding across the aisle at each other. Their second go-round, Malleus Maleficarum, shows just how far each have gone in honing their own styles; M‡яc▲ll▲ featuring snappy beats and synths while V▲LH▲LL go all woozy and sprawling.
-Read our review of Malleus Maleficarum. Check out: "Şєŧ įn Stǿnє", "▲ THRΣAT"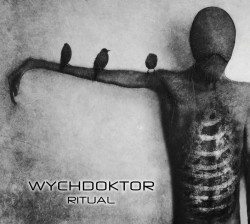 Wychdoktor, Ritual [Self-Released]
Ritual ambience and rhythmic noise is a potent combination, but one that has its pitfalls: if you don't stick the landing you end up with a soup of wannabe spookhouse sounds drenched in reverb and overdrive. Thankfully Ottawa's Wychdoktor seems to have an almost preternatural understanding of how to blend the two worlds, weaving them together and tearing them apart to remarkable affect on his self-released debut. Clanging percussion, distant voices, viscous black textures that hail from the same school as many of the classic Ant-Zen acts, this Canadian newcomer is drinking deeply from a well we've sipped from before, but is far from dry.
-Read our review of Ritual. Check out: "Blackmagick", "The Omen"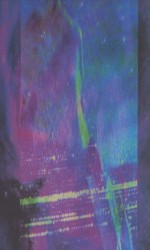 Kangarot, Nursery Of New Stars [Headway]
American newcomer Josh Reed executes an intriguing coup of musical cartography by finding a passage between dark electro and space rock on his second full-length. While everything is still very much in flux, Reed's put himself on the map as a name that needs to be tracked with his fearless explorations.
-Read our review of Nursery Of New Stars. Check out: "Sufficient Energy"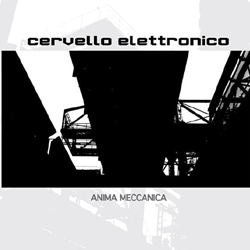 Cervello Elettronico, Anima Meccanica [Hands Productions]
The interesting thing about the latest album from Cervello Elettronico (the project's first for Hands) is that it feels like the Cervello Elettronico that has been lurking behind the curtain all along, but has never been fully exposed. The skeleton of these songs could fit nicely on any of David Christian's other releases, but it's the way that he strips them down and dresses them back up, reconstituting them into bizarre new configurations of rhythm and atmosphere that seems new. Dark and foreboding, this haunted house of a record has a lot of corridors, stairways and dead-ends to confound those who would approach it carelessly.
-Read our review of Anima Meccanica. Check out: "Last Words", "She's Got Damage"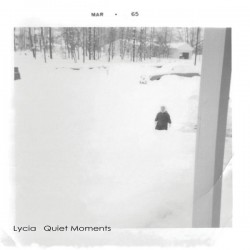 Lycia, Quiet Moments [Handmade Birds]
Having lost track of Lycia in a millennial fog, we were pleasantly surprised by this tremoring bit of ethereal beauty which we happened upon unseasonably in August. Smoother and more dynamic than their classic records, Quiet Moments still delivered all of the emotional punch and musical frisson of their noisier work, while finding whole new acres to explore. It was fortuitous to stumble, snowblind, into Lycia's world again.
-Read our review of Quiet Moments. Check out "The Visitor"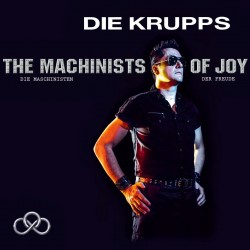 Die Krupps, The Machinists of Joy [Synthetic Symphony/Metropolis]
You're taking a risk when the name your first album in fifteen years references one of your most shining and memorable moments: you're inviting folks to compare what you sound like today with the best of your own catalogue. Thankfully Die Krupps have managed to largely avoid unflattering appraisals by pouring themselves back into the classic EBM mold and leaving much of the metal trappings behind. The Machinists of Joy feels like a record they could have made in '87, all 16th note basslines and teutonic vocals with the occasional burst of guitar and the sheen of modern production to remind the listener that this is 2013. Despite the miles on the odometer from their trips around the block, the Die Krupps engine is running as good as ever.
-Read our review of The Machinists of Joy. Check out: "Schmutzfabrik", "Risikofaktor"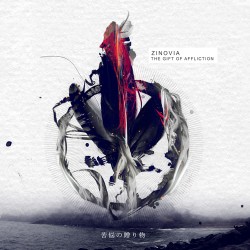 Zinovia, The Gift Of Affliction [Tympanik]
An IDM record of an altogether different pedigree, Zinovia's debut was another feather in Tympanik's already heavily-plumed cap and our introduction to Greece's Zinovia Arvanitidi. Coming from a classical background, Arvanitidi wove accordion and piano themes into a chill suite of glitchy tunes to charming and reflective effect.
-Read our review of The Gift Of Affliction. Check out: "Entangled"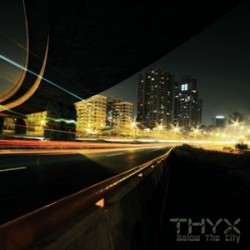 THYX, Below the City [THYX Records/Metropolis]
We're fans of the term "progressive" when it comes to what Stefan Poiss does, and it's a descriptor that works for his THYX project just as easily as it does his more well-known outlet mind.in.a.box. There's just something in the way that Poiss combines his ambitious electronic songwriting and smooth, spacey production with still more confident vocals and arrangements that we find charming. In a scene full of people desperately trying to convince you how iconoclastic they are, Stefan seems genuinely happy to just do what he wants on his own terms. When the developments are coming this fast and fascinating, it's hard not to admire him for that.
-Read our review of Below the City. Check out: "Survival Instinct", "Roses"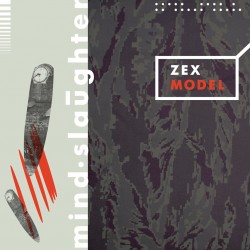 Zex Model, Mind Slaughter [Desire]
Straight up classic electro-industrial worship coming out of Russia. A clattering and grinding release that knows just how much melody and groove need to be used in this age-old template (not to mention how many anime samples), Mind Slaughter reins in youngster Paul Von Aphid's more outre tendencies but delivers handily as far as songs are concerned.
-Read our review of Mind Slaughter. Check out: "Neurotoxin"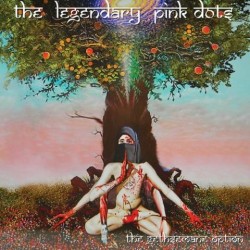 The Legendary Pink Dots, The Gethsemane Option [Metropolis]
The last couple of LPD records have had an air of sadness around them, a sense that this is the twilight of a beloved act as they gradually approach some undefined finale. The Gethsemane Option is similar, but instead of wistfulness, those feelings of melacholia are filtered through a lens of dense psychedelic cynicism, no new weapon in the Dots' arsenal, but one they haven't brushed off in a while. As unnerving as the switch might be, it also feels absolutely appropriate. This is Ka-Spel and company more fired up than they have been in quite some time, playing the song of the world as it all falls by the wayside. Sing while you may indeed.
-Read our review of The Gethsamane Option. Check out: "A Star is Born", "Escher Everywhere"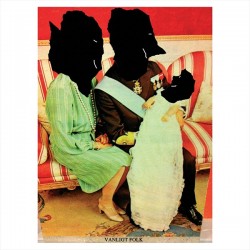 Vanligt Folk, self-titled [Progress Productions]
Marrying EBM with the sort of percussively complex post-punk pioneered by 23 Skidoo, this Swedish band's debut EP was one of the most singular things we heard this year. Delivering political satire alongside roving yet aggressive compositions, these punchy four tracks are the work of a band who seem capable of going just about anywhere; let's hope for an LP which delivers on that potential.
-Check out: "Idioter av församlingen"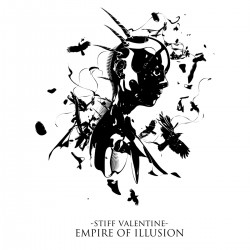 Stiff Valentine, Empire of Illusion [WTII Records]
Vancouver's machine rock juggernaut Stiff Valentine may have amped up the production and the guest list on their latest LP, but don't mistake that for a softening of their approach. Empire of Illusion is as groovy and precise as anything Chris, Kerry and Craig have done in the past, although we've rarely seen them so focused: touring various genres of industrial from the shores of EBM to full-on thrashy coldwave and sounding all the more seasoned for it, this is the record we suspected they were always capable of.
-Read our behind the scenes on Empire of Illusion. Check out: "Incorruptible", "Get Back"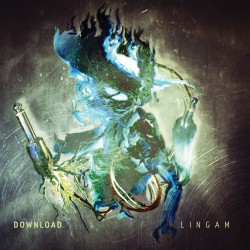 Download, Lingam [Metropolis]
Now well over a decade into the rubbery stoner techno phase of their career, cEvin and Phil have their aesthetic honed down to a sleek and tripped-out art. Lingam speeds along with pinging leads, clackety percussion and big tropical washes of hazy ambiance, almost unaware of itself. Making thing seem smooth and effortless as always, our intrepid pair of psychonauts can do no wrong.
-Read our review of Lingam and listen to a discussion of Lingam on our podcast. Check out: "Blotch"