Happy December, friends! As with previous years, we're happy to start 2018's Year End coverage off with a friends of the site round-up. Lord knows we have enough of a time keeping up with whatever happens to pass through our west-coast perspective on post-industrial/goth affairs, and so checking in with some savvy pals is always a smart move. Check out this baker's dozen and then tune in tomorrow for the beginning of the I Die: You Die Year End countdown!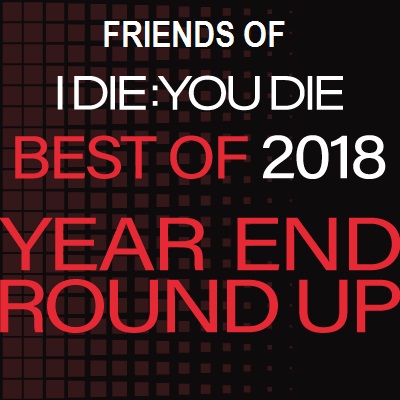 Andi Harriman, DJ at Synthicide, author of Some Wear Leather, Some Wear Lace
I've found that truly enchanting music is kind that's simplistic but never repetitive; it's melancholic but maintains graceful touches of hope throughout its entirety. Though it's rare to discover these specific qualities in an album, I've found it in New Kind of Cross by Australian artist Buzz Kull. The LP – layered with intricate dueling synth melodies and basslines alongside Marc Dwyer's distorted vocals – is comprised of danceable pop songs that feel as if they're shadowed by dark storm clouds. Built on a tenuous balance, New Kind of Cross is a delicate composition that remains on repeat.

DJ Gilly Woo
I chose the release I've been most fascinated by this year – Scott Fox's adaption of the Rime of The Ancient Mariner. I've always felt an affinity with Mariner. The sea is a constant source of fascination, fear, and respect for me (I grew up on an island), and it's no mean feat to capture a work so embedded in my psyche. If you're expecting a barnstormer like "Lily Brant" or "Stygian" you won't find it here; what you will find here is Scott's more subtle and nuanced sound design, thoroughly in keeping with the mythological themes found in releases such as "Fable". The release captures the very essence of what made this poem so special to me, and I cannot wait to listen to this walking along the beach and watching the storm clouds gather.

Lynette Cerezo of Bestial Mouths
2018 was a great year for music, including the releases I have had the honor to contribute vocals too, like the Cabaret Voltaire Tribute Album or the new records from TEXTBEAK and STOCKHAUSSEN, so there is a lot of them swimming in my mind and soul and picking one favorite is no easy task. The record I'm most involved with and closest to my heart is Into The All by Zanias, though. I do believe her debut LP is really a showcase of her talent, it's like the culmination of all her past projects and life experiences reaching a true pinnacle. It's a true masterpiece in a whole concept from start to finish, plus the ultimate balance of music production highlighting her vocals. Each song, whether it's the musical melody or chorus, will enchant your being and stay with you. Even if I may be biased since we do a duet on the song 'Thanatos', take the challenge and check it out to see.

Adam Williams of amodelofcontrol.com
Sheffield has long been a hotbed of excellent and intelligent electronic music, a lineage that goes back forty years and more. Here's another to continue it, Promenade Cinema's Living Ghosts, an album of smart, cinematic synthpop that is impeccably produced with a fistful of hooks and intriguing songs. My album of the year for a good reason.

Rodney Anonymous of The Dead Milkmen and 7th Victim
For many years now, I've lived by two concrete rules. The first is "Never write about a friend's artistic endeavors – no matter how good the work may be – because, correctly or not, there will be a perceived notion of bias attached to that review". The second is "Never shout 'You suck!' at a group of war orphans". Today, I'm going to break one of these rules.
Caustic's American Carrion, which was released in early January of this year, is quite simply one of the best Punk Rock albums made in the past ten years. It serves as an outlet for our collective anger, a call to arms, and a way to get people off their asses and on to the dance floor. I'm hard pressed to think of any other recent release which accomplishes all three of those things. It's the album I wish I'd made in 2018 and it's the album I'll be recommending for years to come.
Now, about those war orphans…

Brant Showers of SØLVE and ∆AIMON
Between Hide, Uniform, The Body, and more The Body, 2018 has been a year of uncompromising noise and raw intensity. As such, the second album from Mirrors For Psychic Warfare I See What I Became fits in perfectly. Scott Kelly (Neurosis) and Sanford Parker have worked together previously in the experimental/industrial group Corrections House, but here they are afforded an even deeper exploration into claustrophobic rhythms, cicada-like sound design, and deeply harrowing folk melodies – the results of which are the dense, atmospheric equivalent of Leonard Cohen adrift in a cyclopean landscape, hunted by giants. Plenty to love.


Kathleen Chaussé of The Outside Collective
It's been a quite a ride to watch Street Sects grow more into their own with each release. End Position was abrasive & chaotic, Rat Jacket was like a blueprint for what they were envisioning with its crushing narrative, and now with The Kicking Mule, they have hit their stride with full force. It will sneak up on you and brutalize you with its clean vocals and sharp production and carefully placed samples. Songs move smoothly into each other with their elements blending and creating a uniform experience throughout the album's structure. Highlights for myself include "Everyone's at Home Eventually", "In For a World of Hurt", and "The Drifter".

Avi Roig of Harsh R
I know I should be talking up some obscure techno or harsh noise to maintain my street cred, but truth be told, no record had given me nearly as much pure pleasure and inspiration as Andrew WK's You're Not Alone. More specifically, "Total Freedom". Nestled among the grandiose rock clichés and spoken word affirmations (yes, really) is this perfect diamond, an anthem which conveys the complete refutation of the adult world and all the bullshit that goes with it. There is nothing more sublime, not in 2018, not ever.

The Count of Cemetery Confessions and The Belfry Network
We're all aware the earth is on its way to the apocalypse, so why not add some lasers, flying cars, and 80's retro-futurism as salve for your melancholy? Aesthetically The Rain Within's Atomic Eyes is dystopian synthpop built for a cyberpunk campaign. Beneath the neon glow, however, is a deeply pained, sometimes maudlin, sometimes jubilant journey of a protagonist simply seeking to exist. Canorous synths and crooning vocals underscore the ontological anguish we all experience looking for meaning and direction from within and without. This album will deposit itself at the base of your skull and never let go. Or you could just fucking dance to it.

Danesha Artis of Standard Issue Citizen
I would write about Frontline Assembly's War Mech, but I don't think I can condense how much I love the album into 100 words. So I'll go with a track I've had on repeat: "Force Carrier". For an entire album to be devoid of lyrics, it can be very emotional. Especially this song. For a self avowed mecha lover like me, the track (and others) get the mental imagery going. The sweeping string parts running counter to the glitch sounds and drums..? It puts me in mind of watching someone building up a mech and putting it through its paces. The heavier drum hits being synonymous with footsteps of the machine. I know that I'm an absolute sucker for orchestral elements used well in most songs, and with FLA? It's done amazingly well and lifts the heavier hitting things in a fun type of balance.

Michael Kurt of The Blood of Others and Talking to Ghosts
Omniflux is a band I saw live before hearing any of the recorded material. She opened for the 2018 OhGr/Lead Into Gold tour and just blew me away. The performance and the music instantly grabbed me and I very quickly hit my play limit on Bandcamp and had to buy Aquarelle. While on the trip hop side of the new dark pop wave, Omniflux has a great, heavy atmosphere. Bangers like "The Bishop" and "Lawless Flawless" get the album going right away, but if you were only going to check out one song (which would be a mistake), I would recommend "Iris Van Herpen" because it is always stuck in my head.

Alex Reed of Seeming, author of Assimilate: A Critical History of Industrial Music
To my ears, a lot of good goth/industrial records came out in 2018. Special nods go to VOWWS' best album yet (Under the World), and Bragolin's excellent post-punk debut (I Saw Nothing Good So I Left). But perhaps the album that charmed me most was God, by west-coast mainstay Xorcist. One of the most online, active, and community-oriented scenesters of the 90s, Bat (William Kinderman) is an underground legend, but he hadn't released a proper album since 1999. This LP is not quite a throwback, not merely a comeback, and certainly not a lazy victory lap. Instead, it sounds like a culmination of decades studying darkwave — and yet there's a breezy spontaneity about the whole affair. Nodding incidentally to the 80s and the future alike, the vocoder-heavy God LP sets ominous moods with analog minimalism. Climactic washes of melody complement motorik grooves. When I hear highlights "L'Assassin," "I Fall Apart," and "Circuit Overlord," I hear a reinvigorated confidence and a rare kind of expertise. I hope this is the beginning of a new chapter.

Wesley Mueller of Talking to Ghosts
Low's Double Negative is such a beautiful album. On one track you might hear haunting synths that feel like they're being pulled apart at the seams paired with distorted, heavily effected vocals; on the next, the synths and vocals become clear, creating a sense of stability in a storm. This push and pull makes for an incredibly engaging album, something that should be listened to start to finish (something I've done who knows how many times since it's September release). If LORN and Sofia Reta collaborated on an album, it might sound something like Double Negative.