And the hits just keep on coming, as we continue our Top 25 releases countdown. This is probably as good a space as any to note a change you may already have noticed, namely that we changed up our inclusion criteria this year so we could recognize some amazing EPs amongst full-length albums on our list. Partly it's a function of how much different everything seems in 2012: we just didn't feel like arbitrarily declaring the LP the be-all end-all made much sense anymore in light of how the distribution of music is changing with the increasing viability of self-release in the digital age. Who knows, maybe next year we'll look at changing our Year End coverage to some different, less format oriented style, but for right now, the band plays on. Enjoy the second part of our list, and don't forget to leave your thoughts on what the best music of the year was in the comments!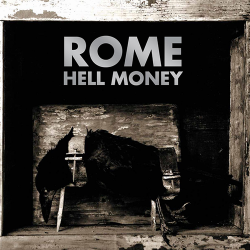 15. Rome
Hell Money
[Trisol]
Electing to follow-up the massive triple album experience that was Die Æsthetik der Herrschaftsfreiheit with a smaller, more intimate record was something of a gambit for Jerome Reuter. The tone of Hell Money is exactly in step with those stakes, the blurred line between Reuter's personal and political muses imbuing each song with the gravity we've come to expect from Rome, each number delivered with the same fire and weight as one of his reflective takes on the history of the 20th Century Europe. When Jerome sings "I sang of countries so far/Some I've never seen/And of raging wars and yet I've never been/In uniform, in unison with the demon me" the effect is breathless and arresting, a sound only audible when an artist pulls back the curtain of ambiguity and allows us an unfiltered look at the insecurity and unease that lies behind it.
Read our conversation about it.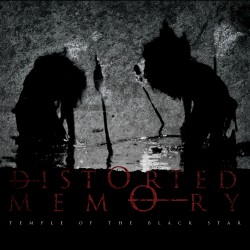 14. Distorted Memory
Temple Of The Black Star
[self-released]
Not an LP, not a single, not a traditional remix disc, Temple Of The Black Star was an experiment with the structures of traditional releases which paid off in spades for Distorted Memory's Jeremy Pillipow, as well as those who contributed to it. Beginning with a new composition, a solemn, contemplative piece inspired by a rather unique bit of architecture, Temple slowly shifts through a seamless set of reinterpretations by a who's who list of names in the post-witch house world, each latching onto a particular aspect of the original and mutating it to suit their whims, before yielding the floor to the next set of hands. Hearing recurring refrains from the original – the airy, plucked strings, the guttural chant – surface in new contexts shows that the symphonic context suggested by the list of "movements" isn't just for the sake of ceremony.
Read our full review and our interview with Distorted Memory.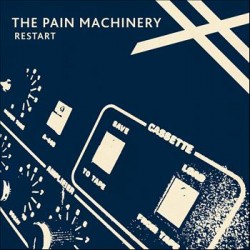 13. The Pain Machinery
Restart
[Complete Control Productions]
We liked 2011's Surveillance Culture a great deal, but we love Restart, the growth of our affection directly proportionate to the growth of the Pain Machinery's approach between LPs. In contrast to many of the North American acts who have latched onto the rawness and power of 80's body music, the Swedish duo trade in the more subtle aspects of classic EBM, building rock solid songs from a small but sturdy toolkit of sounds that reference acid, minimal electro and the golden age of sequencer-based synth music. Despite being based around strictly arranged rhythms, there's a surprising elasticity to songs like "Liquid Silver" and "Running Red", an invocation of mechanical funk that seeps up between the cracks of each quantized note and drum hit. Continuing their march forward with confidence, TPM never miss a step.
Read our full review.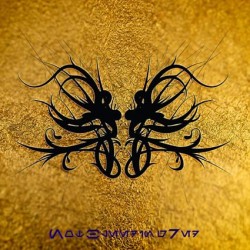 12. Nothing But Noise
Not Bleeding Red
[Future Noise Music]
How does electronic music relate to the mind and body? Is different from acoustic music in that regard? What might the present musical landscape look like if electronic music had stayed within the realm of auteur experimentalists like Stockhausen and Schulze? All of these questions crossed our minds as we listened to this double LP of kosmische trip-out heaven presented by Front 242 sonic wizard Daniel Bressanutti, 242 alum Dirk Bergen, and Erwin Jadot, but in the end they're not necessary to enjoying Not Bleeding Red, or perhaps even getting the most out of it. If you let its waves of Moog pads and lightly tapping sequencer patterns (which almost have something of Philip Glass' additive rhythms) just wash over you, you'll find yourself being carried to all manner of corners of the mind, conscious and otherwise. What you do with that is up to you: ask your own questions.
Read our conversation about it and our interview with Daniel B.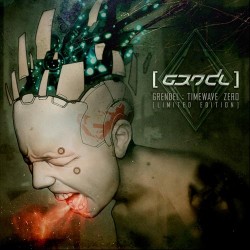 11. Grendel
Timewave Zero
[Infacted/Metropolis]
The appreciation for Grendel's albums (and a lack thereof) was a long-standing division in the tastes of the ID:UD senior staff for years. Enter Timewave Zero, a record we could both agree was good. Really fucking good. The big leads and and pumping bass JD Tucker has been working with for a minute now are here in full-force, refined into a seamless collection of songs that evokes the cyber-futurism of 90's electro-industrial with a contemporary production sensibility. It probably doesn't hurt that it also has some of the best shout-along vocal hooks Grendel has ever written, their power enhanced by the less-is-more decision to make a large portion of the album to be instrumental, giving it the feel of a sleek sci-fi soundtrack. Timewave Zero is an Akira-style motorbike that runs on melted-down Blade Runner Blu-Rays and old Leaether Strip CDs, peeling out on neon streets and leaving every other aggrotech group in the dust.
Read our review.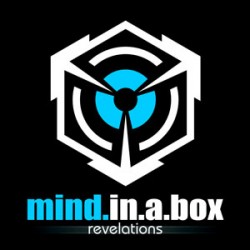 10. mind.in.a.box
Revelations
[Dreamweb Music/Metropolis]
mind.in.a.box make unapologetically progressive EBM, with all the intricacy, conceptual conceits and technical acumen that superlative implies. Revelations's greatest strength lies in how it wraps all of those headier, harder to parse elements into a relatable whole. Short on club songs (although shored up with a handy remix EP for DJ applications) and long on slow-builds and atmosphere, the record rewards close listening as much as it does casual; the audience can focus on the melodies that flow outwards from Stefan Poiss' expanded vocal range or the rich meshwork of synths and instruments that bubble underneath the leads and basses for a different but equally pleasurable experience. A natural jumping on point in the ongoing narrative that forms the backbone of m.i.a.b.'s work, Revelations is their most human record, and most certainly one of their best.
Read our review and our interview with Stefan Poiss.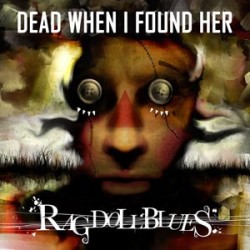 9. Dead When I Found Her
Rag Doll Blues
[Artoffact]
In retrospect, Michael Holloway's floor-packing cover of Prince's "Controversy" feels like a bit of a warning shot, preparing the listener for what Rag Doll Blues would bring to the table (despite being recorded after the album was in the can). "Controversy"'s brighter colours, as well as its undeniably killer songwriting, presages Dead When I Found Her's sophomore record adding more bubbly leads to the project's old school electro-industrial chops, as well as a lot more of the swing and bounce which distinguishes Holloway's sources of inspiration (chiefly Puppy, who, it's worth noting, aren't so far removed from classic Prince in some lights) from the uniform four-on-the-floor beats of so much of today's club fodder. Holloway takes no shortcuts, creating immediate yet densely structured tracks which unfold like a winding procession, never just counting time 'til a chorus you can predict before you've heard it. Rag Doll Blues shimmered, bewitched, and delighted.
Read our full review and our feature on DWIFH.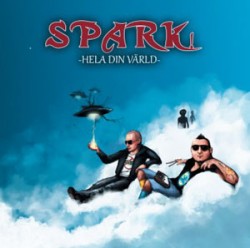 8. Spark!
Hela Din Värld
[Progress Productions]
Beginning with a sample from The Seventh Seal (in the original Swedish, natch), it's readily apparent that it's not anhalt EBM as usual for Spark! on their third LP. While "Döden Och Jag"'s wailing gloom doesn't persist, its deep production and stepped-up vocal melodies point to how much more polished and pop-friendly the duo's ambitions have grown. From the sing-song chorus of "Revolution 2.1", to the title track's dashing melody which wouldn't be out of place in a Mega Man level, to the unbeatably anthemic "Tankens Mirakel", Hela Din Värld delivered some of the most fun and energetic music we heard this year, full stop. Spark! maintain a near-perfect balance of aggression and production on moodier tracks, too, like "Hugg Det I Sten", where a classic, stomping EBM bassline cedes the floor to a subtly shaded string recreation of itself, before the two styles close things out together. We've said it countless times (and even made a mixtape of it), but Sweden's EBM is just as much of a force to be reckoned with as their record-busting history in pop fare, and when the two combine in as tight a package as Hela Din Värld, you've got an absolute must-listen on your hands.
Read our full review.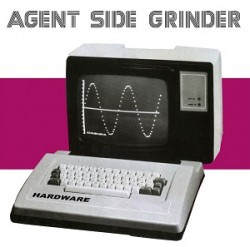 7. Agent Side Grinder
Hardware
[Energy Rekords]
Genre trainspotters are likely to have a hard time pinning down Sweden's Agent Side Grinder. Does the emphasis on nimble basslines make them a post-punk band? Do the electronic drums and keys slot them into electro-pop? Where do the industrial tape-loop sounding samples on "Bring It Back" and the Man-Machine synths on "Rip Me" land them? Truth be told, there just isn't any other bands like ASG, and while there's a delightful consistency to Hardware from beginning to end, it doesn't even sound particularly like anything else the quintet has recorded. Oh sure, it's mysterious and occasionally kind of obscure like the LPs that came before it, and vocalist Kristoffer Grip still has that scraggly, desperate quality to his performances. But the sound of the record is just so unobstructed and clean, the warmth of the analogue synths and drum machines captured with such amazing clarity that the songs veritably seem to play themselves without human intervention, in the best, most classically Kraftwerkian way possible. Buy it on vinyl, put it on the turntable and get yourself comfortable: Agent Side Grinder are doing it their way, genre be damned.
Read our review.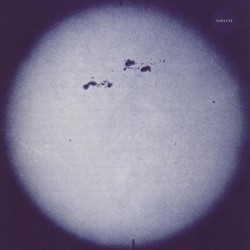 6. S U R V I V E
self-titled
[Mannequin]
The Austin electronic group emerge fully-formed but disarmingly nebulous on their debut LP, a beguiling record which contained whispers of space rock, electro, synthpop and post-rock. Its soft approach proved exceptionally pliable, finding a different hook with just about everyone we played it for. After opener "Deserted Skies" lays breathy pads overtop of creamy washes for a vintage ambient feel, "Floating Cube" flips the script by adding utterly modern gnarls of bass to a similarly classic foundation before harmonizing everything with a clarion lead. Hell, we spun the murky 'up and down the stairs' scales of "Hourglass" at both 20 BPM above and below its recorded speed in clubs this year, and it went over like gangbusters each time. It's a record which continuously lulls the listener into hypnotic grooves which feel perfectly balanced, only to unveil yet another new approach or sound, ready to be delighted in before revealing itself to be one more thread in the seemingly endless flow S U R V I V E channels.
Read our full review.

Thanks for reading, and tune in tomorrow for our Top 5!