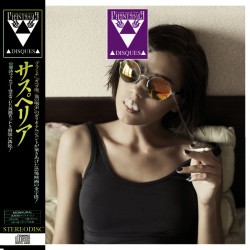 CONCLΔVE
self-titled
Phantasma Disques
CONCLΔVE's Justin Craig has always been something of unique quantity amongst the post-witch acts. First as half of Ronobe and now with his solo project, Craig has cleared himself a niche situated between the wooziness of the triangle and crosses set and a bright, sometimes tropical vibe. Like fog covering the sun, CONCLΔVE maintains that obscurity and light needn't be exclusive qualities, and that unlikely confluence of sound informs the whole of his debut for Phantasma Disques.
Come to think of it, the descriptor "light" applies here in more ways than one. Yes, these songs have a brightness to them, but they're also unencumbered by over-arrangement or excessive digital production. CONCLΔVE is just terribly easy to listen to. No matter how far down the dark path Craig ventures in these songs, they always maintain an essential listenability born from their simple arrangements. Even with BLAM LORD rhyming over the droney reverbed out "Portals" and Berna So channeling cold disinterest over the glacial, bass-driven "Melted", the record still feels pleasantly sure and not bogged down with attempts to drown the listener in reverb and layers of synths. These instrumentals are pretty basic as a rule, rarely consisting of more than a few pads, a bass and drums, and I can see that being something of turnoff for some folks. For me though it suggests a confidence in CONCLΔVE's creative decisions, allowing them to breathe instead of smothering them in layer upon layer of additional instrumentation and effects.
While dabbling with elements from hip hop (as on the draggy "Knighthood" featuring bars by Spz Chaote) and 4AD-esque shoegaze (the This-Mortal-Quaalude Ronobe reunion "Ocean Star") isn't too left field for a release on Phantasma Disques, there's a pleasing freshness to how Craig integrates them into his sound. First wave witch-house's marriage of druggy psychedelia and hazy synthetic beats and samples has been pretty well explored, redefined and abandoned in the years since we heard those first Salem cuts, and that CONCLΔVE can draw some more from the formula is notable. It's something in how Craig doesn't seem to care about being creepy or foreboding; where others might have angled the pop-tinged collaboration with Leo & the Tolstoys "Island" towards bleakness by dint of its drums and clicks instrumental, Justin is happy to let it play out unshrouded.
It feels weird to appreciate a record for what it doesn't do, but of all the young producers who have come along in this vein over the last couple of years very few have gone for the mist and mystery but not the gloom and malaise. It's a solid debut from a producer who is still very much in development, but has grasped a simple formula from which to jump off from. CONCLΔVE's character is established; it'll be fun to see what he does with it.