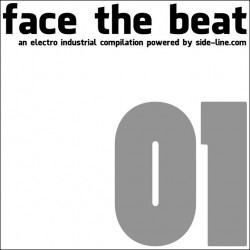 Various Artists
Face The Beat Vol. 1
Side-Line.com
The folks over at Side-Line Music Magazine have assembled a sprawling 55 song free-for-download compilation of synth-pop, EBM, electro-industrial and pretty much all the genres that make up the electronic end of "our thing". Bands range from fairly well known scene acts such as Alien Vampires, Armageddon Dildos and Inertia to total newcomers like Doom Generation and H.Exe, the former of which are making their debut on the comp. These sorts of monster compilations can be a bit of a trial to work through, it's difficult to sort the wheat from the chafe when the total run time is in excess of 4 hours, but having taken some time to do so (over a few weeks admittedly) there's a surprising amount of solid material present here.
Malakwa step up with their Land of Rape and Honey-esque track "Monster" and Kant Kino provide a blast of dark electro on "The Owner of This House Lives Here (Club Mix)", both highlights that appeared on Alfa Matrix's fantastic Electronic Body Matrix compilation earlier this year. Also notable is Pacific Northwest stalwart SMP, who provides a bangin' remix of his track "The Knife" and the bouncy pop-like EBM of Corporate Soldiers, whose song "Give It To You" features a guest turn by Jen Parkin of Ayria. I was also keen on the The Chaos All Stars, "Forget Them", a nice bit of synthy-electro featuring as it does Kari Berg, late of ID:UD favorites Ashbury Heights. And on the synth-pop side of things Bête Noire and Distorted Reality each deliver a solidly catchy and danceable number. I could enumerate a few of the less impressive entries here, but that seems unsporting really, it's a free compilation and Side-Line have even given the option to download it track by track from their Facebook page meaning that you can preview a song and snatch it right up if it catches your fancy. Meaning in other words that the only investment you have to make in Face The Beat is one of time, and even then you can put as much as little as you want in. It's a nice model for a promotional tool like this one (it's designed to drive folks to the S-L FB page, and hey, mission accomplished judging by the number of downloads they're claiming) and I applaud Side-Line for taking a forward looking approach to getting this comp out there.
The mileage for Face The Beat will of course vary depending on your preferences, and it probably goes without saying that like with any wide-ranging compilation 1/3 or less of the songs will likely appeal to any given listener. That's the nature of this beast really, and for my less than stellar expectations for a free release of this size going in, I was pleasantly surprised. It's certainly worth at least going over to Facebook and giving some of the tracks a listen in the streaming player, which you can do right here.
Malakwa, "Monster"

Corporate Soldiers, "Give It To You feat. Ayria"