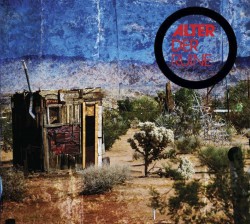 Alter Der Ruine
There's Always One More Son of a Bitch
Negative Gain Productions
Without wanting to be overly dramatic about it, listening to the new – and final – album from Alter Der Ruine has been a bit difficult. On the one hand There's Always One More Son of a Bitch is an exciting, fun and dynamic record, and in my opinion their best, eclipsing both 2008's Giants From Far Away and last year's Son of a Bitch in terms of production and songwriting. On the other hand the enthusiasm I feel when listening to it is shot through with the knowledge that it's the last record from the foursome, who announced they were retiring the project back in January. Minus the latter fact it'd be a great record, but knowing that this is the final grope makes it all the more bitter and somehow all the more sweet.
Moreso than at any moment in their past, even the album birthed from the same sessions as it (Son of a Bitch), There's Always One More Son of a Bitch is the most song-oriented thing ADR have ever done. It makes for a nice narrative arc for the band; the scrappy, rhythmic noise-influenced instrumentalists capping off their evolution as purveyors of a distinctly funky form of industrial electro. I've compared them to producers from the indie-electro community before, notably Fukkk Off and Kill The Noise, but beyond being beat-and-bass-driven, these are full on songs, like, ones with hooks and choruses. And good ones damn it! Listen to opener "Brute". You could dance to it (and likely will if your local DJ is worth their salt), but it's built like a song rather than a collection of loops: it has a build, revisits a few different synth stuttering synth motifs, and maintains interest by being dynamic and allowing it's refrain to take over from the rhythm.
A big part of what sells the tracks on There's Always One More SOB is the distinctiveness Michael Treveloni's vocals, which have truly come into their own, acting as anchor for the sound of the album and as a melodic lead. His delivery is as weird as it ever has been, but always served with a conviction that shines through his stilted warble. When he leans into the chorus of "Keep the Devil Off Your Back", the focus of the song shifts; the tweaked-up, basslines and bleepy synths that dominate the verse never leave the mix, but are overtaken by a wash of melody that feels genuinely affecting. That concern is certainly the definitive thing about the record, to the point where there's only one of the group's distinctively-noisy technoid instrumentals, the appropriately named "The Jazz-Matazz Before the Last Breath", appearing in the penultimate spot as a look backwards even as the end comes into sight.
It stands to reason that ADR kept back the best choruses and hooks from the SOB sessions for this record, if only because this record is so replete with them. "Shit Disco Stunner", "Bury It" and "I Am Drugs" are all arguably the best songs Alter Der Ruine have ever recorded (yes, better than "Relax and Ride It"). Though distinct from one another by virtue of their particulars, they each sound like the inevitable final word from the group: they're funky, danceable, memorably quirky, and moreso than anything they don't sound like anything or anyone else. And that's probably why listening to Always One More Son of a Bitch has been a little fraught; I like this band! I want to see what else this band can do! And moreover, I want this band to keep doing what they're doing, and the fact that I knew it was over before I even heard the record feels like Our Thing got cheated out of something special.
Okay, look, I know it's not like someone died or something, by all accounts the Alter Der Ruine split is entirely amicable and some of the dudes are working together on new music together. I look forward to hearing what the members of the band get up to (a new Dust is Noise album maybe?), please let the fact that I got a little worked up here stand for the fact that this album is really excellent, one of 2012's best thus far and a testament to what people in Our Thing can do to push its boundaries. Highly recommended.