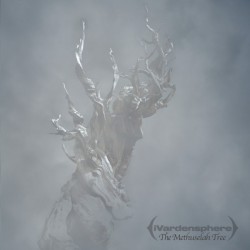 iVardensphere
The Methuselah Tree
Metropolis Records
After experimenting the finer points of tribal industrial of the ilk pioneered by This Morn' Omina on iVardensphere's first two LPs, Scott Fox made an ambitious leap forward with APOK. Embracing collaboration and a far wider range of sounds, APOK also marked Fox's plunge into full-bore cinematic production, with space and dynamics being exploited to the hilt for dramatic effect. After a lengthy-by-his-standards hiatus, Fox has returned with The Methuselah Tree, an album which consolidates APOK's strengths while shrouding its bombast in a more tempered guise.
In terms of genre exploration, The Methuselah Tree brings notes from ambient, neo-classical, and that oh-so thorny category of "world" music to iVardensphere's already diverse buffet. Opener "Mother Of Crows" fuses iVardensphere's zeal for hand-drumming with a martial percussion-and-choral arrangement which the Humberstone twins would be proud to have on any In The Nursery release. It's the sort of uber-dramatic opening which would cause a thousand aggrotech or darkwave bands to faceplant right out of the gate, but Fox has honed his chops enough by now to let it breathe and pulse perfectly. While second track "Bloodline" is built from an entirely different instrumental toolkit (one perhaps closer to the scraping samples and percussive builds we've come to expect from iVardensphere), it too knows how to pace itself, never opting for cheap heat: drum and klaxon side-chaining does show up, but only well after the midway point of its rising and falling structure.
It's that reticence to cling to current club trends which might keep more impatient DJs from being able to find any club material on a channel-surfing first skim through the album, but which also rewards more attentive listeners (and hopefully dancers as well). "The Doorway" does build into a full-blitz stormer, but it takes so long to reach that pitch that it's near-impossible to point to one spot where it "kicks in". So, yeah, there are dance tracks on here, it's just that Scott's "showing his work" as we were all admonished to do in math class (those absolutely desperate more more immediate beat fixes will be more than sated by "Eclipse"). I've already tracked the structural peculiarities of lead single "Break The Sky", and Fox's intuitive gambling on The Methuselah Tree pays off with other collaborations. After enlisting Voster collaborator Jamie Blacker of ESA for his characteristic mix of croon and scream on "The Impossible Box", Fox brings Blacker back for a more subdued appearance on the understated and glitchy closing title track. And who on earth would have thought to tap Tom Shear to get his inner Brendan Perry on ("Society of Dogs")? Not I, but goddamn it works.
That dedication to composition being dictated by individual instrumentation and impulse, rather than convention, also shows up in the track lengths, with only three of thirteen falling into the three to five minute window. Is that a somewhat arbitrary (and banal) metric? Maybe, but it also places The Methuselah Tree well outside of the median (post-punk legends Wire's claim that they played exactly as many notes as were necessary also comes to mind).
The Methuselah Tree is a master class in production and composition, but an understated one. Scott Fox hasn't lost any of his flair for rhythm and dramatics, he's simply augmented it with a canny confidence. The Methuselah Tree isn't going attack your headphones or speakers with unremitting brute force, but if you afford your listening the time and space to breathe which the record gives itself, you'll find it has far more to offer than mere aggression. Highly recommended.