Morning, gang! Between tracking the final days of the baseball wild card races (personally, I'm praying for an A's/Pirates World Series) and finally getting to see my beloved Alcest play an hour of post-black metal shoegaze, I had a pretty packed weekend, but it ultimately belonged to one man: the creature of ferocious will and harrowing self-delusion they call Heisenberg. No spoilers here, but I have to imagine that some Breaking Bad discussion will work its way into the next podcast (now on iTunes!), even with Alex's stated objection. Regardless, I know you don't come here for the sort of pop culture fawning your Facebook feed is likely already clogged with, so let's get to this week's tracks!
Edit: So it looks as though no less a media behemoth than Pitchfork linked to our interview with Youth Code in their (well-researched) review of the LP. On the off-chance you clicked around the site and found yourself here, Pitchfork readers, hello! We write about dark electronic music running the industrial to goth to EBM gamut every weekday. If that sounds up your alley, please dig around the site further, and if you're so inclined you can keep track of things here on FB and Twitter.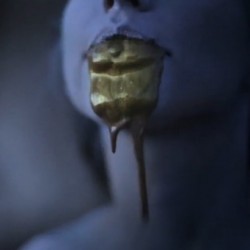 3 Teeth, "Dissent"
3 Teeth consolidate anticipation for an official release and also roam into some new territory: this still has all the punishingly thick and gritty production we've come to expect from the trio, but the structure underneath is pure, no-frills, European EBM. Some classic Bill Hicks steez in the newscrawl keeps it native to the band's climes, though.

3 TEETH \\\ DISSENT from OVERTHROW on Vimeo.
Bestial Mouths, "Earth"
Months after the limited (and hell of expensive to ship to these wintry climes) vinyl dropped, the eponymous sophomore LP from LA's Bestial Mouths is finally out digitally, giving the rest of the world the chance to see what these gothy no-wave freaks have been up to. There's also a spooked-out vid to whip up some hype, half Cremaster Cycle, half Kazuo Ohno's butoh.

Bestial Mouths EARTH from Bestial Mouths on Vimeo.
Gary Numan, "Love Hurt Bleed"
We caught this song at the show Gary played in Van a few weeks back, but I don't remember it having this much of an immediate and floor-friendly beat. Given his track record when it comes to making club-type tunes post-renaissance ("The Fall" most recently, and "Dominion Day" well before that), I'm surprised he doesn't go to this sort of well more often. Regardless, we're only a couple of weeks away from the release of Splinter.

Daniel Myer, "S.O.U.L.S."
Here's something from Herr Myer entirely different from the ethereal wonder of Mine which we've been blissing out on: a gloomy as fuck reinterpretation of some downright ancient Project Pitchfork, all haunted mansion synths and some newfound trap beats. Also, if you haven't seen the "darkwave on Betamax" wonder that is the original track's video, you're in for a treat.

Terminal Gods, "King Hell"
Finally, we'll leave you with the latest from London's Terminal Gods, who have an EP in the works after dropping a pair of stellar 7″s that pruned goth rock back to the Sisters' Motorhead fetish. There's some Americana/country seasoning sprinkled on this one, plus some frantic guitar breaks. I'm thinking Gun Club or Flesh Eaters?