It's been quite a spell since the last installment of The Unquiet Grave, and I'm deviating somewhat in format. Rather than winding my way through one particular band's discography, I'm lifting a page from my colleague's 199X column and talking about videos by various acts. The gothy glue that's binding all these dusky gems into a single broach? Their appearance on Cleopatra's 1996 Goth Box VHS tape, a companion article to a CD comp of the same name. Stumbling upon the tape in a suburban record store in 1997 was a big discovery for my teenaged self; I was beginning to search for deeper and richer veins of goth and industrial music after having made the typical initial forays. The music video was still a dominant cultural form back then (younger readers: music videos were like less pithy animated .gifs), but I sure as hell wasn't seeing Skinny Puppy or The Sisters Of Mercy on Much Music, let alone the deeper scene acts that were featured on Goth Box. Regardless of the era of their origin, each of these videos was a pointer to new terrain for me. Whether cheesy or sublime, they showed me that yes, there was a whole world of dark music waiting to be explored. Indulge me as I traipse back through some of them…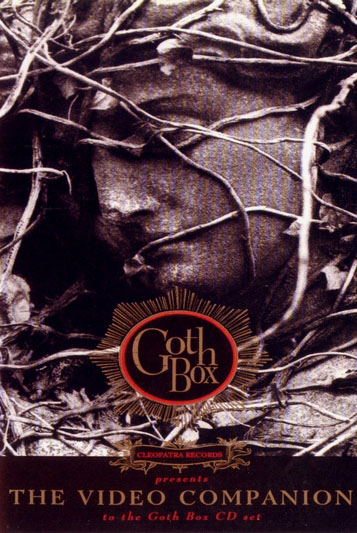 Switchblade Symphony, "Clown"
Before aggrotech, before futurepop, darkwave was the hot topic sub genre which was rumored to be threatening "real" industrial music. Regardless of that nonsense, Switchblade Symphony were likely the best American band native to Cleopatra Records.

Alien Sex Fiend, "Ignore The Machine"
What can I say about this? More than any other video on this tape, maybe more than any other music video ever, "Ignore The Machine" was the coalescence of the promise of fun and freedom goth made to me (as well as the beginning of my crush on Mrs. Fiend). Campy neon joy slathered in corpse paint, still shining thirty years on.

Red Lorry Yellow Lorry, "Spinning Around"
Another older tune. Watching this vid kicked off a long-term obsession of mine with The Lorries; their monochromatic, strict clatter scratches a particularly visceral itch. The video's stark strobes and smoke look nicely matches the tune, I think.

The Wake, "Christine"
No-frills, mechanized Eldritchery from Ohio, of all places. While The Wake's LPs have proven a bit erratic with age, this tune's still golden. How many Columbus goths can dance on a single grave?

The Prophetess, "Avalon"
As Willie T. Stokes put it, "they can't all be winners, can they?" While The Wake's sharpness made up for their debt to the Sisters, Californians The Prophetess' move at dreamy folk goth falls into a heap, with the off-key vocals being especially egregious.

Usherhouse, "Surrender Down"
Heavy drama and swirling abound. The buttoned-down look of the rhythm section is more than made up for by vocalist Brian Naughton's classic "I'm a shrub/I'm a tree" dancing and passing resemblance to character actor Mark "You're worthless and weak" Metcalf.

Christian Death, "Romeo's Distress"
Man, does The Iron Mask ever have a confusing lineage. Eva and Rozz demo re-recordings of Only Theatre/Catastrophe material with an eye to reclaiming the Christian Death name from Valor (the title referring to a usurped monarch), Cleo rushes the release of the demo sessions while Shadow Project tours, Rozz tours as Christian Death regardless, and the most storied feud in goth rock becomes a full-blown legend. While personal tastes differ regarding The Iron Mask's quality, it's fascinating to hear Rozz's older, more controlled vocals take on his earliest material.