End to End is our track-by-track take on non-album and compilation releases, in which we try to give thumbnail first impressions of each song and point to particular numbers for cherry-picking via the consumer's online retailer of choice. This time we check in with the former futurepop superstars who have been striving for synth-rock crossover success for a decade now.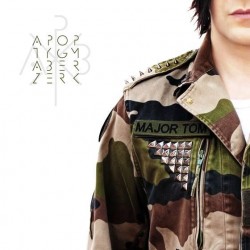 Apoptygma Berzerk
Major Tom
Hard:drive
I'd feel a lot more sympathy for Stephan Groth's attempts to resist being pigeonholed by the aesthetics of Apop's first few records if he hadn't compared himself with the victims of Nazi atrocities in talking about the scorn with which much of Apop's post-Welcome To Earth material's been greeted by industrial fans. But I'm here to talk about Apop's new single, not Groth's martyr complex, and while I hold with the brown-shirted masses that You And Me Against The World and Rocket Science were dogshit sandwiches that would've made Razorlight blush, the band's track record with covers has been less horrendous. There are plenty of misses in the Apop cover catalog, but their 2005 take on Kim Wilde's "Cambodia" was corking, and remains the last Apop tune I've enjoyed. Peter Schilling's "Major Tom" has a similarly new wave anthemic feel, we've all danced to it dozens of times, and its space-age romanticism seems like a good fit for the starry-eyed sky-pilot vibe El-Grotho's been cultivating since Harmonizer. In short, despite my disdain for pretty much all of Apop's post-millennial work, a single of "Major Tom" seems well-poised to deliver some fun. Let's see how it fares…
"Major Tom (Coming Home)"
Much like "Cambodia", the band's current guitar-heavy sound segues well with some affected but cute synth sounds meant to evoke the original's cultural context, if not specific production. The wormy synth-bass crawl of the original's replaced with a fun 8-bit line, augmented by some clanging bells which could've been pulled from any one of a dozen TotP also-rans. The red-lined guitars and compressed drums blot out a bit too much during the chorus, but Groth's vocals pretty much nail Schilling's over the top wail, and yes, inspires that waving arms and head side-to-side dance that we're all tempted to do when the original reaches its peak. Solid fun.
"Dead Air Einz"
A stuttery and simple number that seems to be aiming for a Fad Gadget by way of Human League feel, but ends up with a lot of "I Feel You" on the chorus. Not bad, and certainly different from the dense rock bricks Apop's been serving of late. Good enough for a b-side.
"Major Tom (Coming Home) (People Theatre Remix)"
A speedy futurepop-ish remix that seems at least partially informed by current European EDM trends. Connects the tune nicely back to Welcome To Earth.
"Major Tom (Coming Home) (Technomancer & Angst Pop Remix)"
A very light hand is applied here, swapping out the guitar for some Welle:Erdball type bleeps and zippy sweeps, creating a breezy and wholly electronic mix. I might prefer this to the original, come to think. Will file for the odd future club spin.
"Major Tom (Coming Home) (Alon Cohen Remix)"
Starting off admirably attempting to replicate Schilling's original to the letter from parts new and old, things eventually modernize. Not unpleasant, but not as distinct as the other two mixes.
The Takeaway: We can argue 'til the cows come home about the significance of Apop's only decent material since 9/11 being covers and remixes and how safe of a choice a tune like "Major Tom" is, but taken in isolation there's lots to enjoy here. Regardless of what I think of Apop's last few records, Groth and co. approached this song and this release with exactly the sense of synthy fun and play it merits. Apop die-hards stopped reading after the opening paragraph and already bought the single, but the more skeptical are encouraged to check out the original mix and the Technomancer/Angst Pop mix if they're in need of some last minute summer fun.