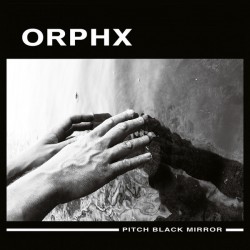 Orphx
Pitch Black Mirror
Sonic Groove/Hands Productions
It's nearly impossible to discern whether the Hamilton duo of Rich Oddie and Christina Sealey have been evolving their sound to suit recent developments in the techno world, or whether the latter environs are only now ready to catch up with Orphx (who, with twenty-plus years in the game are certainly close to consolidating their "legend" status) and their walls of rhythmic noise. A slate of recent singles and EPs for Adam X's Sonic Groove techno label (not to mention a collab with Ancient Methods) might have paved the way, but now, back with an LP co-released on Sonic Groove and Hands, it feels like everything's come full circle for Orphx. Pitch Black Mirror finds Oddie and Sealey with their fingers right on the 120 BPM pulse of the zeitgeist.
Although rhythmically consistent and wholly dark (as if the title didn't tip you off), Pitch Black Mirror whisks the listener through an eclectic suite of moods and textures. The flurried, staccato beats and programming of "All Rivers At Once" are obsessively precise and patterned, but the droning, twangy guitar which emerges (almost as if dialed in from another decade) frames the whole track in a much more reflective and dreamy light. The subterranean concrete bass of "Molten Heart", down to the the subtleties of it rumbling out to the edges of the mix, feels like vintage powernoise. The stuttering clicks which begin to dance across it, though, are of a much more contemporary techno ilk. That some classic acid then begins to emerge without ever clashing with the established decor speaks to Oddie and Sealey's talent for recognizing commonalities across all of the strains of music Pitch Black Mirror touches upon.
A track like "Molten Heart"'s varied genealogy underscores the semantic nature of triangulating each of Pitch Black Mirror's sounds, context, and intentions. Orphx have had years and years to suss out techniques of dappling and blurring otherwise disparate musical histories together, seamlessly linking them through tracks and rhythms which seem to shoot right to the cervical nerves. Whatever its cross-pollination, whatever its currency in larger electronic climes, it's some of the most rhythmically relentless music to come across our desk this year, and serves as an excellent reminder to all (and I include myself there) of how ahead of the curve Orphx have remained.