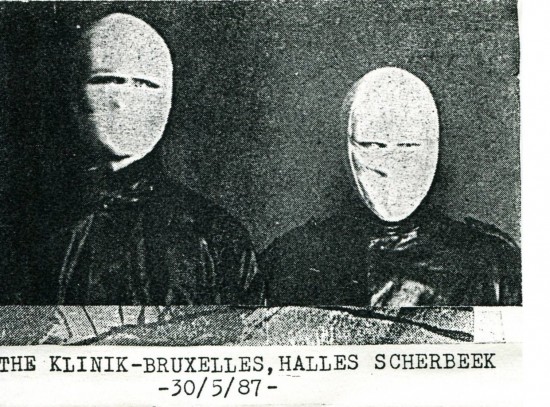 Fusing existing elements from the industrial, EBM, and minimal wave traditions, as well as drawing from the developments in dance music of all stripes occuring concurrently in their native Belgium, Dirk Ivens and Marc Verhaeghen's records as The Klinik were complex and enveloping. Far from simply hybridizing existing sounds, though, the duo developed a merciless, cold, and unrelentingly bleak aesthetic which was entirely their own (the vocal distortions applied to Ivens' vocals, now utterly commonplace, were unlike anything else at the time). This sound was reflected in their infamous live shows, in which figures swaddled in medical gauze and leather trenchcoats would accent their electronic work with droning horns.
It's difficult to overstate the debt which nearly all dark electronic acts from the past twenty years owe to The Klinik. Without The Klinik there would be no dark electro, no aggrotech, and arguably even no powernoise. While Hands have done an admirable job of keeping their catalog in print in its original, uncompromising form, we're still surprised at how overlooked their legacy can be, especially given renewed interest in Our Thing's origins from younger bands. With Ivens and Verhaeghen recently reuniting to record together for the first time in over twenty years, we thought it would be an ideal time to offer up a rough guide to their sound and work. While a variety of reasonably good compilations have been released over the years, there are none currently in print (the 4-cd End of The Line boxset is a good place to start, and can still be tracked down although prices may be on the high side), please consider this a plea from us to have a lavish career-spanning Klinik release like the recent 8-disk collection of Ivens' work as Dive. You listening, Hands or Out of Line?
NB: We've elected to focus primarily on the "classic" era of the band featuring Ivens and Verhaeghen's collaborative work, not out of any disrespect for Verhaeghen's solo work as the Klinik (Awake and Dark Surgery remain beloved classics), but purely out of a desire for a unified sound. You can download the mix from this link, or stream from Mixcloud directly below.
A Rough Guide to The Klinik by Idieyoudie on Mixcloud
"Nautilus" (from the Attentie split with De Fabriek, 1986)
A slow and icy instrumental from the early days of the project, this cut presages Verhaeghen's later solo output as much as it does The Klinik's influence on rhythmic noise.
"Nothing You Can Do" (from Eat Your Heart Out, 2013)
We've already talked a good deal about how the return of the Ivens/Verhaeghen incarnation of the band fits in with their larger legacy, but deeper discussion aside we're still playing Eat Your Heart Out on the regular for the immediate thrills it offers.
"Moving Hands" (from Fever, 1988)
A perennial club classic, "Moving Hands" wasn't just a huge leap in the way Klinik arranged swingier moods overtop their rigid beats; it signified something huge for electronic music on the whole. You can literally hear dark electro being invented here.
"Melting Close" (from Melting Close + Sabotage, 1987)
There's a deliberate move to separate the tools of dance music (sequenced drums and basslines) from actual danceability on much of The Klinik's mid-eighties output, maintaining the rigidity and grooviness of so much EBM while straying far from anything that might get played in a club, as on this cut.
"Obsession" (from the Black Leather 12″, 1990)
Not to be confused with Ivens' cover of the Animotion track (recorded in collaboration with our beloved Kirlian Camera), although this track does point to where Dirk would take his solo project; all menacing distorted vocals and with the emphasis on rhythm above all else.
"Hours & Hours" (from Sabotage, 1985)
An early cut, exemplifying the wooziness and and textural feel of the project's first releases. You can still hear the remnants of Absolute Body Control (ABC's Eric Van Wonterghem was still in the Klinik at this point), albeit somewhat charred and twisted into a new, darker form.
"Quiet In The Room (Remixed by Eskil Simonsson of Covenant)" (from End Of The Line, 2001)
Another club standard, unexpectedly arriving from a band with almost nothing in common with Klinik save for a dedicated focus to percussion. Circling for what seems like an eternity without ever landing, Eskil finds a way to wrench a new type of anxiety from The Klinik.
"Sick In Your Mind" (from Sabotage, 1985)
Like "Hours & Hours", this is still early going in terms of gear and production, but you can already hear The Klinik striving to find new, evocative expressions of darkness which were heretofore unknown in the EBM and minimal wave traditions.
"Black Leather (Live)" (from End of The Line, 2001)
Another jam which almost seems to be daring you not to try to dance to it, only to confound you with a synth pattern constantly slipping just out of reach. This live version dates from 1989, and is a sound desk recording from a show in Strasbourg France, the entirety of which can be heard on the third CD of End of The Line.
"White Trash" (from Black Leather, 1990)
Like the evil twin of any number of classic electro-funk numbers, "White Trash" is all about the bassline. Even as their partnership was approaching an end Verhaegen and Ivens were advancing their sound, trading in the soupy fog of the earlier records for an unnerving clarity and space in the mix.
"Sleepwalkin" (from Box, 1989)
One of the purest examples of Iven's lyrical fascination with issues of power (or the lack thereof), mental illness, and being trapped by the weight of one's own psyche. There's an excellent remix of this by Suicide Commando that draws the connection between The Klinik and aggrotech handily.
"Face to Face" (from Face to Face, 1988)
Starting as a loose amalgamation of disparate elements, the way this cut coalesces in the second half is unsettling, buzzing synths divebomb in and out of tune while drums just barely avoid tripping over themselves in the service of some sinister purpose.
"Someone Somewhere" (from Time, 1991)
Right from the tail-end of the classic era, this cut channels a vaguely eastern rhythm and melody into the Klinik's wheelhouse for a spell. As good a place as any to end this mix, it points neither to the future or past of the project, a momentary dalliance in aesthetics that yielded fantastic (if isolated) results.