"Tell the tumor to get the fuck out of your body."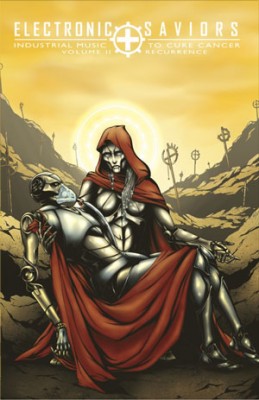 You know, we've been extremely remiss in our coverage of an extremely important project, and it's time to rectify that. Electronic Saviors 2: Recurrence is the second compilation assembled by Distortion Productions in association with Metropolis Records, bringing together a massive all-star collection of industrial artists with the goal of raising funds to assist various charities in the battle against cancer. Jim Semonik of Rein[Forced], the man behind Electronic Saviors is himself a cancer survivor, and envisioned the compilations as a way of channeling his love and longtime involvement with industrial music as a DJ, promoter and musician into a project to raise for funds for charitable organizations. To say he put his heart into it is an understatement; the first volume clocked in at a staggering 83 tracks and 4 CDs, topped only by the recently released second volume which upped the ante at an astonishing 141 tracks, including an overwhelming number of exclusives and remixes, making it the largest such compilation ever produced for the North American market to the best of my knowledge.
I had the pleasure of meeting Jim at Festival Kinetik in Montreal, and purchasing my copy directly from him. After contacting him via e-mail to see if he'd be okay with us putting together a short mix of songs from the comp to go with a post about ES, he kindly offered to answer few questions about Electronic Saviors and his own experiences putting it together. Read the interview and stream our Electronic Saviors 2 mix below!
ID:UD: The sheer scale of Electronic Saviors 2 (6 CDs for the standard edition, 8 CDs for the deluxe version) is staggering, before you even take into account the fact that this is following a previous, 4 CD comp. Did you always envision making ES2 bigger and better? Do you think you'll be able to top it with ES3?
Jim: Absolutely not to the first question. I wasn't sure I'd be able to do a second. I left it in the hands of the artists, fans and supporters. I wanted to do three from the beginning (Lucas style). I had no idea it would become what it has. I hope this one does just as well. Time will tell but it looks hopeful. Let me just tell you that the artists made this great, not me. The whole reason we did 8 discs this time was because of the amount of great stuff that was submitted. Let it be known that I aggressively went after some of my favorites here. I personally emailed Frank Spinath, Constance Rudert, Decoded Feedback, 16Volt and Neuroactive among many others. A lot of these artists are dear friends and want to go into the fight with me which is genuinely heartwarming. Sometimes these artists make me feel a bit like Optimus Prime (if I may nerd out a little) with their words. Like I'm leading them into battle or something. The truth is, I'd be dead without these people. I fucking love them. Even artists that I've never met in person, I feel that I share a connection with. Also, it is surreal to work with them on songs like Cancerface's "Tumor Curbjob" (Martin Atkins, Wade Alin, Matt Fanale, Brian Graupner, Brittany Bindrim, Levi [from Thrill Kill Kult]) and Uberbyte from the UK as well as Jen from Ayria and Jimmy from I:Scintilla.
It is a wonderful collaborative effort between everyone and I can only hope that it can continue with ES3. Ultimately, the goal is to keep growing so maybe we will expand the premium next time, but it does depend on the amount of material we get and if we feel it is appropriate. The labels helped out a lot too. Metropolis helped me realize a dream to which I'll be forever in their debt. In the end, when I am ready to leave Earth, at least in my final moments, I can look back with fond memories knowing that I was able to touch some people's lives. And if this one doesn't succeed…at least I tried. I won't go out regretting anything.
Jim: One of the really interesting things in the interviews we've seen with you and in the liner notes for the comp has been a more confrontational and aggressive attitude towards cancer. The term "fight" gets used a lot when folks are talking about their experiences with the disease but rarely do we see it addressed as a battle quite so openly. Is that a function of your own attitude and your experiences?
Jim: Actually yes. Christian from COP told me once that I should give my tumor an identity. Then I should imagine myself during horrible things to it. This is a technique that helped me while suffering with the pain from the radiation. Tell the tumor to get the fuck out of your body. Christian also sent me Shitaki Mushroom Dietary Pills to combat Chemo which aided in the loss of nutrients. He was one of my many coaches. Notice we have two Deathline Int'l tracks on these comps. They haven't released a record in a long time so I joke with him, saying that I'll release 10 comps if I have to to get that new record. I adore that man. I think handling cancer aggressively is the key to surviving coupled with a great patient/doctor relationship and great nutrition and a positive attitude. If you feel cared for when you leave your doctor, I think it helps immensely. I don't feel that my father got the care he needed and he is gone now. I think that maybe that could have been prevented. I try to be as open about my case as I can because it is important for people to know and learn from this as much about the disease and the various treatments as possible. So, if anyone has any personal questions about the process of going through those horrors, I'd be glad to help.
"There is a lot of scene love out there."
ID:UD: Beyond putting the compilation together, you've travelled to release parties (as well as Festival Kinetik) to meet people and raise awareness of the Electronic Saviors project. Has the experience of travelling and interacting with folks changed your perception of the project overall? Were you expecting the level of support it appears ES has received?
Jim: It hasn't changed it per se but the experience has been very tear jerking at times. We hear about people's own success stories as well as the horror stories. It is very moving. Especially at Kinetik, I have people saying what an honor it is to meet me and it is hard for me to think like that. These people are brilliant and they show me such love that it is hard for me to not get all teary eyed. All I really want is to make others who are suffering happy. Maybe the ES comps give those folks a weapon or tool in which to fight their battles. We have to do as much as we can while we are here and try to touch as many people as we can. The level of support is pretty amazing and I will never forget it. Regardless of if there is a third comp, the smiles on people's faces and the laughs I have with my fellow artists and friends and loved ones is so worth it and is so fulfilling. There is a lot of scene love out there.
ID:UD: If people are looking for other resources, either for information or to get actively involved are there any Electronic Saviors endorsed sources for information?
Jim: Gilda's Club and The Bone Marrow Foundation will be the recipients this time around. Voted on by some of the bands on the comp. I also like The Chris4Life Colon Cancer Foundationand BRICKS For Young Adults.
Electronic Saviors and Electronic Saviors 2 are available for purchase on CD and in digital format from Metropolis Records. You can also purchase shirts, stickers and other merch to support the cause at the Electronic Saviors store, and those of you in Chicago can attend an all-star ES benefit featuring an insane line up of bands this Saturday.