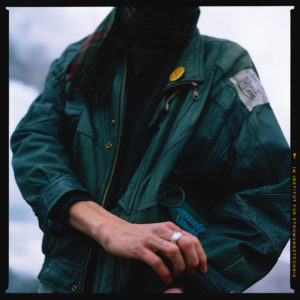 Konstantin Unwohl
Im Institut Für Strömungstechnik
aufnahme + wiedergabe
Hamburg based producer and performer Konstantin Unwohl's first release for aufnahme + wiedergabe builds nicely on the melodic wave sounds he has previously released. Located somewhere between the minimalism of classic synthpop and contemporary minimal sounds, the music on Im Institut Für Strömungstechnik uses straightforward melodies and arrangements to spotlight Unwohl's own voice. Highlight "Ich Wollte Nie Museumsbauer Werden" shows the power of this approach, as a speedy double kick and pinchy bass sequence establish a mood of urgency, with Unwohl's distinctive baritone playing out on top amongst emotional pads. That track's emotion isn't unique to the album, as on the slight and simple synth-ballad "Amarillo" Unwohl explores a similar feeling of loss and longing, ramping up his delivery when required to really drive home the mournful tone. Closing track "Auf Einem Hügel" splits the difference somewhat, layering in solid rhythm section bounce and a rich bed of reverbs, fluttering synths and synth strings for alternately desperate and despairing vocal passages. Unwohl's successes stem from not playing the solemn affect this style of music is often given to, and instead performing with a sense of incisive sincerity.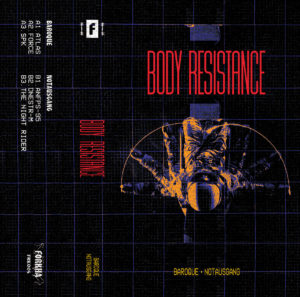 Baroque / Notausgang
Body Resistance
FORKHA
For its latest split, new Brazilian tape label FORKHA has tapped a pair of acts well-suited to its celebration of the "rigid, untouchable body" as a site of rebellion. Having already drawn upon raw EBM and TBM acts from around the globe, Body Resistance keeps up the globetrotting with three tracks each from Japan's Baroque (a new name to us, despite having a decade of credits), and France's Notausgang (whose last tape impressed with its bounce and swing). Baroque's pieces add hazy smoke and chilly ambiance to acid basslines, and though we're hearing more modern Portion Control than early Revell in "SPK", the hard metallic percussion keeps things nicely regimented. The quirky reverb and textures that are applied to Notausgang's rhythms retain the disarming charm of previous tracks, but tunes like "The Night Rider" also know when to cede to simplicity and allow no-frills, grimy dark techno to hold sway. A nicely compact introduction to both acts, with some solid DJ options.