What's this? Bonus ID:UD content on the weekend? (I'll give you a moment to unclutch your pearls and recover your dentures from your glass of Ovaltine.) Here's the scoop: longtime friend Bess Lovejoy (who hipped me to the likes of :wumpscut: and Switchblade Symphony back in the 90s) has just published a morbid tome on the afterlives of notable dead bodies. Rest In Pieces: The Curious Fates of Famous Corpses gives the inside dirt on what happened to the remains of Beethoven, Milton, Che Guevara, and Hunter S. Thompson (and oodles more) after they'd shuffled off this mortal coil. The publisher was interested in offering a playlist of music dealing with bodies, death, and general morbidity to accompany the book, and Bess enlisted yours truly.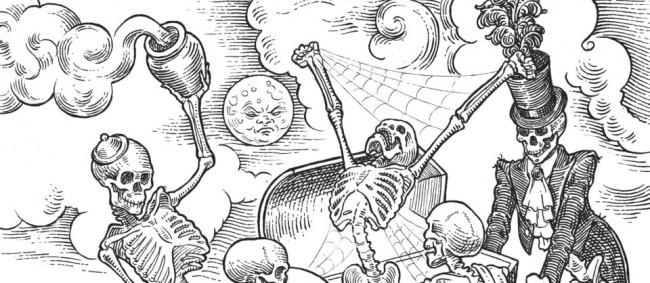 You can see the list (with my commentary) below, play it on Youtube, or stream it on Spotify. I tried to select a range of pieces which reflected the people and periods covered in the book, and while there are definitely some gothish and industrialesque pieces, the list was created with a more general (if somewhat macabre) readership in mind. While I'd never presume that you, the learned ID:UD regular, needed a refresher on Coil or Nick Cave, maybe you haven't checked out Gerald Finzi or Marissa Nadler. In any case, pour something bracing, get ready to reflect upon your own inescapable mortality, and listen to some tunes. Regularly scheduled I Die: You Die posting resumes tomorrow.
Coil, "Fire Of The Mind"
Industrial legends Coil have dozens of songs dealing with the metaphysics of death (as any good transcendentalists should), but the lead track on the posthumous The Ape Of Naples especially raises the hairs of aficionados for a host of reasons. Addressing Death as a figurative opponent head-on, John Balance attempts to reconcile the contradictory dichotomies inherent to the Grim Reaper scant months before falling from a balcony in alcohol-induced misadventure, immediately prompting innumerable "lost his Balance" jokes from grief-besotted but still cagey fans.

Beethoven, "3rd Symphony (Eroica), 2nd Movement – Marcia funebre: Adagio assai (Funeral March)"
Beethoven had originally titled his third symphony "Bonaparte" but scrapped that dedication the day Napoleon declared himself Emperor. Now inseparable from visions of a dead hero being honoured, the Funeral March has been used at memorials for FDR, Toscanini, and Mendelssohn amongst others.

Blind Willie Johnson, "Dark Was The Night, Cold Was The Ground"
Taking its name from a hymn about the laying of Jesus' body in Gethsemane, Blind Willie Johnson's famed gospel-blues composition is unearthly, literally: it's one of a select group of pieces of music included on the famed Voyager spacecraft. Long after you and everyone you know have been laid to rest, and possibly even after all life on earth has died out, the aching sound of Johnson's voice will endure, drifting out of the cast of our sun.

Scott Walker, "Funeral Tango"
Jacques Brel, the Belgian inheritor of Kurt Weill's mantle, was always something of a dour sort. While his "La Mort" was famously covered by Bowie, the deftness of Brel's words were butchered in the translation. Not so here, where the ineffable Scott Walker (who has of late gathered to himself a gaunt, august peculiarity which beggars description) tacks a bitchy audio commentary atop his own funerary proceedings.

The Shangri-Las, "Leader Of The Pack"
You'll never go broke marketing songs about dead boyfriends or girlfriends to teenagers. From "Tell Laura I Love Her" to the latest dreck by mallcore bands, kids love having their high school drama ratcheted up to the level of death. For my money, this trend doesn't get much more ridiculous (or awesome) than "Leader Of The Pack": you've got Spector-wannabe dramatic piano chords, heated looks exchanged in candy stores, class divisions, and of course oodles of motorcycle revs and crashes. The cut's over-the-top pathos made it ripe for parody upon release, with The Detergents' "Leader Of The Laundromat" arriving hot on its heels.

Eric Burdon & The Animals, "The Black Plague"
Every now and again you'll get some clever dick citing Burdon as a proto-inspiration for goth. While that's not remotely true, he was doing heavily morbid tunes well before Sabbath or the Underground. Here, Burdon adopts a class-conscious approach to death and disease, as did Poe did in "Masque of the Red Death", but Burdon places the wealthy as victims of their own paranoia rather than vengeance. (And don't make any Python cracks about the awesomely intoned "Bring out your dead" chant: this predates "Holy Grail" by nearly a decade.)

Billie Holliday, "Strange Fruit"
The significance of Holliday's signature protest song in 20th century America simply cannot be overstated, and has been the subject of continuing discussion since its emergence in 1939. It still horrifies listeners by avoiding abstract concepts like justice and freedom, and instead focusing with an unflinching eye on the mangled, murdered bodies which were the product of Southern racism.

Gerald Finzi "How Soon Hath Time"
There's no getting around it: John Milton was a gloomy gus, even in his youth. To paraphrase "High Fidelity", only people with a certain disposition are worried about how much time they have left on Earth at twenty-three. John Milton was one of those people. A counterpoint composition by Gerald Finzi sets Milton's melancholy to music.

Sparks, "The Number One Song In Heaven"
The sui generis Mael brothers know that there's a Top 40 even in the afterlife, with tunes penned by god himself and prog keyboard solos from the archangel Gabriel. If the afterlife is in fact full of Giorgio Moroder helmed gospel disco this awesome, we have nothing to fear.

Blind Lemon Jefferson, "See That My Grave Is Kept Clean"
There are many songs about dying wishes, and many more about the resurrection, but there's something disarming about asking to have your final resting place kept tidy for Judgement Day. Don't be fooled by Dylan: this is the original (though Diamanda Galas and Laibach also do great versions).

Carcass, "Corporal Jigsore Quandary"
Carcass' ethos differs from that of metal bands focusing on the psychopathy of killers or the supernatural evil some bands claim to be heralds of, instead focusing on the dissection and rot of bodies with a clinical, almost dispassionate abstraction. The fathers of grindcore, Carcass moved in a more death metal direction on third album "Necroticism – Descanting the Insalubrious", but had taken their obsession with the minutiae of post-mortems even further. While not featuring collages of bodies clipped from medical journals, "Necrotism"'s lyrics centered almost wholly around the dismembering and disposal of bodies whether by knife or by chemicals.

Nick Cave & The Bad Seeds – Lay Me Low
Much like the Brel tune, here the perpetually morbid Cave doesn't focus so much on the metaphysical in imagining his own death, but instead on the reactions of those around him, taking a seat in the rafters of his own funeral like Huck Finn and Tom Sawyer. Hagiography, misinterpretation and misrememberances are the result.

Misfits, "Dig Up Her Bones"
In the mid 90s, the reunion of the Misfits sans Danzig seemed like unthinkably heresy. Now, after a decade or so of Jerry Only running the brand name into the ground, the Michale Graves years seem like a golden age. Regardless, that era produced at least one stone classic, a somewhat thematically confused number which rallies perfectly around a chorus about excavating a departed loved one's grave. What was I saying about dead teenager songs?

Marissa Nadler, "Annabelle Lee"
Ballads of Living and Dying, Nadler's debut, is a dark affair: the sort of listen which brings Tom Waits, Flannery O'Connor and Cormac McCarthy to your mind and ghostly images of the lover you wronged to your window sill 'til you just grab a mickey of whiskey and go on a midnight ramble, perhaps hoping that some Final End will claim you. While she's lightened her palette somewhat since 2004, here she stakes her claim to one of Poe's dreariest lyrics with a conviction beyond her years.

Richard Bjella, "Idumea"
A hymn written by Charles Wesley in 1763 and arranged for sacred harp by Bjella, "Idumea" explores a crisis of faith in resurrection in stunning detail in a mere sixteen lines, encapsulating the fear of rot and the hope for resurrection with a passion rarely communicated. Recently, Soft Cell's Marc Almond recorded a version with apocalyptic folk act Current 93 just after hovering at death's door in a coma after a road accident.

The Pogues, "Worms"
A detail from the famous "Hearse Song", popularized by soldiers in WWI, reintroduced to generations of impressionable youngsters in the early 90s through the "Scary Stories To Tell In The Dark" series. The Pogues' version, while abridged, makes explicit the memento mori underlying the song's origins with an entreaty to "be merry", and ends, suitably, with a death rattle.