Like any other record geeks, we make a lot of hay about upcoming releases. But we also notice releases conspicuous by their absence. Sometimes it's a case of bands being busy with their day jobs or other projects, sometimes a rift between collaborators stalls new records, and sometimes good bands just plain drop off the map, more's the pity. Here's a quick list of some acts we love who are well overdue for a new LP.
The Retrosic
This German dark electro act didn't make much of an impression on us with their first two albums, but made a big leap forward with 2006's Nightcrawler. By taking the endzeit template and grafting on big beat-style rhythms taken straight from Music For The Jilted Generation, Nightcrawler made for a fun, aggressive listen which was loaded with club tracks. Since then it's been all quiet on The Retrosic front, with no news or updates since a live set at Wave Gotik Treffen in 2007. Would a new record be a return to more conservative :wumpy: waters, Nightcrawler Part II: The Slithering, or something entirely different? We've no idea, but it'd be nice to find out.
Zentriert Ins Antlitz
In the mid 2000's ZiA (who we get the sense have day jobs as sysadmins or summat) cranked out some of the most satisfying albums at the experimental end of dark electro. Records like Prozium and Diametral were wonderfully sculpted and called to mind reference points as diverse as Forma Tadre, Mentallo And The Fixer, and This Morn Omina. 2008's slightly more ambient …No! (released on Tympanik) was the last we've heard from them. While we'd love to hear what they'll concoct next, the unfamiliar can still download the majority of their releases for free at their site.
Mentallo And The Fixer
…Speaking of Mentallo And The Fixer, everybody's favourite long-running psychadelic/industrial act has been on hiatus too, though not for the first time. A couple of albums after brother Dwayne jumped ship, Gary Dassing seemingly left Mentallo And The Fixer on the shelf for half a decade before decloaking out of the blue with the incredibly thick and textured mindfuck that was 2007's Enlightenment Through a Chemical Catalyst. Coming up on the five year anniversary of that disc, there's little more than the odd persistent rumour of Dwayne's return, though if this wait results in something half as heady as Enlightenment the ID:UD staff'll be happy. (Well, Bruce will be. Alex doesn't dig so much on the Mentallo; a post exploring this internal schism may appear someday.)
Black Strobe
The French electro (in the traditional sense of the word) duo of Arnaud Rebotini and Ivan Smagghe have been ladling out a steady diet of dark, delicious sides and remixes since the late 90s. Everything came to a head in 2007 with the simultaneous departure of Smagghe, expansion of the lineup to include rock musicians in the band, and release of their first proper LP, Burn Your Own Church, a noisy and bracing blend of rock, electro and even some hints of blues. Since then they quietly dropped one EP in 2009 (which sounds to our ears like a Rebotini solo joint), but have otherwise stayed off the radar. Burn Your Own Church was far too strong of an album to not be expounded upon, and we're keeping our fingers crossed that it will be soon.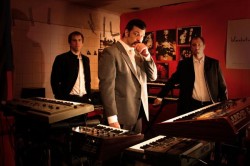 Kammarheit
Don't let our constant nitpicking of which particular remixes on an import single are the most club-worthy fool you: we love sitting at home with a glass of scotch, leafing through a copy of Urn Burial with some dark ambient on the speakers. Swede Pär Boström's two albums as Kammarheit, 2003's Asleep and Well Hidden and The Starwheel are undisputed classics of the genre, and have gone on to inspire more recent works like Psychomanteum's Oneironaut. Apart from a pair of tracks on a split EP a couple of years back, though, the project's gone cold(er). There are rumours of both a new LP and a collection of rarities and unreleased older material, but Boström seems to work at a glacial place.
Tactical Sekt
Having followed Anthony Mather's work since his days in the Black Rain signed Aslan Faction, we've been privy to Tactical Sekt's rise through the ranks to the summit of the Terror EBM mountain. It's a subgenre that at worst appeals to some of our thing's least endearing tendencies, like mindlessly "evil" lyrics and generic programming, but TS' records, especially their most recent, 2006's Syncope stand as a document of how to do it right. The sample laden songs are catchy, dense, have big hooks and are above all characteristic; a Tactical Sekt song just sounds like a Tactical Sekt song. The band seems to play live a ton, and judging by audience's reaction when we saw them a few Kinetik Festivals back (not to mention the response to half decade old songs like "Bring Me Violence" on our dancefloor) their faithful fans wouldn't be unhappy to have some new material to stomp to.
Lynx & Ram
This is a bit of Vancouver inside baseball, but we're still listening to the punky electro duo's 2007 album The System's On and It's Flashing Red and wondering what the hell happened to them. The year of the record's release on Sublight they played a few local shows (including what was either a disastrous or triumphant opening slot for Interpol depending on who you ask) and haven't been heard from at all. One half of the duo Julian Fane had also released slightly more esoteric records on Planet Mu, but Google yields no recent musical activity for him or singer Carli Vierke. It's a damn shame, songs like the incredibly spooky "Our Bodies are Real" and the sinister and visceral "Tiger Fur Coat" promised something special, the group doesn't deserve to have been a blip in this city's ever expanding and contracting musical make-up.
C-Tec
It's been over a decade since Jean Luc De Meyer and Marc Heal of Cubanate put out Cut, their third collaborative album as the mighty C-Tec. Although Jean Luc has been busy touring with Front 242 and working with projects like 32Crash and Modern Cubism, Heal has been conspicuously absent, doing sparse amounts of work in production. However, this year saw the release of a new Cubanate track on the Alfa Matrix Electronic Body Matrix comp, signaling Marc's potential return to the industrial scene. Is it too much to hope that the two might get together and put out another record as amazing as their absolutely essential Darker? We can only hope.
Din [A] Tod
A recent discovery for us, but one that dovetails so well with what I Die: You Die is about that we can't believe we didn't know about them until a few months ago (a special ID:UD tip of the hat to Jeremy of Storming the Base for the heads up!) Intelligent post-punk with references to dark and cold wave, they skip nimbly between genres, never settling into the safe space that condemns bands that look to the eighties as throwback acts. It's been just over two and a half years since the astonishingly good Westwerk was released, and considering how much we've played that record in our headphones, in the club and on our stereos, however long a follow up takes is gonna be too long.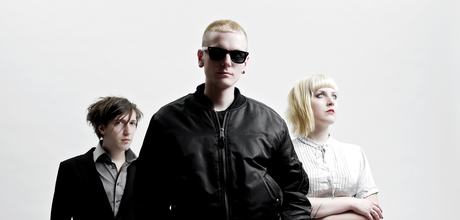 Converter
Arguably the best act of the second wave of Ant Zen artists hoisting high the powernoise flag, Scott Sturgis' Converter has been missing in action since 2005. The incredibly harsh percussive blasts of noise that defined his work on Shock Front and Blast Furnace gave way to equally intense and complex atmospherics on his last album Exit Ritual, a name that seems sadly prophetic now. Although there are still plenty of acts hoeing the rows that Sturgis planted, few do it as well and with the gusto that he did. A three album legacy ain't anything to scoff at when the records are as good as his are, but one can't help but wonder what tricks he might have come up since we last heard from him. Excuse me won't you, I'm gonna go put on "Denogginizer" and terrify my cats and neighbours.