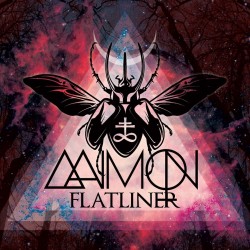 ∆AIMON
Flatliner Remixes
Artoffact
This is a bit of a different go-around from our usual End to End pieces. While we typically look at remix comps and the like with an eye to cherrypicking individual tracks, these remixes come bundled as a set, both digitally and on CD as part of a deluxe reissue of ∆AIMON's Flatliner. But more important than the fact that we can't just say "grab this for the club, that for home listening, skip the rest" with this release is that are that these tracks are being remixed now, and who is remixing them. Rather than being the subject of pre-release remix shopping, as is customary with most b-sides, bonus tracks and club bids, ∆AIMON's sophomore material was released nearly seven months ago on its own. Since then, it's become a flashpoint for discussion and creative back-and-forth in Our Thing, with plenty of artists who came from two very distinct musical backgrounds finding inspiration in the hybridization of witch house and industrial, a nexus we tagged as "witch haus der lüge" with tongues firmly in cheek, but ears also wide open to these new forms. It's these convoluted taxonomies and family trees which produced these mixes, and while I can't imagine us taking time out to write about the bonus tracks appearing on each and every reissue which we take a shine to, we felt that the circumstances surrounding these mixes warranted them some extra consideration. With that preamble, let's get rolling.
"Current (Unison Remix)"
Dominated by pinched pads and echoing claps, we've got a classically witch house mix here. A squelchy, stabby organ lead stresses the transposition of the track into a major key but also emerges too quickly and strongly over the track's other elements, blurring out the guitar and other tracks underneath. It's not that the lead is bad – it brings that great "entering a crystal cathedral" drama which it's meant to evoke – but I feel like if it had slowly risen to prominence over the course of the tune it'd be more effective and let more of the foundation shine through.
"Black Cross (Dead When I Found Her Remix)"
I flat out love this. It's a seamless blending of ∆AIMON and DDWIFH's styles, uniting to form a mix that highlights a side of Nancy's vocal performance which might've otherwise gone unnoticed, and bringing plenty of dancefloor heat to boot. Michael Holloway pulls back just enough of the original's atmosphere to weave tight lines of synth leads which nod towards his dark electro pedigree but which also bring some more modern dancefloor flavour a la The Knife. The highlight of the remixes for me.
"Flatliner (Encephalon Remix)"
A kind of mirror image to the DWIFH mix, Matt Gifford adds some grinding pulses and plucked synth string arpeggios which feel like a natural extension of his work in Encephalon, keeping aggression and keen programming in perfect balance. While not as immediately hooky, I think there's loads of floor potential here. Great stuff.
"Choke (Chrysalide Remix)"
A minimal, scraping take that accents the gun clicks and shots sampled for the original, riding along edgily if smoothly until oh holy shit it's those guys from Chrysalide yelling again! Chrysalide are like a horror movie which earns its screams through well-paced scares rather than incessant gore, and while I wouldn't have thought they'd make transposing their approach over to someone else's (comparatively very different) body of work look easy, they do so with aplomb.
"Mirrors Fade (Ceremonial Dagger Remix)"
Having not checked the title at first, I barely recognized the original this mix was based on without the suffocating black fog of its charnel synths. Evening the playing field works well: the naked piano emerges strongly, and some impressionistic drum fills and more moogish sounds suggest the more psychedelic side of Ulver's unimpeachable Blood Inside album.
"Black Cross (vo1d Remix)"
Revolving around blocky, staticky drums and a buzzing bass drone, this is another mix which both straddles the industrial and witch house boundary well and speeds up the vocals, though unlike the DWIFH version the focus in on sparse, echoing rhythm. There's also a nice, brief flanged synth line which connotes some of the last decade's more auteurish electro-industrial, too…
"Current (ANDRAS Remix)"
Though starting out very close to the original, this quickly deviates, adding some arpegiatted triplets and tense, gated pads. It's a very cool batch of sounds, but I feel like the pacing is a bit off. This could've been stretched out by another couple of minutes (it's a full minute shorter than the original), with those new elements being layered on one at a time, lending a real sense of building progression.
"Flatliner (Haujobb Remix)"
Underpinned by a single repeating staccato note which is impossible to hear without thinking of "Dead Market", Daniel and Dejan splice a slow, simple lead progression to a core which reminds me of Wendy Carlos' Clockwork Orange theme. And hell, there are even some muted claps in the bottom of the mix. More than any of the other mixes, this one came across my desk with plenty of hopes and anxiety about how well these two artists' aesthetics would gel, but I needn't have worried: it's ∆AIMON, it's Haujobb, and it's great.
"Emptiness (Textbeak Remix)"
Muted drums click along in soupy ambiance, only to be replaced by an echoing programming loop, then re-emerge underneath breathy vocals. And that's just the first half. Definitely on the more structurally experimental end, but it stays interesting throughout, with the quick changes in instrumentation never abandoning the thread of the original's incessant refrain.
The Takeaway: Regular readers of this site will not be surprised to hear that the new expanded version of Flatliner merits a buy if you're at all interested in where dark electronic music is headed. These remixes in particular don't just buttress Flatliner but also show off the versatility of the creative nexus it's come to represent this year. It offers some great exercises and reinterpretations from a perfect cross-section of the artists working in and (perhaps more importantly) listening to this crossover field, and gives folks like me more ways to spin ∆AIMON in clubs (like we needed them).