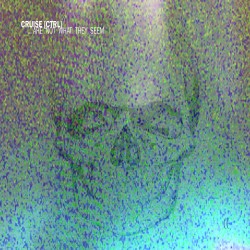 Cruise [Ctrl]
…Are Not What They Seem
Signifier
We've talked a few times on this site about Twin Peaks' thematic resonance with dark electronic music, particularly of the atmospheric and even witchier varieties. Prompted by the gossamer waves of Julee Cruise's "Falling" or the imposing Cascadian landscape, musical adherents of the Black and White Lodges have often taken on dreamy and evocative guises while drawing influence from the psychosexual whirlpool that lurks underneath that Washington town's guileless surface. Not so in the case of Belgium's Cruise [Ctrl], who have taken their tribute to Lynch's prime-time headfuck in a different direction. The noisier elements of Cruise [Ctrl]'s minimal techno and electro steez, which have always been kept relatively tamped down, are brought to the fore, combining with staccato rhythms to produce a far more grinding and disquieting listen.
Fellow Belgian Dirk Ivens' discography as Dive seems like the easiest touchstone for Cruise [Ctrl]'s third LP. There's the same even divide between rhythms and screeching, scraping noises, and while the beats on …Are Not What They Seem may be a tad smoother and slower than those on Concrete Jungle, say, the same relentless yet uncaring atmosphere pervades. One repeated squall on opener "Letters Under Nails" sounds almost exactly like a car engine turning over but failing to start for forty five seconds while the beat ticks along. It's an unsubtle but effective introduction to …Are Not What They Seem's binary divide between minimal, wet electro beats and noise, which is generally kept in effective equilibrium.
That mode continues for most of the LP's 39 minutes and eight pieces, as on second track "A Man's Attitude Goes Someway The Way His Life Will Be", which pairs some tensely vibrating static with a classic, bare bones dark electro shuffle. Conversely, the rapid left-right panning of some jet-engine and klaxon noises on "Last Movement Of The Yellow Man" is perhaps more irritating and needlessly long than it is disorienting or entrancing, but that's a line which Twin Peaks itself didn't always navigate perfectly.
On the whole, though, the formula works and allows Cruise [Ctrl] to alight upon what feels to be a focused if singular burst of inspiration for the album's first three quarters. A sparse and crawling penultimate number, "Billy's Problem", brings about a more claustrophobic and quiet mood, with dispassionate vocals from someone named Sigma somewhat reminding the listener of Adult.-style electroclash. Things end with a stomping furnace blast on "In Hell (Everything Is Fine)" (which isn't a Twin Peaks reference as such, but we'll let the band choose which Lynch opus they want to cop): swerving drums and drones almost resemble a big beat rhythm while Dirk Ivens himself makes an appearance, seething like there's no tomorrow. It's a strong and pointed finish.
The question of how much of …Are Not What They Seem's sound and fury actually clicks with the listener's own experience of Twin Peaks may crop up on playthroughs, but that's mostly academic (I found some resonance with the more disturbing train car scenes). It's evidently been a productive catalyst for Cruise [Ctrl] themselves, who offer a solid workout which flexes some newfound muscle. That's some damn good noise they've got there in Belgium, Diane.
Buy it digitally or on CD at Bandcamp.