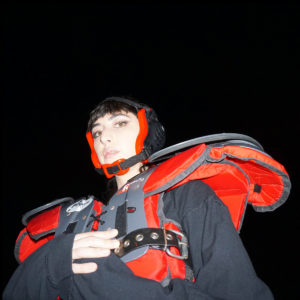 Pixel Grip
Arena
Feeltrip Records
Pixel Grip's Arena is a club record released in an era of no clubs. It's a record uniquely suited to play that role: while the trio of vocalist Rita Lukea and producers Jonathan Freund and Tyler Ommen make music that is well-suited to darkened dancefloors, their tracks go beyond DJ bids and communicate the atmosphere of alternative and queer clubbing in their native Chicago. Filtering those intimate and ecstatic dancefloor feelings through a potent mix of industrial, techno and pop sounds, it's an album that builds its own context with each song.
You probably couldn't ask for a better orientation in Pixel Grip's sound and attitude than lead off-track "Alphapussy", an unholy amalgamation of a classic EBM bass, breathy reverbs and Lukea's pointed delivery. It's a burner that sinks its hooks in from the first bars, with "Your pussy don't pop/my pussy EXPLODE" as the tongue-in-cheek climax delivered with deadly intent. That build from minimalism to bombast is repeated across some of the record's best songs like the dark techno groove of "Club Mania" and the swirling lines of blipping synths that shower down over the final minute of the groovy haunted thump of "Pursuit".
A huge part of what makes these tracks so compelling is the amount of their very specific character that Pixel Grip imbue them with. If the record leaned entirely into crass, rubbery death disco it'd be fine, but it's how the band can effortlessly shift from that sound to skeletonized synthetic r&b ("Play Noble" and "Alibi") and grinding darkwave ("Dancing On Your Grave") and still sound just as at home that impresses. The power of personality is demonstrated on album highlight "Demon Chaser" where experimental artist and musician Cae Monāe trades off profane nursery rhymes with Lukea over thick electro bass, building and releasing tension with a kind of disaffected charm that's impossible to deny.
If Pixel Grip seemed unsure of themselves, even for a moment, a lot of Arena's audacious energy would be lost. But the trio never seem anything less than fully committed, summoning a sweaty, occasionally sweet and often darkly surreal nightclub of the mind, with themselves holding court at its center. As a record with myriad influences across the dark music and electronic spectrum it's good, but its in how Pixel Grip use those sounds in their own inimitable fashion that makes the record bump. Recommended.