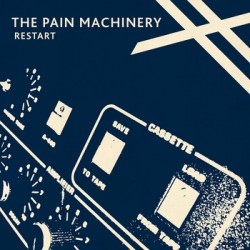 The Pain Machinery
Restart
Complete Control Productions
The Pain Machinery's 2011 LP Surveillance Culture caught our ears and stuck with us for a lot of reasons. It was a blunt, no-frills EBM record which was all the more surprising for the band's history with far more slower and atmospheric material. It had an intriguing acid house influence which worked surprisingly well in tandem with its classic EBM template, with memorable, streetwise songs to boot. With Restart the Swedish duo has built upon that foundation, but rather than returning to their denser early sound, have instead found a way to carry the sea change of Surveillance Culture forward, crafting a more fleshed out and versatile incarnation of The Pain Machinery.
The strong Portion Control and acid house influences which I discussed in relation to Surveillance Culture are definitely still present, but they blend with each other and with the other elements The Pain Machinery bring to the table far more smoothly. While still often adhering to a minimal, classic-EBM style, the tracks on Restart feel much richer and more fully developed than what we've heard from TPM in the past. There's a stronger focus on melody and far more varied range of production sounds, as on display on "Kick"'s soft pads and bubbling accents, or opening cut "Liquid Silver"'s slightly less-barked vocals. Songs build and unfold in new ways, too; for every "Running Red" which slams in and out with beats and insistent, bouncing leads from the get-go, there's a "Wired" or "Outside" which slowly layer grooves and tension.
The record's collaboration with Robert Lane of //TENSE// is also a testament the flexibility of Restart's style and instrumentation. Had you asked me what these two acts had in common two months back, I wouldn't have been able to cite much apart from an appreciation for older EBM (and the fact that we can't seem to stop writing about either of them). But Lane's frantic, seething yowling on "There Will Be Blood" finds a perfect home in some super-squelchy acid, and the track ends up feeling like it has an equal share of each band's DNA without sounding forced or out of character for any of the parties involved.
At eight tracks and slightly over thirty minutes, Restart comes and goes quite quickly, but the range of sounds satisfies like a full meal, and allows each song room to establish its own identity with the listener. Stateside audiences have always seemed a tad wary of the European, super-minimal brand of old-school EBM peddled by Jäger 90 and the like, and while I'd never categorize The Pain Machinery as anhalt, I've often worried that their bluntness might turn off North American ears expecting thicker productions. Restart could change that. While still as confrontational and BS-free as their earlier work, its deeper sounds, perhaps aided by the legwork done by bands like //TENSE// and White Car in reintroducing neglected EBM sounds on this side of the Atlantic, could begin to find a foothold with a broader audience. If so, the timing couldn't be better: Restart is a great album that's ready to go toe-to-toe with 2012's best EBM releases.