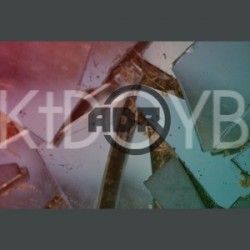 Alter Der Ruine
Keep The Devil Off Your Back
Negative Gain Productions
It seems like oddball electro act Alter Der Ruine has been everywhere since the band announced their dissolution back at the beginning of the year. Along with a string of forthcoming remixes for high-profile releases from Assemblage 23 and iVardensphere, the band is releasing two singles to promote (and presumably clear house before) the release of their final album There's Always One More Son of a Bitch. The first single Keep the Devil Off Your Back drops tomorrow on Negative Gain Productions, and as fans we're excited to have some new material, even if it does signal the beginning of the end for one of North America's most interesting group of technofied industrialists. Let's have a listen.
"Keep the Devil Off Your Back"
Very much in the vein of "Ghosts" and "It Speaks" from Son of a Bitch, this breaksy track falls right into ADR's sweet spot, the place where their weird mutant form of electro meets their more song-oriented and melodic tendencies. I really dig how this one plays as a real dry dance number until the dusty breakdown in the middle, gaining some nice organ sounds and wet, tweaky samples. It has movement, both in terms of how its structured and in pacing; clever, and vaguely infuriating in that I'd love to hear them do two or three more records of this, more's the pity.
"Keep the Devil Off Your Back (The Devil Made Me Do It remix by Kevorkian Death Cycle)"
I'm not sure if I can necessarily spot the difference between a Kevorkian Death Cycle mix and a Hex Rx mix (both are projects of Negative Gain boss Roger Jarvis), but that's not really relevant. As a club mix this works great, it trades some of the typical Alter Der Ruine quirkiness for more standard electro-industrial sounds, but does it tastefully. Jarvis knows his way around a 4 on the floor club song, and I dig on the distorted sequences on the verse and the big synth pads on the chorus. It'll fit just right into a mid-tempo industrial set, and isn't so far off from say, a Grendel track that a DJ who knows what they're doing couldn't build it with a little work.
"Keep the Devil Off Your Back (Pull Out Kings remix)"
Pull Out Kings, the project of Z Marr from Combichrist, specializes in grimy electro styles, and to be truthful I find a lot of their remixes to be a little on the nose. This one is pretty good though, POK's steez meshes well with ADR, and the elasticity and slipperiness of the bassline suits the song well. The vocals get a little buried mid-way through, but their use of vocoder is a welcome addition. Solid mix.
"I Am Drugs (Sky High mix by Surgyn)"
Scotland's Surgyn have been doing some impressive remix work of late, and don't fail to bring the fire on this one. Even with the absence of the context of the original track it's still not hard to spot their renovations, and this is smoothed out just right. Mike Treveloni gets his croon on in this cut, and I love that his vocals stay right out in front of the busy mix (albeit with a coat of reverb), which also comes complete with the full on mini-trance breakdown, all epic pads and squared-off stabby lead. Definite dancefloor potential, and still with enough ADR in the bassline to satisfy.
"I Am Drugs (Fractured Transmission remix)"
Rhythmically this plays way more like a laidback version of a classic Alter Der Ruine song, back when they were more of a power noise combo. It's the only instrumental on the single, and is real long on atmosphere, with a big dark ambient mood riding the beat. At five minutes I think it's a little shy of elements; in fact I think it would have worked fine to keep the vocals on it just for some variation in texture across it. Not bad, just not the most exciting thing on an otherwise pretty superb little single.
The Takeaway: If you were only gonna snap up one or two of the tracks I'd likely recommend the original version of "Keep the Devil Off Your Back" and the Surgyn remix, but I've no problem recommending the full digital release on this one. I actually like all the mixes on it, and it has enough variety in style to be a worthwhile addition to a DJ toolkit. The only downside is knowing that this is essentially the beginning of the end for new Alter Der Ruine material when it feels like they're really just hitting their stride.
Keep the Devil Off Your Back is out digitally on Negative Gain Productions tomorrow, and will be available via CdBaby, iTunes and a variety of other digital platforms. This is as good a place as any to point out that most of ADR's back-catalogue is available on Bandcamp for the mad reasonable price of $2 a record.