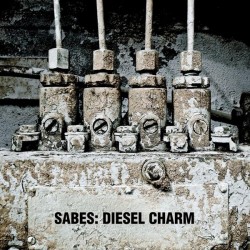 Sabes
Diesel Charm
Ant-Zen
We've talked about the backlash against (and possible resurgence of) that most maligned subgenre of the early oughties, futurepop, a few times here on ID:UD. Less chin-scratching has been done about its predecessor in the Next Big Thing sweepstakes, that sand-blasted scourge of the late 90s: power noise. While we've discussed a couple of the newer, more rhythmically-oriented artists who owe no small debt to the Ant-Zen classics of yore (most notably iVardensphere), relative newcomer Sebastian Mich, AKA Sabes, is operating in a far purer and earlier stream of the form on his sophomore outing, Diesel Charm.
After a brief ambient wash, lead track "Oil Tank" smashes the listener square in the face with a harsh wall of beats and static fuzzed out so as to be completely impenetrable. Some wet gurgles and textures appear towards the end, providing contrast to the concrete assault of the track's core. This template continues through the record, with some echoing, amplified strings appearing in second track "Evolution", and squawking klaxons whipping the last minutes of "Mysterious Stranger" (which samples that super-creepy Mark Twain claymation movie to good effect) into a frenzy.
Mich apparently had roots as a DJ in techno and acid before discovering industrial and rhythmic noise, and while I don't doubt that those genres helped guide him to produce Diesel Charm, their presence isn't terribly tangible on record. While there are some breaks that could be traced to those earlier forms, they're smothered in blankets of distortion and cleave so closely to the originators of power noise that it's all the same to the listener. Indeed, the extreme influence of the expected suspects – P·A·L, Imminent (Starvation), Converter – is apparent from the get go and maintains throughout.
Diesel Charm's tracks do run a tad long. Possibly the strongest cut on the record, "Melophobia" follows the blueprint discussed above, erupting into a wonderful cacophony of beats, squeaks and breaks in its last couple of minutes, but that's been presaged by a two minute, rise-and-fall opening passage which doesn't add much. Given the strength of the top half of the album, this isn't too serious of a problem: the first five tracks are solid, if somewhat slavish, missives in the classic strain of power noise, but Diesel Charm seems to run out of ideas and sounds midway through. "Rat" feels grey and washed out, and a few uninspired drum presets begin to make their presence felt on the second side. At this point Sabes' proximity to those power noise artists of yore becomes something of a liability; in comparison to thematically and sonically similar material that's stood the test of time, the middling second half of Diesel Charm suffers.
We've showcased traditionalist goth rock and electro-industrial here as of late, and the idea of a traditionalist strain of rhythmic noise isn't an unwelcome one. Diesel Charm doesn't push the envelope, but it features an EP's worth of solid, noisy fun, and if you're in the mood to reminisce about the halcyon era of 90s power noise, you could do much worse.