End to End is our track-by-track take on non-album and compilation releases, in which we try to give thumbnail first impressions of each song and point to particular numbers to be cherry-picked via the consumer's online retailer of choice.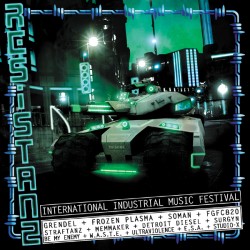 Various Artists
Resistanz 2012
Deathwatch Asia
The second edition of the Resistanz Festival will be running April 7th and 8th, and features a solid line-up of international and domestic UK acts including Grendel, Icon of Coil, W.A.S.T.E, Surgyn and Be My Enemy amongst others. As is tradition for festivals, a compilation of bands appearing at the event has been produced and released online via Bandcamp in anticipation of the massive weekend. Festival comps are a dicey proposition in many cases; often assembled out of whatever the compiling label (in this case festival sponsor Deathwatch Asia) can get from each artist, quality and continuity are secondary to providing a souvenir for attendees. With a fairly impressive list of industrial acts from across the current spectrum on it's tracklist, how does Resistanz 2012 make out? Let's give 'er a listen.
W.A.S.T.E, "Droppin' Loads for Resistanz"
California's W.A.S.T.E. are one of the most prominent acts still plying a classic, unreconstructed power noise sound, which is precisely what you're getting on this compilation exclusive. Metallic percussion, screeching machine sounds and movie samples lovingly coated in distortion are the order of the day on this cut. It's nothing terribly surprising but it serves as a good example of the group's almost nostalgic take on the sound.
Straftanz, "Straftanz (Terrolokaust remix)"
I really prefer the cheeky turn Straftanz took on last year's Mainstream Sellout Overground to anything they did previously. The original version of this track is a little long in the tooth (appearing as it did on their first demo) and Terrolokaust don't do much to renovate it. Frankly it sounds a little dated, although I guess it sounds exactly like what you would expect Terrolokaust remixing older Straftanz to sound like, and that'll appeal to harsh EBM fans.
Frozen Plasma, "Tanz Die Revolution (English Version)"
I quite liked this single when it dropped, although my flavour was the Italian vocal version. I might be crazy (or there might be some weird mastering issue) but the vocals seem like they're mixed distractingly loud, which I don't recall being an issue with the English version that appeared on the international CD single. It's actually driving me kind of crazy listening to it right now; it's like hearing Vasi do karaoke over the instrumental to his band's own song.
Memmaker vs. Detroit Diesel, "Race to Space"
Vive le Quebec! I wrote about this a bit on Monday, and I'll happily go on record again: this is great. It's got that endearing Memmaker bounce, cute use of vocoder on the female vox and the hardstyle leads (a sound that can tip over into immensely annoying without too much nudging) sound great. This actually sounds a lot like what Grendel is doing now, which is as good a segue as I'm likely to get…
Grendel, "Wheels in Motion (SAM remix)"
To the best of my knowledge this is the first version of any track from Grendel's forthcoming album Timewave Zero, which is a decently big coup for a festival comp. SAM go the largely instrumental route in their version, which although it lacks the weird tweaky lead that caught my ear on the preview clip of the original version, still has that slick 2012 harsh EBM sound. Not shabby.
Surgyn vs. Sebastian Komor, "Resist! (IOC's Benzo Tin Mix)"
This is a BEAST. A simple arrangement of bass and percussion with some judicious use of cowbell (first person to make a "needs more cowbell" joke is getting shot), it builds for like 5 minutes so when it does finally bust into those classic IoC style leads, the sense of release is palpable. Reminds me why I'm so excited for there to be new Icon of Coil material this year, hopefully. Just fantastic.
FGFC820, "Insurrection (Detroit Diesel remix)"
As I said about it last year, this track lends itself well to the remix treatment. I still find the vocals offputting, but Detroit Diesel's orchestral sounds lend it some soldierly gravitas. Not a major sea change in the track, but a well-executed, journeyman mix.
Soman, "Noistyle (Nachtmahr)"
This mix has been available for a minute now, originally appearing on the DWA release of Soman's album of the same name. If you ain't heard it, this has a ridiculous spoken "And god created industrial" breakdown in the middle, on that VNV remixing "Kathy's Song" in 2000 steez. It's silly for sure, even moreso than the original mix, although truthfully I like it a bit better for what that's worth.
Surgyn vs FGFC820, "Resist!"
This is the other version of the track that Surgyn worked on with Seb Komor earlier on, and appropriately enough this time it comes out sounding like an FGFC820 track. It's not a patch on the IoC mix, but I like the alternate exclusive versions idea in the context of a festival comp, and this has a different enough sound from the other version to justify the conceit.
Be My Enemy, "Straight from the Heart"
I quite like this! For those that don't know, Be My Enemy is the project of Phil Barry who earned his OG stripes as a member of the legendary and dearly departed Cubanate. Much like the sound of that storied project, this is a blast of propulsive electronics and thick washes of distorted guitar. It's a formula Barry clearly knows inside and out and he milks it for everything its worth here. Big thumbs up.
E.S.A, "Wretch (The PCP Principle remix)"
Jamie Blacker has the atmospheric rhythmic noise game on lock right now, and this E.S.A. remix context winner from the PCP Principle doesn't push too hard outside that boundary. Nice use of string and vocal samples, although one of the strengths of E.S.A's work has always been in his builds, this one goes balls out noisy from almost from the jump which robs of it of some power. Still pretty decent though.
Ultraviolence, "Electronic Death Resistanz"
Man, call me ignorant but I had no idea Ultraviolence was still a going concern. Hardcore techno has never been a huge thing in the North American industrial scene, although I suspect the crossover in the UK is much larger, which means this specially recorded track helps establish some Brit flavour for the comp. This sounds exactly like I remember Ultraviolence sounding, which is to say FUCKIN' GABBER. Your mileage may vary.
Studio-X featuring Dark3 and Zeda, "Resistanz Anthem"
I think it's supercool that a number of acts produced tracks specifically for this release, which helps make the CD comp a special souvenir for festival goers. Studio-X's version of technofied industrial isn't usually my cup of Earl Grey, but this isn't too bad, and since he apparently has had to cancel his appearance at Resistanz, it's nice that he can still be a part of the festival in some fashion.
E.S.A, "Themes of Carnal Empowerment (Ruinizer remix)"
I'm quite eager to hear the forthcoming dual album from E.S.A. on Tympanik (which dropped yesterday!), so we'll take this remix while we wait. It's a bit brief but has some cool glitchy cuts, and serves as a fine taster to appetize us for the main course.
The Takeaway: Festival compilations have a habit of being clearinghouses for crummy b-sides and "rare" previously released tracks of dubious quality, so it's definitely good to hear one as full of otherwise unreleased material as this one. If you wanted to snap up a few of the mixes in lieu of the whole thing I'd go with the Surgyn vs. Seb Komor, Be My Enemy and Memmaker vs. Detroit Diesel cuts, but hey, the download of the whole thing via Bandcamp is like, $9 after being converted from Yen which I think is totally reasonable if you aren't going to the festival itself and don't care about having a CD.