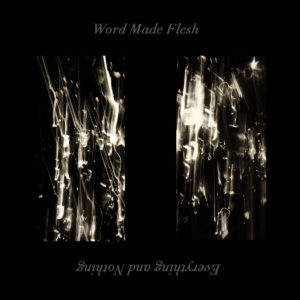 Word Made Flesh
Everything And Nothing
Armalyte Industries
Keef Baker and Phil Barry's debut record as Word Made Flesh felt like a natural extension of both artist's work; Baker's dub and technoid sounds combined with Barry's churning walls of guitar to make what was functionally a kind of industrialized post-rock. New album Everything And Nothing works from the same template but ups both the scope and the abstraction. The result is a record that is as monolithic and towering as its predecessor, but far more unknowable.
Nowhere is the shift in approach more noticeable than on opening track "Skin Popping". An 11 minute plus composition, its primary characteristics are bassy drones, disembodied vocal samples drenched in reverb and unnervingly sharp string sounds. It's not that it feels entirely divorced from the material the duo have released in the past, but that it delivers similar feelings and experiences with a reframing of their shared toolset. See also the wavy tremolo guitar that weaves its way through the off-kilter beats and atonal sequences of "Multiplication of Arcs", or the way that fuzz and distortion are layered on top of every sound on "The Body" to make what is essentially death industrial. None of it seems out of place, but none of it expected or obvious either.
For all the moments of immensity and murkiness on "Everything And Nothing", there are also some moments that bring a welcome sense of scale by their more reserved nature. The gentle, measured repetition of the song's title on "Between Two Points" backed by distant explosions has a strangely intimate quality, something that's also reflected in the strange blend of mangled pop samples, buzzing insects and domestic conversation that are hacked together on "The Lead in the Pipes". "The Mind"'s gentle guitar feedback drones and extremely sparse percussion might be the only thing that Word Made Flesh have ever made that you could call beautiful, but it's no less so for its unique nature.
Somehow both familiar and unexpected, Word Made Flesh made a record that expands on the potential of their partnership in ways that we wouldn't have expected. Genre agnosticism and the deep well of styles and ideas invoked on Everything And Nothing aren't the easiest building blocks when it comes to cohesion, but the two scene veterans bring it all together through atmosphere and character.