End to End is our review format for non-album releases. With more and more remix singles and EPs being produced, it's our effort to parse whether a given release is worth a full purchase or should be cherry-picked of its best tracks via the consumer's online retailer of choice. It's a twofer this week, as we look at two recent remix EPs from Caustic and Faderhead.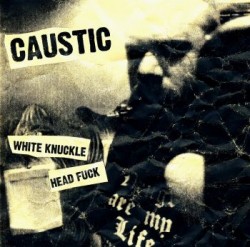 Caustic
White Knuckle Head Fuck (Remixes)
Metropolis
Much as I enjoyed Matt Fanale's Metropolis debut The Golden Vagina of Fame and Profit, I don't feel like the Faderhead collab "White Knuckle Head Fuck" was one of the highlights. Playing like a rewrite of FHead's "TZDV" (a well Sami has already dipped back into), it seemed to be exactly the kind of dumb club song that first single "666 on the Crucifix" sent up so amusingly. Fanale strikes me as the kind of guy who's willing to give pretty much anything a shot creatively, so I can't fault him for "WKHF"'s inclusion on the album, but it always felt out of place in an otherwise pretty substantial record. That said, it's the kind of song tailor made for the remix single format, a treatment it's received for a late year digital release. How did the impressive line-up of remixers do at adding some depth and dimension to the track? Let's find out.
White Knuckle Head Fuck (Caustic Hybrid Version V1.1)
Musically this sticks pretty close to the album mix (I think the synths are beefed up a bit on the verse but it's otherwise identical to my ears), but the vocals have some kind of weird digital reverb on them that's actually kind of distracting. Speaking of which, I'm not sure if it's a mastering error or what, but every time this mix hits the "Rise Up!" vocal some kind of gating causes the lead sound to dip severely, to the point where it's noticeable and seems like a mistake more than an artistic choice. Not a strong mix.
White Knuckle Head Fuck (Aesthetic Perfection Mix)
Daniel Graves is on a remix streak right now, and this is no exception. Nothing too different from the siren synths and bouncy basslines that made up the body of his recent full length, but dude has a knack for figuring out how to apply his MO to other people's songs in a way that doesn't feel derivative or tossed off. This'd fit nice into a hard EBM set or even as a bridge track from some more techno or electro flavors back to industrial.

White Knuckle Head Fuck (Fabrikc Mix)
Not wild about this one. I like the renovated bassline and the busy cymbal programming, but the mix is muddy and a lot of the finer details are totally lost. There's a decent remix in lurking around in here idea-wise, but it's in need of a serious clean up audio-wise.
Hiroshima Burn (iVardensphere Mix)
"Hiroshima Burn" is one of the strongest songs on Golden Vagina IMO, and one that lends itself well to iVardensphere's ultra-analogue bass attack. Vocals could stand to be a bit more out front in the mix but it's not a serious flaw. Love the weird choral sounds that come in mid-track, it's the sort of thoughtful production touch that's becoming synonymous with iVardensphere remixes. Solid work from Scott Fox, who is on a bit of a remix streak himself right now.
White Knuckle Head Fuck (Klutae Mix)
Claus Larsen's resurrected Klutae does kind of an electro punk EBM thing, which makes for a nice blend with Caustic, whose recent work has definitely shown some rock influence. The grindy bass and metallic percussion on this actually give it a bit of an old school Revolting Cocks circa Big Sexy Land feel, and I'm never gonna front on that. Hell, I'd love to hear Caustic do a Wax Trax style industrial rock album, he's got a great voice for it, and that sound has gotta be due for a come back at some point. Great mix!
White Knuckle Head Fuck (Boole Mix)
Fantastic mix from the guys in Boole, who've been at this sort of thing for quite some time now. Making the song over as a fun bit of electropop before plunging into some very weird electro, metal and eventually a lounge jazz breakdown (for reals) is exactly the kind of cheeky thing I'd expect from them, but beyond the pure WTF appeal there's some strong programming chops at play here. If I have a complaint it's that of the four or five different genres that get applied to "WKHF" across this six minutes, I'd love to hear at least half of them spun out to full versions of their own. Good stuff.
Oontz Oontz Oontz Blarrrrrrrgh (Vomiting At 3am Mix)
I don't think any version of this has appeared elsewhere, which I guess makes it a b-side. It's got the rock vibe that occasionally pops up in Fanale's work, almost a bit Rob Zombie-like in the vocals actually. Seems like a bit of a piss-take, but hell, it's fun and I gotta admit, pretty catchy. Jager pussy bomb indeed.
The Takeaway: This bats well above average in terms of overall quality for remix singles, and is certainly worth grabbing for the Boole, Klutae, iVardensphere and Aesthetic Perfection versions. If you were gonna only download a couple then AP and Klutae would probably get the nod from me, but I've got no problem recommending snagging the whole thing, it's easily worth the $6 I paid for it on iTunes.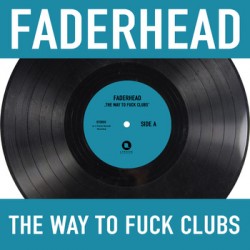 Faderhead
The Way to Fuck Clubs EP
Self-Released
I'm the guy on the ID:UD staff with the tolerance (and occasional genuine appreciation) for your *ahem* "less thoughtful" club music, so I've never had any real beef with Faderhead. If I'm being totally honest I think he's at his best when he doesn't try to get profound and just produces big dumb dance songs, because despite his tendency to occasionally repeat himself, he does it pretty damn well. "The Way to Fuck God" leaned a little too hard into Combichrist territory for my taste, but it's the kind of jam that's structured well for a remix single. Sami also suggests in the Bandcamp write-up that he tried to get as many different styles of remix as possible for the EP, which is a solid approach.
The Way To Fuck God (Club Edit)
You know, I don't think this is different in any way from the version that appeared on Faderhead's Black Friday. As noted previously, it does have a Combi thing going on, although I'll admit that Sami pulls it off better than some of the other artists who've been aping Andy's formula, Shiv-R take note. (Okay, I just listened to the song as it appeared on the album, and I think the EP version might be mixed a bit louder? Whether that constitutes a Club Edit is up to you as a listener, I'll reserve comment).

The Way To Fuck God (Electro Mix by XP8)
XP8 do a nice spacious version that uses some acid sounds to good effect. I think this'd actually fit nicely with some more techno-oriented sounds if you were spinning it out. Rare for me to say this, but I actually wouldn't mind seeing this be a minute or two longer to really work a dancefloor build. Can't take anything away from the XP8 guys though, they know production well and they largely hit the mark they're aiming for here.
The Way To Fuck God (Retro Mix by Modular Majesty)
I like the guitar sounds that get added but it just feels a little lethargic for a rock style mix. Even cranked up loud this doesn't really hit it's mark, despite being decently programmed and having a distinct take on the track it just never achieves lift-off. A good idea that just doesn't work in execution.
The Way To Fuck God (Shaolyn Remix)
Nice hard drums and a big ravey lead, I kinda like this one. Not substantial by any means, but a DJ could slide it in with some Phosgore and [X]-Rx without too much difficulty were they so inclined.
Hot Bath And A Cold Razor (Live Acoustic)
As I mentioned in the intro, I'm not a huge fan of Faderhead's "serious" songs. Although I don't remember this particular track being all that terrible on the record, this is exactly what it says on the tin, a live acoustic version, and it plays kind of embarrassing that way. It's just not that substantial a song that it can withstand being stripped down, and frankly it seems like a blindingly un-self-aware creative decision from someone who is normally pretty canny about where his talents as a producer and performer lie.
The Moth And The Fire (Candlelight Version)
At the risk of repeating myself, Faderhead's ballads up 'til this point haven't got enough character outside of the club to withstand this kind of bare arrangement. I know dude wants to make some more sentimental jams, but "Horizon Born" proved he could do that while still playing to his strengths. Not unlike the preceding track, this feels like the work of someone desperate to prove they're more than just a club act, but not doing a very convincing job of it.
Watching Over You (Demo)
Yet another track in the maudlin vein, although with a bit of bounce to it. I think this could actually get beefed up into a nice big ballad (provided the tempo stays around the same pace) given some ornamentation but it's not especially remarkable in this form. It's a demo though, so we may yet get a version of it that works in future. For what it's worth, I'm pleased to see this as a Bandcamp exclusive bonus track, given my affection for that particular platform.
The Takeaway: I have a hard time recommending a full download of this one: only the XP8 mix and Shaolyn mixes of "This is the Way to Fuck God" are worth your time. Download them via Bandcamp, or iTunes, leave the rest aside.