"We liked the idea of a 'philosophical cinema'."
Since releasing their acclaimed 2010 debut LP, We Are Kant Kino – You Are Not (the very first album we reviewed here at ID:UD), the titular Norwegian duo of Kenneth Fredstie and Lars Madsen haven't stopped for even a moment's rest. Through a seemingly endless supply of remixes for other artists and solid compilation appearances, they've continued to carve themselves a piece of territory in the blighted dark electro landscape, characterized by strong 80s EBM influences and studio precision. They took some time away from working on their follow-up record to talk shop with ID:UD.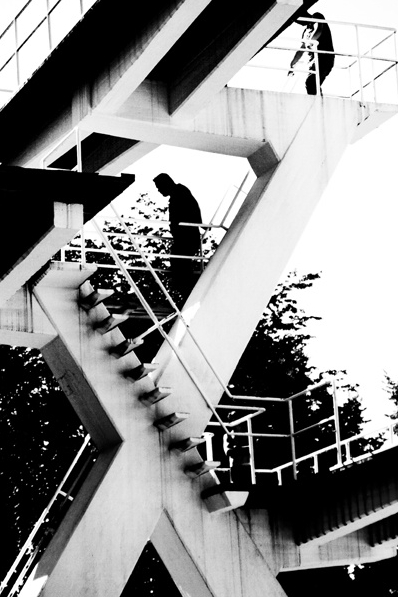 ID:UD: Can you talk a bit about your musical pasts prior to forming KK, and how exactly the band formed? What, if anything, was the "mission" underlying the formation of the band?
KK: Kenneth had a one-man project called The Film Inside and Lars was in a band called Industrial Heads in the 90's who released an album on Furnace Records in the US. In the late 90's and early 2000's he was in a band called Skin Disease with Tom and Christer from In Vein and Exploding Head Syndrome. The band was formed after writing a tribute tune for the Elektrostat festival and later being picked up by the Bunkertracks compilation series, which later then lead to signing with Alfa-Matrix.
ID:UD: On one hand Kant Kino utilizes extremely processed vocals, but on the other often features a lot of very clean melodic lines. Similarly, many of your beats are very aggressive and modern, while your bass lines often make us think of older bands, like Leæther Strip and even back to Nitzer Ebb. Is there a conscious decision on your part to try to strike a balance between old and new modes of EBM?
KK: We have both always loved a wide variety of alternative music, from Erasure or Talk Talk, to Skinny Puppy or Leaether Strip, to techno or pop. So, yes we guess this somehow reflects in our music, and even more in our next album, which we think will infuse even more styles with EBM as the basis for the cocktail, along with a lot of clean vocals and guest vocals, together with harsh vocals.
ID:UD: As soon as we heard "Owner Of This House Lives Here" we were struck not only by what a kick-ass track it was (we were glad to see it getting some more exposure through the Alfa Matrix comp), but also what a great theme Chernobyl was for a dark electro act; you've also remixed Roppongi Inc. Project's "Temporary Evacuation" which is similarly about the disaster. Can you talk a bit about what drew you to this subject?
KK: First of all, thank you very much for your kind words! "Owner Of This House" is one of our favorites. This track, and the remix for Roppongi Inc, are actually not related in any way. Our track was written way earlier, and came along after watching a documentary on the residents of Pripyat, who actually put up signs stating "Owner of this house lives here" to state that they do not want to leave their homes, despite the accident and dangers in the area, and a lot of people leaving turning it into kind of a ghost town. The pride in their eyes, and their determination, was outstanding. The remix for Roppongi Inc. came along at a later stage, and it's just a coincidence that it's based on the same theme. [Check KK's remix of "Temporary Evacuation" on one of our mixtapes – ed.]
ID:UD: What other lyrical themes were you seeking to explore on the album's other tracks?
KK: We write about what ever comes to mind. We find inspiration in life, on our way to work, a TV program, a movie, a walk in the woods, history, love, philosophy, whatever…
ID:UD: Even by the standards of this scene, you've been doing an incredible amount of remix work lately (often featuring a "vocal stab" technique which seems to be becoming something of a trademark). How have these collaborations come about, and how do you see them factoring into your own goals and sound?
KK: Yes, we have done a lot of remixes, about 25 for 18-20 bands, and are currently working on two, as we speak. Some of them are bands from our own label, Alfa Matrix, and it's something of a tradition that we help our label mates with remixes. Leæther Strip did a remix on our album, and we have now done three for him. He has become a good friend, and is doing guest vocals on a song on our new album.
Others have been arranged by Alfa Matrix (for instance Nitzer Ebb), some we have done by request, and some we have organized ourselves. We also get a lot of remix requests. But for now we have to say no for a while: we have to finish our own album soon! Although, we love remixing. Bringing our own sound and work into other peoples art is a unique form of collaboration, and is very fun and rewarding.
ID:UD: Alfa Matrix has a very family oriented vibe in terms of it's artists collaborating and remixing one another. Has that environment influenced Kant Kino?
KK: Yes, of course! As we signed we got to do remixes for well established artists like Unter Null, Leæther Strip and Essence Of Mind, which was really cool for a new signed band. It gave us confidence and new energy.
ID:UD: Both members of KK have numerous DJ gigs on a semi-regular basis. What effect does DJing have on songwriting? Do you find that being in a group influences what you play as a DJ and vice versa?
KK: We are very different in our DJ-styles! Kenneth beat matches and playing a lot of contemporary EBM/synthpop etc. Lars plays more alternative 80's thingies: EBM, pop, synthpop and indie. We don't think it influences our writing that much…We write what we write, and keep what we like no matter what, but of course we have the dancefloor in the back of our minds.
ID:UD: Outside of a few notable exceptions, the Norwegian scene is something of an enigma in North America. What can you tell us about industrial there, and where does Kant Kino fit in?
KK: The scene in Norway is small compared to Sweden, for instance, where the scene is a lot bigger. But there are some very high quality acts coming out of Norway, who we of course admire and look up to, like Apoptygma Berzerk, Icon of Coil/Combichrist/Komor Kommando/NorthBorne, Pride & Fall etc. And new bands are popping up now that electro is more accepted than before. When we grew up, Depeche Mode were kind of odd, today they are a credit band.
But the EBM scene is small. There are regular clubs (once month or so) happening in the capitol of Oslo, and the occasional club in other parts of the country. And there is also the very nice Elektrostat Festival (an annual 2 day festical) which has run for 12 consecutive years now. A lot of top scene acts have played there, and there's a nice vibe at the festival.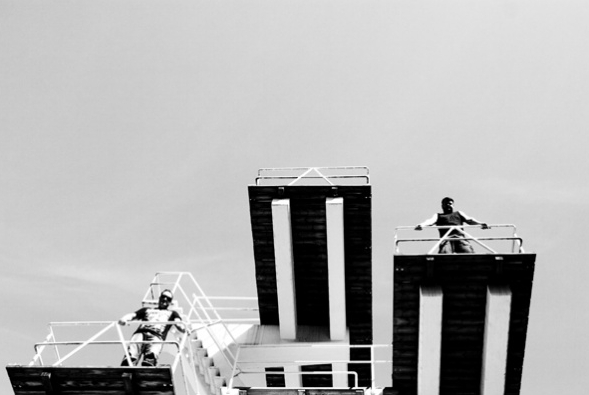 ID:UD: Are you working on new material? What can we expect from Kant Kino in the next 12 months?
KK: Yes, we are currently working on a new album. It's taking longer than we planned, mainly because we have done a lot of remixing. We have some working demos, and one or two finished songs. We're doing a couple of collaborations on this album. Karine Kristiansen, who has been on stage with us a couple of times is doing vocals on a track or two, and Claus Larsen is joining us on vocals for a very very cool cover we have done of Warm Leatherette.
ID:UD: A somewhat silly question, but can you confirm or deny that your name is a reference to Immanuel Kant?
KK: Yes, but no! We stole the name from a Simple Minds song, and later found out it was a cinema in Berlin, and also a concert venue where many of our old heroes have played (Lars especially). [Some quick Googling yields speculation that Joy Division may have named "Komakino" after said venue after playing there – ed.] Kenneth used to have a band called Film Inside, and the Kino aspect takes that further. Kant is representing all philosophers more than himself…We kind of liked the idea of a "philosophical cinema". Plus it looks good, and sounds good! We like it!