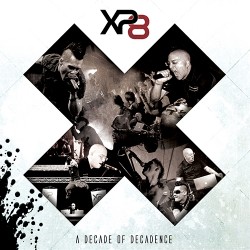 XP8
X: A Decade of Decadence
2393 Records/Deathwatch Asia
There's a tendency in record critics to use talking about production as a get out of jail free card for writing about albums you want to like for one reason or another but can't find much good to say about. As in: "This new Terr0rgan Meatz album is kind of forgettable, but listen to how well programmed that lead sound is!" With that understanding and in the interests of full disclosure, whether consciously or not I've always mentally classified Italy's XP8 as a "production" band. I own a few of their albums, and although I've always noted how glossy, big sounding and super pro they sound over a nice club system, outside of a few exceptions ("Want It", "Muv Your Dolly" and "Cuttin' N 'Drinkin'" are all certified bangers) their songs didn't usually stick with me. In 2011 members Marco Visconti and Marko Resuurection have released X: A Decade of Decadence, a maxi-EP to celebrate the group's 10th birthday, one that ends making a case for style as the group's substance.
As expected, X is a club record, with 4/4 drums in the 130 bpm range, busy arpeggiated basslines and big stabbing leads as the order of the day. There's nothing wrong with that at all, at seven new songs and three remixes the EP handily represents XP8's sound as befits its billing as an anniversary release. "Bullet Hole" and "Burning Down" are both solid trance flavored cuts, with expertly structured builds and breakdowns, impeccably programmed for maximum dancefloor effect. The same sound continues through "Fragility" and "Wake Up" paying slightly less dividends, although they add some nicely layered elements (the latter has some fun tweaky acid sounds) they suffer from being preceded by tracks that do the same thing just a bit better. "Decadence", a textbook bit of melodic futurepop scales the bombast back to good effect, ending up as a showcase for Marko's vocals.
It's when things loosen up a bit on "Trip" (which features a vocal guest spot from Stewart Who?, who you may remember as the "Do you fuck as well as you dance?" guy from Wayne G's fetish club classic "Twisted") that XP8 break out a bit, letting a looser bass groove and some rattling percussion prove their capacity for making good, moldable songs outside the format they're most associated with. The same effect is achieved on the remixes that top off the EP, specifically on the Autodafeh and Aesthetic Perfection versions of "The Art of Revenge" and "Muv Your Dolly", which handily demonstrate how XP8's better compositions have a strong enough core to withstand the touch of two very identifiable remixers.
Clubgoers are likely to become acquainted with these songs in the setting that best suits them, and presumably Resurrection and Visconti are fine with that, judging by the straight up dancefloor style they're pushing on their anniversary release. In that it makes a strong statement about who XP8 are and what they do, X: A Decade of Decadence delivers.
You can buy X: A Decade of Decadence direct from XP8 on Bandcamp. A limited digipack will be available from Deathwatch Asia in December.