Yeah, I know, this makes for two Tracks posts in one week, but it's been a donkey's age since I did one. I've got to keep Alex on his toes lest he gets lazy and starts pawning Tracks posts off on Intern Tobey, and we all know what that means: posts made up of comeback attempts from Rick Springfield, Papa Roach, and Finger Eleven. With that bracing image of hell in your mind, let's move onto some more pleasant fare with which to start yr weekend.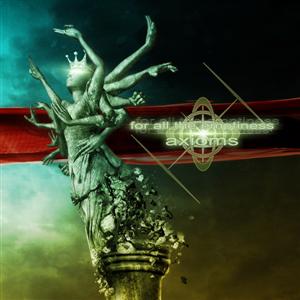 For All The Emptiness, "Prayers"
Here's a great slice of impassioned synthpop from one-man Toronto project For All The Emptiness' debut, Axioms, which simultaneously calls to mind the late, great Noxious Emotion's centrepiece and Popkiller-era Wolfsheim. There's also a beefed-up mix from Icon of Coil, but I think the original is a better showcase for Jonathan Kaplan's humanist-minded vocals. It's a refreshing change to hear someone singing in this style so directly and with conviction, an element of classic synthpop which seems to have generally fallen by the wayside. I'm always happy to make space in my sets for stuff as melodically affecting as this. Oh yeah: Axioms can be downloaded for free on FATE's site, so lend it an ear!
prayers by for all the emptiness
Aiboforcen, "Shadows"
Like my partner in blogging, I snapped up Alfa-Matrix's free label sampler a few days back. When this particularly smooth joint came gliding through the speakers, I was pleasantly surprised to note that it was done by none other than Alfa-Matrix label heads Benoît Blanchart and Laurence Hennuy, AKA Aiboforcen. Aiboforcen only decloak to release music every few years, and their breadth of sound reflects the time taken between their sessions, deftly moving between dark electro, trip-hop, and other points between. "Shadows" is a decidedly darkwave turn featuring vocals from Regenerator's Patrice Synthea, and has raised my hopes for their new LP Dédale.

Peter Murphy, "Gaslit"
Everyone's favourite fishcake chef has followed up his "sort of back to Cascade type songs but with super-stripped arrangements" album Ninth with a B-sides and outtakes digital-only EP, The Secret Bees Of Ninth. I've no idea why a song as great as "Gaslit" was left off the album, but he seems to be including it in his recent sets, so hopefully those of us keen to catch him on his co-headlining tour with She Wants Revenge will be treated to it live. Enjoy the studio version of this quiet little gem (am I the only one who hears some similarities with "Huuvola"?) until then.
Peter Murphy – Gaslit by nettwerkmusicgroup
Myths, "Prism Portraits"
Okay, Myths sit a bit outside of our usual territory, but I'm dropping them in because a) they're good, b) they're from Vancouver, and c) at least one local media outlet seems to be kind of bungling the job of placing them in the context of Vancouver's electronic music history. (Then again, said media outlet once gave a Faith And The Muse a bad review because their show wasn't enough like Marilyn Manson's) I like Myths, but they're not working in the same milieu as Skinny Puppy, not by a long shot. Instead, they're following through on a solid tradition of artsy Vancouver synth-punk which has in the past ten years given us (off the top of my head) A Luna Red, Channels 3×4, Lynx and Ram, PR1ME5, Twin Crystals, Dandi Wind, and many more.