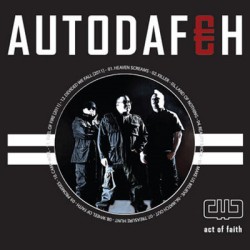 Autodafeh
Act of Faith
Scanner, 2011
The rejig of the 2010 song "Divided We Fall" that ends Act of Faith contains the line "Two for two, one for all", a fairly clear nod to which region of the retro EBM landscape Autodafeh favor. While many of the new-oldschool artists that share common influences with these boys from the south of Sweden display an almost slavish devotion to DAF and Nitzer Ebb, Front 242 is still the most formative influence in Autodafeh's sound. Act of Faith clings pretty hard to that starting point, while slowly extending tendrils outwards into some different sounds to shore it up.
There's no getting around it: it's impossible to listen to Autodafeh without hearing the influence of Front 242 front and center. Lead vocalist Mika Rossi's delivery and phrasing owes more than a little to Jean-Luc Demyer's unaffected menace, while the vocal stab back-ups from Jesper Nilsson and Anders Olsson serve the same reinforcing purpose as those of Richard 23. And while the programming lacks the curveballs that make mid-period 242 so timeless, the sense of gravitas and Cold War paranoia that informed their songs is present on Act Of Faith in abundance. The mid-tempo grooves of album opener "Heaven Screams" and "Make us Believe" cut the closest to straight-up 242-tribute songs, and serve their purpose well in that regard; they're both propulsive enough to escape the gravity that sucks soundalike songs down.
The album's best moments, however, occur when Autodafeh dabble in integrating elements from outside their wheelhouse. The lead from "Promises" brings a taste of portentous futurepop, a mood also evoked in the sweeping "Killer", the record's most successful attempt at compromise between old and new sounds. Less fruitful are the tweaky And One-esque electropop elements on "Watch Out" and "Camp Intel", both of which fail to sound any different than you would imagine them to based on that description.
Imitation is an accepted mode of operation in EBM's current climate, which can make it hard to assess a band on merits of originality. Act of Faith mitigates that concern by at the very least attempting to temper Autodafeh's chosen path with some outside inspiration. There's no question that a little more experimentation outside of the groups comfort zone would be welcome in future efforts, but as an album Act of Faith pulls off being a tasteful tribute to its influences without being entirely beholden to them, once again reinforcing the idea that substance can be made from effective duplication.