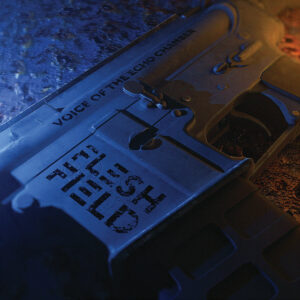 Flesh Field
Voice of the Echo Chamber
Metropolis Records
A return from Field wasn't something even the most ardent fans of the orchestral electro-industrial project were anticipating in 2023. While the band's three LPs released between 1999 and 2004 have a small but dedicated following amongst fans of North American industrial, the project was for all intents and purposes completely a thing of the past; in 2011 songwriter and producer Ian Ross put the instrumental demos for an incomplete LP up for download on the band's website (along with a plethora of unreleased remixes and other odds and ends) and called it a day.
Ross' motivations for the resurrection of Flesh Field, now a solo project (previous incarnations included vocal contributions from Wendy Yanko and Rian Miller) are inseparable from the themes of Voice of the Echo Chamber, namely Ross' concern and anger towards the political radicalization of US citizenry and the horrifying pipeline from it to gun violence. The LP takes on that difficult theme from the inside, inhabiting the mind of a protagonist from frustration to hatred and the resultant acts of domestic terrorism.
As Ross admitted in our interview with him, threading the needle of representing a character's mindset and making it clear that he's not endorsing it is difficult. Thankfully via both a statement accompanying the release of the record and the carefully articulated lyrics the record keeps the balance; the swelling drums and strings of opener "Crescendo" don't serve to valorize the confusion and anger of the protagonist's position thanks to careful placement in relation to one another, and "Rampage"'s elegiac piano melody makes it clear that the titular event is a tragedy not a triumph, even as the song builds to its inevitable conclusion, as portrayed by samples, guitars and stomach churning screams. That the immediate follow-up "Reckoning" addresses the death-urge and self-hatred at the heart of spree-killing only adds to the horror and sorrow. The sound of Flesh Field has always been one of large, soundtrack like movements, and the care with which Ross tries to prevent the grandeur of his arrangements from spilling over into perceived affirmation is commendable.
On the topic of how Flesh Field has changed sonically in this new incarnation, there are two major factors, both of which contribute to some musical awkwardness; first, that Ross is the sole vocal presence on the LP, and second that there's a large amount of guitar across the album. Those are neither of them bad things musically, but in practice have some less than ideal results – to be frank the mix far too often buries Ross' vocals and allows chugging riffs to run roughshod over the synth and sample programming, giving the record a feeling of unevenness. It's hard to ignore on cuts like "Soldier", where you lose Ross in a busy field of drum hits and strings, or on closing track "Reset" where the emphasis on the guitars defuses the song's emotional climax. It's not a universal issue; in spite of some buried vocals, "Manifesto" gives a nice balance of Flesh Field's distinctive synthwork, electronic and organic textures and guitars, all instrumental elements in support of one another.
By his own admission, those technical limitations are a result of the time Ross was away from producing music, and speak to a certain ambition in his vision for Voice of the Echo Chamber. A simpler record, both musically and thematically might have been easier to execute perfectly, but then again, a simpler album of less scope would not have felt like a return for Flesh Field a project marked by large ambitions. As it stands, Ian Ross has managed to make a distinctive statement with his comeback, one that speaks to his vision for his musical outlet, and its potential for bigger ideas and sounds.