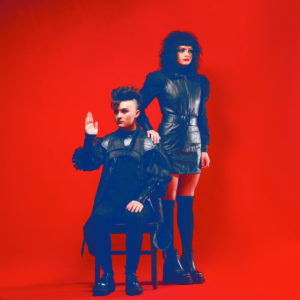 Wingtips
Exposure Therapy
Artoffact Records
Chicago darkwavers Wingtips don't waste much time setting the tone on their debut LP. After a brief intro track the first song proper "Deaf Pursuit" lays out the band's strengths handily: jangly guitar sounds and a bubbling electronic rhythm section support a mysterious melody that conjures up a fog-machine drenched dancefloor. While they vary up their execution somewhat, dark clubbable goth-pop songs are the order of the day on Exposure Therapy and the duo of Vincent Segretario and Hannah Avalon serve them up with admirable consistency across the record's ten tracks.
That steadiness is a function of the quality of the instrumental arrangements and the quality of the record's production. There's a weight and carriage to how synths and drums are programmed here, either geared to stay out of the way of a more traditional rock arrangement as on the chiming "Ghosted" or given reign over the tempo and hook as they do on "After the Storm" where delayed guitar follows the insistent electronic hook. Especially interesting is "Sentinel", a compelling mid-tempo number whose flanged ascending synth figure has a bit of new wave and film score magic woven into it, sitting squarely in the middle of the record as a pallete cleanser and scene-setter for the back half. It should also be mentioned that it's a particularly well sequenced record; at just under 45 minutes it's paced to keep the listener's attention through subtle gear shifts and more showy climaxes.
Of course those sorts of intangibles can only carry any long player so far. Thankfully they're in service of good melodies and songwriting here, as Wingtips pull-off a score of solid choruses and verses. Listen to the memorable two-part execution of single "The Eye that Follows Suit", a blossoming arrangement of guitars and vocals that hangs back and then surges forward triumphantly with chiming guitars and an excellent vocal. As a singer Segretario favours a wistful, Robert Smith-esque delivery that suits the songs well, even on Disintegration dead-ringer "Relativity" the effect is less imitation than inspiration. Like everything else on the record it just works without sounding strained or fussy.
It takes a lot of effort to make something as considered as Exposure Therapy sound effervescent and buoyant. For all the work Wingtips obviously put into their debut it never sounds laboured, trading in melancholic and sanguine pleasures that go down smooth from first listen forward. Recommended end-of-summer listening.