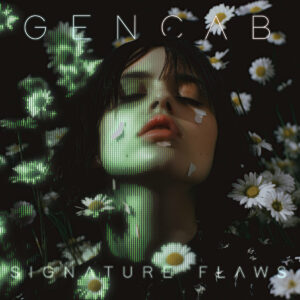 genCAB
Signature Flaws
Metropolis Records
When David Dutton resurrected his industrial project genCAB in 2022 with the release of Thoughts Beyond Words after a lengthy hiatus, it was with an enhanced focus on songwriting and melody. Placing him in the company of other artists like Comaduster and Encephalon, it was a record that found a balance between detail-oriented production and songcraft, and whose success came from each of those elements serving the other. New LP Signature Flaws functions similarly but comes up shorter, with fewer memorable cuts for the listener to sink their teeth into.
The issue certainly isn't a lack of substance by any means. Single "The Badge" works an excellent club-ready groove, alternating chugging and wailing guitars and a small symphony of synthwork, all pinned together by Dutton's impasssioned vocals. It's a good song, but strangely ends on a fadeout, a bizarre choice that makes the otherwise fastidiously assembled and carefully arranged song feel unfinished. That's not enough to sink it by any means, but it does serve as an example of the idiosyncratic way that much of Signature Flaws plays out. "The Black Mirror" has some very tasty chunks of synth and half-time drum programming and vocal work across its complex arrangement, but it feels like it never locks in on a single musical idea enough to take hold, a series of sections and motifs that are all good in isolation but don't cohere. Similarly confusing closer "space4theworld" is presented as a more traditional shoegazey rock song, but is mixed strangely with all the instrumentation seeming flat – the listener having heard the fullness of genCAB's productions leading up to it is left waiting for some twist or turn that never arrives.
To be perfectly frank, the speed with which the record arrives on the heels of its predecessor suggests that its failings might have something to do with a rush to completion. Dutton's skill and ambitions are never in question; you can hear how he's stretching himself on the three part title track, each movement deconstructing the previous one into a more basic form until all you're left with is the barest essence of a song, but with the power of what preceded it still attached. It's that kind of clever and effective work that has set the reincarnation of genCAB apart, and while Signature Flaws doesn't work entirely, it shows that Dutton is still pushing himself and his work towards grander things.