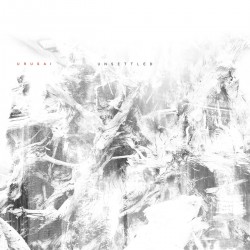 Urusai
Unsettled
Crime League
Longtime friend of this site Gregg McGillivray's latest release – technically his sophomore album – for Crime League is some moody stuff. While Urusai's style has always come across as emotionally honest and thoughtful (the former being a pretty specific challenge to convey in the world of instrumental technoid and IDM music), the nine tracks that make up Unsettled are shot through with a very real and palpable melancholy, its disposition seeping through its degraded drum sounds and dragged out samples.
Space is the most important part of McGillivray's work. While he favours simple melodies and slowed drum loops as components in the actual construction of his material, it's the amount of air he allows between them that will define the songs' shape. The tensest part of "Asphyxiate" is the time between one drum beat and the next, it never quite settles into a comfortable groove and consequently lends anxiety and pressure to an otherwise open and airy collection of sounds. He revisits that idea somewhat on "Regret" and in between the wistful echoes on "withdraw(n)", and even in the record's busiest moment – witness "One More Day" where a looping and delayed synth line gradually grows and recedes while a ticking rhythm track provides pulse and breath, but it's the sense of it happening inside of an encroaching silence that makes the song feel alive.
The key to Unsettled might be found in the first and last tracks. The title track is as classic an example of McGillivray's production style as your likely to find, digital pads and glitchy delayed drums cohabiting and surfing in each others' wake, expressive in how reserved they each feel. On the other side of things, album closer "Next" feels very true to its title, finding a beauty and lushness in crushed digital noise and shredding lo-fi drums, its heart firmly on its sleeve. Both numbers end abruptly, connecting them and suggesting their commonality, one as the beginning of the LP and the other as the launching point for whatever comes after. We patiently await the latter in whatever form it takes.