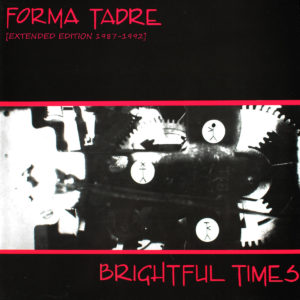 Forma Tadre
Brightful Times [Extended Edition 1987-1992]
Outatune/self-released
What is it?
Andreas Meyer's first LP as Forma Tadre has become a genre classic, earning our enduring appreciation as well as that of countless electro and industrial fans. But almost ten years before Navigator Forma Tadre, then a trio, released a four-track EP and went on to demo a significant amount of additional material in the next few years. The original Brightful Times EP, on which Meyer was joined by Hansjoerg Schifferer and Erwin Thom, has now received a digital release appending eight previously unheard tracks. Additionally, a stash of the original EPs has been discovered and is also being sold off by Meyer along with this expanded version.
What's on it?
The original four Brightful Days tracks are a far cry from the styles Meyer would go on to explore in his solo work. A combination of coldwave, Neue Deutsche Welle, and the kosmische sources from which the project drew its name can all be found in a stylish if somewhat raw execution. Move beyond those four tracks and the purview grows even wider. There's the high-drama garage goth of "Happiest Day", and a guitar-accented take on contemporary EBM sounds on "Time To Recall". A brief interlude called "I Feel Industrial" is ironically the least industrial piece Meyer's ever released, instead sounding akin to the sort of chiming guitar intro early black metal acts were so fond of. The roots of the sort of dark electro slammer Meyer would perfect on tunes like "Celebrate The Cult" can be found in the oddly literal "Party On Mars" which details an opioid-fulled Red Planet bender. Nods to Meyer's literary interests in Poe and Lovecraft can be found scattered throughout. While nothing here quite measures up to the heights Meyer would reach years later, this reissue is a document of a fecund period of his work.
Who should buy it?
Much was made at the time of Automate's release about the differences between the first two Forma Tadre LPs, and now with this early chapter of the project unearthed, the range of styles Meyer has moved through in his career is revealed to be far wider than hitherto imagined. Forma Tadre die-hards will enjoy searching for hints of what was to come, while fans of 80s coldwave and related genres should enjoy the enthusiasm with which Meyer and co brought far-ranging sounds into the mix.