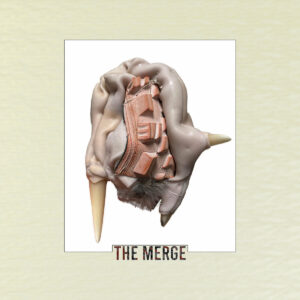 Matriarchy Roots
The Merge
Strange Therapy
Dimitris Doukas's Matriarchy Roots projects ostensibly serves as a much noisier counterpart to the artist's voluminous work as Restive Plaggona. While that project has skipped between a range of techno, industrial, and EBM sounds which are alternately cinematic, club-focused, or abstract, Matriarchy Roots' clear origins in the power electronics tape tradition can quickly be ferreted out by the most cursory skimming of the early Weapon Hand and Treated Equally releases. While far less percussively abrasive or insistent as preceding release Changing Habits, new LP The Merge finds cryptic and uncanny means of unsettling the listener even as Doukas smooths out and deepens some of Matriarchy Roots' sound.
Thematically, The Merge sticks to Matriarchy Roots' concerns with actions taken against misogyny and various periods and tactics in women's liberation, all delivered with the fractured, estranged style that so often accompanies power electronics aesthetics. It's tough to link the instrumental contents of "He Is Not My Beautiful Husband Anymore" or "After Matrimony" to their titles, though the album art, which perhaps hints at the vagina dentata, and the collage booklet which accompanies the release refers to the annulment of marriages and various women's protests throughout history in a manner which makes Doukas' perspective clearer.
While still aiming for the sense of disquiet one might assume goes hand in hand with a noise project centered around gender and power, The Merge rarely goes for the most obvious means of doing so. Sure, there's plenty of distortion and atonality in "We Are Not The Same" and "Happy Families", but here and there hints of the more layered and rich palettes Doukas uses on Restive Plaggona material can be heard, as on the ghostly string samples and industrial kicks which elevate the pins and needles lead programming of "Free Love". Elsewhere, the cryptic chanting which is sampled and threaded through the processional downtempo beat of "Damage Limitation" hints at what Muslimgauze might currently be up to in a parallel universe.
It's rare for a project beholden to a style as deliberately unwelcoming as power electronics to soften its approach, but The Merge manages to do just that while holding to its core themes and wellsprings. Transposing some of his technical acumen over from Restive Plaggona, Doukas finds a handful of new angles from which to approach his unsettling subject matter.