Hey folks, and welcome to the second instalment of our new A Game Called Echo column. Like we said last month, it's an attempt to provide a simple enough guide to good newer records based on a simple premise: "If you like classic record x, you might like record y". That being said, in one of the cases below it might be the newer record pointing people to an overlooked older one. In any case, the response to the first column was very positive, and we're aiming to keep this as a regular feature here at ID:UD.
The Cure's Japanese Whispers (1983) and Wingtips' Exposure Therapy (2019)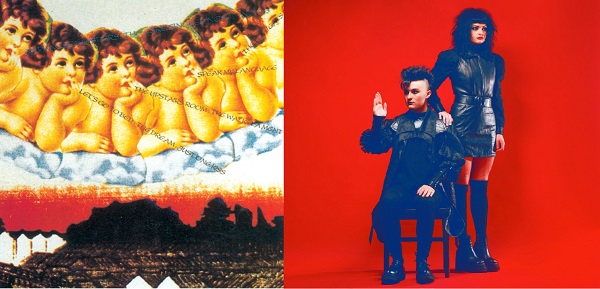 The Cure's Japanese Whispers isn't a proper LP, but still occupies an interesting spot in the ur-goth act's discography. Comprised of the songs found on the band's "Let's Go to Bed", "The Walk" and "The Lovecats" singles, it represents a transitional era for the band, who for the former releases were just a duo comprised of Robert Smith and newly minted keyboardist Lol Tolhurst. Consequently the sound of the compilation finds Smith moving forward from the dirgey grandeur of Pornography (and the accompanying tour so fraught that it resulted in the *ahem* disintegration of the band's lineup), and towards to eclectic, psychedelic and pop-friendly sound of The Top that would characterize The Cure's mid-eighties period. Japanese Whispers is also the first Cure longplay to break into the Billboard 200, and the beginnings of their rise to absolute ubiquity. And while those fresh devotees were perhaps drawn in by the funhouse-twee bounce of "Lovecats" or the new wave synths of "The Walk", they also got a taste of the band's gloomy guitar driven side via the excellent "Lament", "The Upstairs Room", and fan favourite "Just One Kiss". 
Wingtips' second LP Exposure Therapy embodies many of the same characteristics as Japanese Whispers, not in terms of the latter's makeshift nature, but in how it approaches guitar-led hooks, rhythm programming, and a mixture of both driving and dreamy song structures. The Chicago duo of Vincent Segretario and Hannah Avalon have obviously drunk deeply from the Cure's catalogue, but transcend mere imitation through their bold arrangements and big melodies. "After the Storm" splits the difference between big dancefloor drums and spidery guitar lines that build out the track's atmosphere, "The Eye that Follows Suit" evokes wistful abandon via Segretario's emotional vocal delivery and "Innocent Blood" is a melancholy 7-minute epic at mid-tempo that never drags or gives way under the weight of its ennui. It's goth-pop of the highest order, serving both genres equally well through songcraft and production.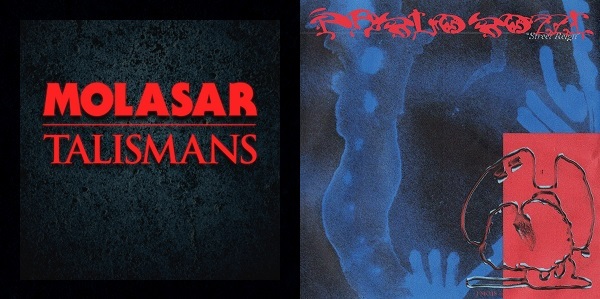 Molasar's Talismans (2015) and Pablo Bozzi's Street Reign (2022)
Chris Paladin has always been just ahead of the curve or a couple of decades behind it, depending on your perspective. His Body Party releases anticipated a renewed interest in early yet broadly accessible EBM just before a whole US scene with the same focus emerged, while his Mild Peril project hopped back and forth between the most classic of kosmische and proto-synthwave. It's his lesser known Molasar project which seems most prescient to our current era, though, now almost eight years on from its sole LP Talismans. Linking funk-focused EBM to dark electro atmospheres but shooting the whole affair through with a spritely sense of fun which seemed to lift from acid house as much as synthpop, there was nothing else which sounded like Molasar did in 2015, though it was utterly compelling and strangely familiar.

Between the excellent Soft Crash LP and no less than three solo EPs, Pablo Bozzi had 2022 on lock. The balancing act that Street Reign in particular pulls off is impressive, collecting Bozzi's interests in EBM, roots techno, and italo melodicism together much like the rest of his work, but this time with a slightly brooding, morose cast that only emerges in listening to the EP in total. While menacing, tunes like "Tornado Alley" aren't specifically aggressive, instead occupying a compelling middle territory between a generalized and indefinable nostalgia and current dark clubbing mores. Much like Molasar, Street Reign draws on dance traditions from the past and brings them into the present via an uncanny sleight of hand, blurring lines between genres and eras to such an extent that you can't tell what sort of club night you're at, or even what year it is while you're dancing to it.